Solar Engineering of Thermal Processes, 4th Edition
ISBN: 978-0-470-87366-3
936 pages
April 2013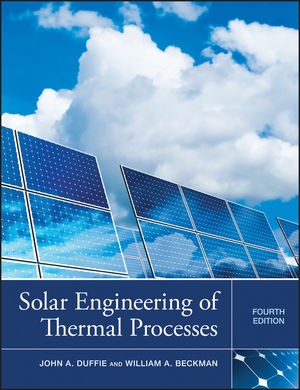 The updated fourth edition of the "bible" of solar energy theory and applications
Over several editions, Solar Engineering of Thermal Processes has become a classic solar engineering text and reference. This revised Fourth Edition offers current coverage of solar energy theory, systems design, and applications in different market sectors along with an emphasis on solar system design and analysis using simulations to help readers translate theory into practice.
An important resource for students of solar engineering, solar energy, and alternative energy as well as professionals working in the power and energy industry or related fields, Solar Engineering of Thermal Processes, Fourth Edition features:
Increased coverage of leading-edge topics such as photovoltaics and the design of solar cells and heaters
A brand-new chapter on applying CombiSys (a readymade TRNSYS simulation program available for free download) to simulate a solar heated house with solar- heated domestic hot water
Additional simulation problems available through a companion website
An extensive array of homework problems and exercises
See More
Preface xi
Preface to the Third Edition xiii
Preface to the Second Edition xv
Preface to the First Edition xvii
Introduction xxi
PART I FUNDAMENTALS 1
1 Solar Radiation 3
2 Available Solar Radiation 43
3 Selected Heat Transfer Topics 138
4 Radiation Characteristics of Opaque Materials 173
5 Radiation Transmission through Glazing: Absorbed Radiation 202
6 Flat-Plate Collectors 236
7 Concentrating Collectors 322
8 Energy Storage 373
9 Solar Process Loads 409
10 System Thermal Calculations 422
11 Solar Process Economics 447
PART II APPLICATIONS 477
12 Solar Water Heating: Active and Passive 479
13 Building Heating: Active 505
14 Building Heating: Passive and Hybrid Methods 544
15 Solar Cooling 575
16 Solar Industrial Process Heat 604
17 Solar Thermal Power Systems 621
18 Solar Ponds: Evaporative Processes 635
PART III DESIGN METHODS 651
19 Simulations in Solar Process Design 653
20 Design of Active Systems: f-Chart 668
21 Design of Active Systems by Utilizability Methods 692
22 Design of Passive and Hybrid Heating Systems 711
23 Design of Photovoltaic Systems 745
24 Wind Energy 774
APPENDIXES 797
A Problems 797
B Nomenclature 856
C International System of Units 861
D Meteorological Data 863
E Average Shading Factors for Overhangs 870
Index 887
See More
JOHN A. DUFFIE (deceased) was Professor Emeritus of Chemical Engineering and past Director of the Solar Energy Laboratory at the University of Wisconsin–Madison.
WILLIAM A. BECKMAN is the Ouweneel-Bascom Professor Emeritus of Mechanical Engineering and Director Emeritus of the Solar Energy Laboratory at the University of Wisconsin–Madison.
See More
Download Title
Size
Download
CombiSys Download


A series of simulation problems (identified with a prefix "S" followed by a chapter number) and then a problem number have been added to the standard problems of many chapters. These problems require running CombiSys and answering general questions that may require performing energy balances and doing simple economic calculations.

With this approach, it is hoped that the student will understand the inner workings of a simulation program.

CombiSys provides an input window where various design options can be selected (e.g. the collector type and design, storage tanks size, collector orientation, and a variety of other choices).

17.17 MB
Click to Download
See More
Instructors Resources
Request a print evaluation copy
Contact us

See More
See Less