Reading Assessment: Linking Language, Literacy, and Cognition
ISBN: 978-0-470-87393-9
408 pages
June 2012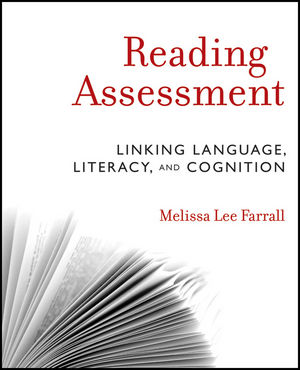 A groundbreaking integrated approach to reading assessment that addresses each child's unique Learning Profile
Fifteen to twenty percent of our nation's children have reading difficulties. Educational evalua-tors must be able to use progress monitoring and diagnostic tools effectively to identify students who may be at risk, evaluate the effectiveness of school-wide reading programs, and suggest interventions that will improve reading skills. Written from a strengths-based perspective, Reading Assessment: Linking Language, Literacy, and Cognition is the first book of its kind to present a research-based, integrated review of reading, cognition, and oral language testing and assessment.
Author Melissa Lee Farrall explores the theoretical underpinnings of reading, language, and literacy, explains the background of debates surrounding these topics, and provides detailed information and administration tips on the wide range of reading inventories and standardized tests that may be used in a reading psychoeducational assessment. With a focus on how to craft professional evaluation reports that illuminate a student's strengths—not just weaknesses—Reading Assessment enables school psychologists and diagnosticians, reading specialists, and special education professionals to conduct evaluations and develop effective interdisciplinary remedial recommendations and interventions.
Clear, engaging, and inviting, Reading Assessment features:
Case examples and practice exercises

Chapter-opening reviews of each theory

Strengths, weaknesses, and potential problems of tests and their interpretations

Chapter-ending review questions that foster skill development and critical thinking

Comprehensive information on more than 50 different assessment tests
Reading Assessment is an invaluable resource that helps professionals gain the knowledge and skills to confidently interpret test results and prepare detailed and effective evaluation reports designed to meet each child's unique needs as a learner.
See More
Acknowledgments ix
Chapter 1 Introduction 1
Chapter 2 Reading Theory and Stages of Reading Acquisition 7
Chapter 3 Oral Language 27
Chapter 4 Linguistic and Cultural Diversity 47
Chapter 5 Statistics and Test Development 59
Chapter 6 Test Administration and Report Writing 75
Chapter 7 Response to Intervention 97
Chapter 8 Role of Intellectual Assessment 119
Chapter 9 Oral Language Assessment 139
Chapter 10 Underlying Processes 163
Chapter 11 Decoding 193
Chapter 12 Comprehension 233
Chapter 13 Informal Inventories and Readability 259
Chapter 14 Written Expression and Spelling 279
Chapter 15 Last Words 307
Appendix A: Answer Key 311
Appendix B: Glossary 319
References 327
Additional Resources 359
Author Index 369
Subject Index 379
See More
Melissa Lee Farrall, PhD, is an adjunct faculty member in the Language and Literacy Program at Simmons College in Boston, as well as an adjunct faculty member at Bay Path College in Longmeadow, Massachusetts. One of the founding members of The Reading Foundation, she presently works as a consultant with parents and school districts. She served for several years on the board of directors of the New Hampshire Branch of the International Dyslexia Association.
See More