Cancer and Aging Handbook: Research and Practice
ISBN: 978-0-470-87442-4
Hardcover
536 pages
August 2012, Wiley-Blackwell
US $129.95

Add to Cart
This price is valid for United States. Change location to view local pricing and availability.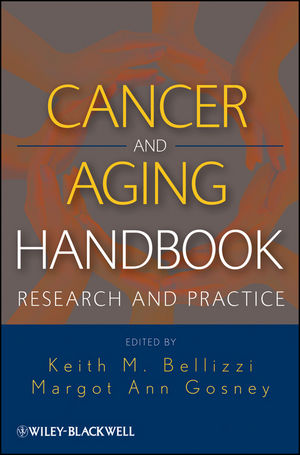 Other Available Formats:
E-book
FOREWORD ix
PREFACE xi
CONTRIBUTORS xiii
PART I CANCER AND AGING IN CONTEXT
1. Epidemiology of Cancer in the Older-Aged Person 3
Lodovico Balducci
2. Biological Aspects of Aging and Cancer 13
Gabriel Tinoco, Mya Thein, and William B. Ershler
3. Physiological, Psychological, and Social Aspects of Aging 35
George A. Kuchel, Julie Robison, and Richard Fortinsky
PART II STRATEGIES FOR CANCER PREVENTION IN OLDER ADULTS
4. Overview of Cancer Prevention Strategies in Older Adults 55
Barbara K. Dunn, Peter Greenwald, and Darrell E. Anderson
5. Breast Cancer Prevention 71
Jeanne F. Noe and Hyman B. Muss
6. Colorectal Cancer Prevention and Aging 85
Ernest T. Hawk, Sherri L. Patterson, Lopa Mishra, and Kush K. Patel
7. Prostate Cancer Prevention 97
Barbara Ercole and Ian M. Thompson, Jr.
8. Lung Cancer Prevention 105
Samira Shojaee and Konstantin H. Dragnev
PART III CANCER SCREENING GUIDELINES FOR OLDER ADULTS
9. Cancer in Older People: To Screen or Not to Screen? 117
Catherine Terret and Jean-Pierre Droz
10. Breast Cancer Screening 125
Heidi D. Nelson
11. Colorectal Cancer Screening 139
Catherine Quarini
12. Prostate Cancer Screening 153
Anthony B. Miller
13. Other Screening Opportunities for the Future 163
Catherine Quarini
PART IV CANCER TREATMENT
14. General Principles in Older Adults with Cancer 175
Martine Extermann
15. Surgery for Older Adults with Cancer 183
Lynda Wyld, Malcolm Walter Ronald Reed, and Thompson Gordon Robinson
16. Chemotherapy in Older Adults with Cancer 205
Matti S. Aapro and Hans Wildiers
17. Radiotherapy in Older Adults with Cancer 221
Ian Kunkler
PART V COMMON CANCERS IN THE ELDERLY
18. Breast Cancer 243
Laura Biganzoli, Catherine Oakman, Riccardo A. Audisio, and Ian Kunkler
19. Colon Cancer 269
Demetris Papamichael and Riccardo A. Audisio
20. Lung Cancer 283
Ulrich Wedding
21. Prostate Cancer 315
Nicolas Mottet and Jean-Pierre Droz
22. Ovarian Cancer 335
Claire Falandry, Gilles Freyer, and Eric Pujade-Lauraine
PART VI CANCER SURVIVORSHIP AND AGING
23. Theoretical Perspectives from Gerontology and Lifespan Development 349
Thomas O. Blank
24. Adaptation and Adjustment to Cancer in Later Life: A Conceptual Model 365
Gary T. Deimling, Boaz Kahana, and Karen Bowman
25. Long-Term and Late Physical and Psychosocial Effects of Cancer in Older Adults 385
Kerri M. Clough-Gorr and Rebecca A. Silliman
PART VII END-OF-LIFE CARE
26. Palliative Care for Cancer Patients and Their Families 403
Cardinale Smith and Diane Meier
27. Pain Management 419
Paul Glare, Beatriz Korc-Grodzicki, Nessa Coyle, and Manpreet Boparai
PART VIII EMERGING ISSUES
28. Caregiver Knowledge and Skills 447
Paula R. Sherwood, Barbara A. Given, and Charles W. Given
29. Comprehensive Geriatric Assessment 459
Lazzaro Repetto and Angela Marie Abbatecola
30. Economic Cost of Treating Older Adults with Cancer 475
Ya-Chen Tina Shih and Benjamin D. Smith
31. Multidisciplinary Models of Care 487
Kathleen Tschantz Unroe and Harvey Jay Cohen
INDEX 499