Spend Shift: How the Post-Crisis Values Revolution Is Changing the Way We Buy, Sell, and Live
ISBN: 978-0-470-87443-1
Hardcover
288 pages
October 2010, Jossey-Bass
US $25.95

Add to Cart
This price is valid for United States. Change location to view local pricing and availability.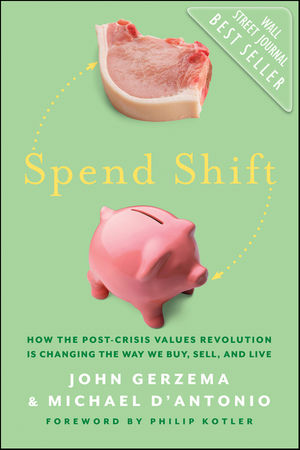 Other Available Formats:
E-book
October 01, 2010
Spend Shift: How the Post-Crisis Values Revolution Is Changing the Way We Buy, Sell, and Live
Connect with Wiley Publicity
As we recover from the worst economic downturn since the Great Depression, what will the consumer of tomorrow look like? How will we spend differently? Will brands still matter? What do changing consumer values say about the state of American values?
In SPEND SHIFT: How the Post-Crisis Values Revolution is Changing the Way We Buy, Sell, and Live (October 19, 2010; Jossey-Bass; $25.95) consumer expert John Gerzema and Pulitzer Prize winning writer Michael D'Antonio point to a revolution in consumer values that will remake the consumer marketplace and revitalize the economy.
The authors draw their findings from Young & Rubicam's database of consumer attitudes (the world's largest), which has surveyed 17,000 consumers quarterly for the past seventeen years. What they discovered is that since 2007—even before the crisis—all data pointed to a revolution in the making. Americans were becoming uneasy with debt and excess spending, distrustful of leaders and skeptical of materialist values.
These new "Spend Shifters"—55% of Americans—are not defeated by the downturn but instead are proudly returning to bedrock American virtues—thrift, faith, creativity, community, hard work and more—in order to build new lives of purpose and connection. They still buy, but they've shifted from mindless to mindful consumption, from acquisitive to inquisitive, and from dependent customers to self-reliant DIYers (Do It Yourself). Their every purchase is less about materialism and more about voting for their values with their dollars.
Armed with these findings, Gerzema and D'Antonio set off across America to document the "Spend Shift" and its effects from coast to coast. They traveled through dozens of communities in nine states (both red and blue). They talked with people across kitchen counters, in restaurants, on street corners, in factories and in boardrooms. They shopped with people in supermarkets, walked the floors of startups and investigated changing business models with Fortune 500 CEOs.
The result is the first on-the-ground report from the quiet revolution of values that is remaking the American economy and reshaping the global marketplace.
In disparate places like inner city Detroit, suburban Dallas, rural New England, and Bohemian Brooklyn, the authors found risk-taking entrepreneurs and nimble giant corporations opening themselves up to this new breed of consumers in order to connect with them on shared goals and values. Consumerism isn't on the wane and brands aren't dead, but the companies that will succeed in this new marketplace will be those like Blu Homes, Ford, Alice.com, SunRun, Zappos, and many others who are innovating new ways to connect to changing consumer values.
Among the visionary business leaders of the values revolution that the authors interviewed in person are:
Rob Kalin and his partners in Brooklyn, who founded Etsy, an online marketplace now valued at around $300 million, where any artisan in the world can display and sell crafts to any of the millions of people who shop there every month.

Jon Goren, founder of Boston area based Recyclebank, which rewards people with shopping discounts based on their monthly recycling efforts.

Andrew Mason, founder of Chicago based Groupon, which mobilizes the community of the masses with daily deals on products, services and even meals. The discounts grow as the number of people agree to pay for the coupon or "groupon."
Even as people find themselves less rich in today's economy, they are deploying their dollars in a more calculated and strategic way to influence institutions like corporations and government. They realize that how they spend their money is a form of power and they are using it to communicate their values and reward those companies that truly reflect them whether they are pro-environment or anti-bail-out. In this way, each dollar resembles a vote and every day is Election Day for companies that provide goods and services.
Grounded in data and on-the-ground interviews, SPEND SHIFT tells an optimistic story of how a new emphasis on values is helping consumers and business alike adapt to the new realities of the economy with resilience and innovation. "Those with the right vision," the authors write, "will look back at the Great Recession as one of the best things that happened to America."
Five New Values of Today's Consumer
Indestructible Spirit – Optimistic, and resilient people are still open to opportunity
Re-Tooling – Fiercely self-reliant, we retain our faith in our core traditions and actively seek to better our communities and ourselves
Liquid Life – We are adopting a more nimble, adaptable, and thrifty approach to life
Cooperative Consumerism – Crisis has prompted people to collaborate to solve problems and create new options
From Materialism to the Material – Old status symbols no longer appeal as purpose, character, authenticity and creativity become pathways to the good life
| | |
| --- | --- |
| New Values | Companies Responding |
| Nimbleness | Zipcar, Blu Homes, RecycleBank, San Francisco Giants |
| Self Reliance | Berkshares, Etsy, Make Magazine |
| Community | Groupon, Chartbeat, Ford |
| Education | Adafruit, North Haven Gardens |
| Locality | Brooklyn Industries, Crisis Camp |
| Authenticity | SunRun |
| Optimism | Le Petite Zinc, Earthworks, Nextek, LePetite Zinc |