More Knitting in the Sun: 32 Patterns to Knit for Kids
ISBN: 978-0-470-87448-6
Paperback
192 pages
April 2011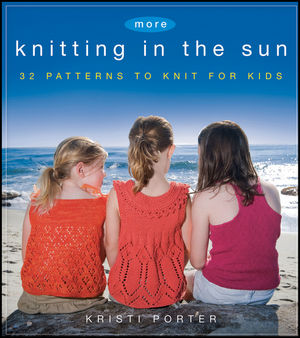 This title is out-of-print and not currently available for purchase from this site.
Introduction.
Accessories.
Jim: beach cover-up (Janine Le Cras).
Frances: retro poncho (Laura Nelkin).
Owen: beach towel blanket (Kristi Porter).
Huck: fishing hat (Kristi Porter).
Eloise: mini cloche (Anne Kuo Lukito).
Caddie: summer carry-all (Kristi Porter).
Bottoms.
Milo: cargo shorts (Carol Feller).
Kimo: board shorts (Kendra Nitta).
Olivia: bubble skirt (Beautia Dew).
Trixie: peasant skirt (Carol Sulcoski).
Sleeveless.
Mashenka: surplice sundress (Faina Goberstein).
Anastasia: summer dress (Stacey Trock).
Wendy: pleated empire top (Tian Connaughton).
Hermione: sun top (Janine Le Cras).
Ramona: racerback tank (Katherine Vaughan).
Pippi: lacy collared top (Mary C. Gildersleeve).
Charlie: updated argyle vest (Kristi Porter).
Matilda: swing top (Julie Turjoman).
Short Sleeves.
Vashti: hooded top with eyelets (Talitha Kuomi).
Madeline: lace panel t-shirt (Susan Robicheau).
Max: striped baseball t-shirt (Kate Oates).
Thumbelina: cap-sleeved top (Katya Frankel).
Long Sleeves.
Edmund: summer henley (Susan Robicheau).
Lucy: ruffled top (Tabetha Hedrick).
Fern: cropped pullover (Lisa Limber).
Cardigans.
Ginny: tie-front shrug (Janine Le Cras).
Jack: hooded sweater (Lisa S. Rowe).
Artemis: zip-up jacket (Anne Lecrivain).
Satsuki: yukata robe (Sarah Barbour).
Beezus: cropped lace jacket (Katherine Vaughan).
Natka: openwork cardigan (Faina Goberstein).
Ronia: short-sleeved cardigan (Linda Wilgus).
Special Knitting.
Techniques.
Knitting.
Abbreviations.
Contributing.
Designers.
Yarn Sources.
Index.
About the Author.