E-book
Premiere Elements 8 For Dummies
ISBN: 978-0-470-87472-1
364 pages
March 2010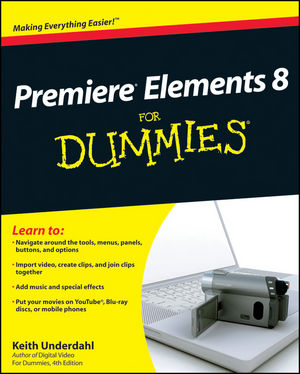 The book of choice for beginning digital video editors
The popularity of digital video continues to grow, largely because of the dropping prices of cameras. Correspondingly, so does the number of novice digital video editors. This book is for the beginning video editor who is eager to get started using the vast array of tools that Adobe Premiere Elements offers.
Veteran author Keith Underdahl covers all the essentials of using Adobe Premiere Elements 8 to import video, create clips, put those clips together, add effects, work with sound and music, and output to DVD or the Internet. You'll feel like a pro in no time!
Adobe Premiere Elements is the user-friendly video-editing software for even the most novice video editor
This guide explains how to import video, edit clips, adjust sound, add music and effects, and more
Includes tips for sharing movies on YouTube, Blu-ray discs, and mobile phones
Tackles tricky topics in the fun and friendly way that has made the For Dummies brand world renowned
Whether you're looking to use Adobe Premiere Elements so you can post a hilarious homemade movie on YouTube or create a memorable film for your next family gathering, Premiere Elements 8 For Dummies, 2nd Edition will show you how.
See More
Introduction.
Part I: Laying the Groundwork.
Chapter 1: Feeling at Home with Premiere Elements.
Chapter 2: Equipping Yourself for Moviemaking.
Chapter 3: Introduction to Moviemaking.
Chapter 4: Revving Up Premiere Elements.
Chapter 5: Capturing and Organizing Your Media.
Part II: Editing Video and Sound.
Chapter 6: Trimming and Editing Video Clips.
Chapter 7: Making Movies with the Timeline.
Chapter 8: Adding Sound to Your Movies.
Part III: Special Touches and Advanced Techniques.
Chapter 9: Using Video Transitions.
Chapter 10: Improving and Repairing Video Images.
Chapter 11: Compositing and Animating Video Clips.
Chapter 12: Adding Special Effects to Your Movies.
Chapter 13: Adding Titles to Your Movies.
Part IV: Finishing and Sharing Your Movies.
Chapter 14: Wrapping Up Your Movies.
Chapter 15: Sharing Your Movies Online.
Chapter 16: Burning Your Movies to Disc.
Part V: The Part of Tens.
Chapter 17: Ten Advanced Premiere Elements Techniques.
Chapter 18: Ten Videography Tips and Secrets.
Chapter 19: Ten Essential Extras for Moviemaking.
Appendix: Glossary.
Index.
See More
Keith Underdahl has produced professional marketing and kiosk videos and also enjoys hobby moviemaking. He is the author of Adobe Premiere Pro For Dummies and Digital Video For Dummies, 4th Edition.
See More