Inflated: How Money and Debt Built the American Dream
ISBN: 978-0-470-87514-8
Hardcover
393 pages
December 2010
US $34.95

Add to Cart
This price is valid for United States. Change location to view local pricing and availability.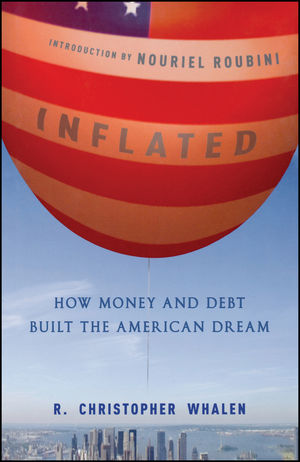 Other Available Formats:
E-book
December 01, 2010
Inflated: How Money and Debt Built the American Dream
Connect with Wiley Publicity
Whether taming the frontier in the 1800s, fighting poverty in the 1970s or saving the American banking empire just this last year, successive American government have turned to debt and inflation to make ends meet. The rejection of any practical limits on expenditure by Americans is a view particularly encouraged by the generations that have come since WW II and the subsequent half century of the cold war. The result has been consistent inflation rates and the devaluing of the US dollar.
In his new book, Inflated: How Money and Debt Built the American Dream (Wiley, December 2010, 978-0-470-87514-8, $34.95), Christopher Whalen tells the story of inflation and public debt as enduring (and perhaps endearing) and describes the habits that are so instilled in us, as our history repeatedly shows, that to suggest alternatives, like returning to the gold standard, as many movements are suggesting, is an exercise in futility! He discusses when it comes to matters of money, most Americans tend to view themselves as reasonably prudent people, reflecting the puritan roots of their European ancestors. Yet, at the same time, Americans also seem to feel entitled to a lifestyle, individually and nationally, that is well above the rest of the world's, and well beyond our current means. Inflated explores more than two hundred years of American politics and monetary policy to examine this conflict. In doing so, it asks whether the current understanding of the American Dream, one of entitlement, is so ingrained that to expect Americans willingly to live in a "deflated" world is unrealistic.
The book discusses:
The Gold Rush and how dreams of instant wealth replaced the notions of hard work and saving as the national ideal
How Congress's deficit spending is a direct legacy of Abraham Lincoln's presiding over the first legal tender laws, which gave the federal government control over the issuance of "money"
How the financial crisis of 1893 led to the creation of the Federal Reserve System, ultimately confirming the cautionary views of Thomas Jefferson and Andrew Jackson that a central bank would prove antithetical to democracy and individual rights
The rise of investment trusts during the 1890s, and how those trusts were the precursors of hedge funds and complex financial derivatives
How the dollar's role as the world's currency after WWII encouraged America's tendency to demand immediate gratification of national wants and needs -- and paid for it with inflation and debt
And much more!
Inflated explores the rich history of living beyond one's means, and whether Americans—an instinctively self-reliant, isolationist people—are more likely either to embrace fiscal stringency if other nations demand it or turn their backs on the rest of the world.