The Facebook Guide for People Over 50
ISBN: 978-0-470-87517-9
Paperback
336 pages
July 2011
US $19.99

Add to Cart
This price is valid for United States. Change location to view local pricing and availability.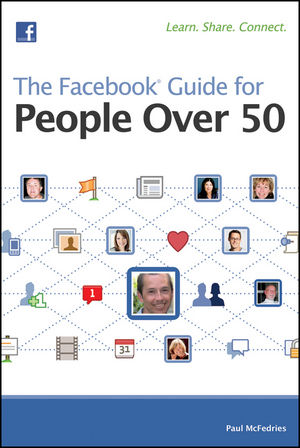 Other Available Formats:
E-book
Acknowledgments.
Introduction.
Chapter 1: Getting Started.
Taking the Facebook Plunge.
Isn't Facebook just for kids?
What can people 50 and older do on Facebook?
Setting up your account.
Understanding How Facebook Works.
Understanding the site.
Taking a tour of your Home page.
Interacting with Facebook on other Web sites.
Building Your Profile.
Viewing your Facebook profile.
Editing your Facebook profile.
Understanding Facebook's Features.
Understanding friends.
Viewing your News Feed.
Updating your status.
Liking stories.
Commenting on stories.
Sharing stories.
Posting links.
Sharing photos.
Sharing videos.
Posting notes.
Getting the hang of Wall sections.
Exchanging messages.
Understanding notifications.
Understanding Pages.
Figuring out Groups.
Learning about events.
Finding answers about Questions.
Checking in with Places.
Getting to know applications.
Playing games.
Searching Facebook.
Controlling your privacy.
Chapter 2: Making Friends.
Finding Friends.
Searching Facebook for people you know.
Finding friends using your address book.
Finding your old highschool pals.
Finding your university friends.
Finding your work colleagues.
Handling Friend Requests.
Working with Friends.
Viewing your friends' updates.
Viewing your friends.
Creating and using lists.
Hiding a friend's updates.
Removing a friend.
Chapter 3: Connecting with Family.
Friending Your Kids and Grandkids.
Adding Family Members to Your Profile.
Adding your current relationship.
Adding other family members.
Using Facebook to Organize a Family Gathering.
Working with Birthdays.
Viewing your friends' birthdays.
Facebook birthday applications.
Planning a Wedding.
Learning about Parenting and Grandparenting.
Researching Genealogy.
Playing with Pets.
Dealing with Death.
Chapter 4: Sharing Photos.
Adding a Photo to Your Wall Section.
Adding a Wall photo.
E-mailing a photo to your Wall section.
Working with Photo Albums.
Creating a photo album.
Viewing a photo album.
Identifying Facebook friends in photos.
Deleting a photo album.
Working with Friends' Photos.
Viewing a friend's photos.
Identifying people in a friend's photo.
Removing your tag from a friend's photo.
Facebook's Photography Resources.
General photography resources.
Viewing famous photographers.
Taking and editing photos.
Working with cameras.
Chapter 5: Politics and Society.
Politics on Facebook.
Accessing Government Resources.
Learning about History.
Facebook and the Environment.
Connecting with Charities.
Volunteering via Facebook.
Facebook Activism.
Campaigning on Facebook.
Chapter 6: Work and Money.
Enhancing Your Business with Facebook.
Using Pages to promote a product or brand.
Using Events to set up meetings and conferences.
Using Groups to help team members stay in touch.
Advertising on Facebook.
Using Facebook to Find a Job.
Money-Related Resources on Facebook.
Becoming a savvy shopper.
Saving money: freebies, bargains, coupons, and more.
Tracking your personal finances.
Learning about taxes.
Facebook and Retirement.
Chapter 7: Fitness and Health.
Facebook and Fitness.
Facebook for Runners.
Weight Loss and Facebook.
Learning about Medical Conditions.
Locating Support Groups.
Learning about Aging and Longevity.
Researching Doctors and Hospitals.
Keeping Up with Medical News and Research.
Chapter 8: Arts and Media.
Getting More Out of Books.
Connecting with Other Music Fans.
Learning about Theater.
Making Movies Social.
Exploring Social TV.
Appreciating Art.
Chapter 9: Hobbies and Leisure.
Getting Home Improvement Tips and Techniques.
Sources for inspiration.
Sources for DIY.
Facebook for Gardeners.
Finding Fans of Sewing and Needlecraft.
Crosswords and Puzzles on Facebook.
Improving and Sharing Your Writing.
Connecting with Fellow Hikers and Campers.
Making Sports Social.
Chapter 10: Facebook for Foodies.
Trading Recipes.
Improving Your Cooking.
Restaurants and Chefs on Facebook.
Learning about Wine and Beer.
Wine.
Beer.
Increasing Your Nutrition Know-How.
Chapter 11: Tips for Travelers.
Getting Inspired.
Planning Your Trip.
Booking Your Flight.
Reserving Your Hotel Room.
Booking Your Cruise.
Sharing Your Travels.
Glossary.
Index.
Buy Both and Save 25%!
The Facebook Guide for People Over 50 (US $19.99)
-and- Pinterest For Dummies (US $16.99)
Total List Price: US $36.98
Discounted Price: US $27.73 (Save: US $9.25)
Cannot be combined with any other offers. Learn more.