Model-based Visual Tracking: The OpenTL Framework
ISBN: 978-0-470-87613-8
Hardcover
318 pages
May 2011
US $98.95

Add to Cart
This price is valid for United States. Change location to view local pricing and availability.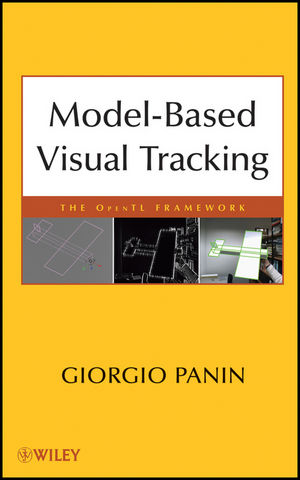 Other Available Formats:
E-book
Preface.
1 Introduction.
1.1 Overview of the Problem.
1.2 General Tracking System Prototype.
1.3 The Tracking Pipeline.
2 Model Representation.
2.1 Camera Model.
2.2 Object Model.
2.3 Mapping Between Object and Sensor Spaces.
2.4 Object Dynamics.
3 The Visual Modality Abstraction.
3.1 Preprocessing.
3.2 Sampling and Updating Reference Features.
3.3 Model Matching with the Image Data.
3.4 Data Fusion Across Multiple Modalities and Cameras.
4 Examples of Visual Modalities.
4.1 Color Statistics.
4.2 Background Subtraction.
4.3 Blobs.
4.4 Model Contours.
4.5 Keypoints.
4.6 Motion.
4.7 Templates.
5 Recursive State-Space Estimation.
5.1 Target-State Distribution.
5.2 MLE and MAP Estimation.
5.3 Gaussian Filters.
5.4 Monte Carlo Filters.
5.5 Grid Filters.
6 Examples of Target Detectors.
6.1 Blob Clustering.
6.2 AdaBoost Classifiers.
6.3 Geometric Hashing.
6.4 Monte Carlo sampling.
6.5 Invariant Keypoints.
7 Building Applications with OpenTL.
7.1 Functional Architecture of OpenTL.
7.2 Building a Tutorial Application with OpenTL.
7.3 Other Application Examples.
Appendix A: Pose Estimation.
A.1 Point Correspondences.
A.2 Line Correspondences.
A.3 Point and Line Correspondences.
A.4 Computation of the Projective DLT Matrices.
Appendix B: Pose Representations.
B.1 Poses Without Rotation.
B.2 Parametrizing Rotations.
B.3 Poses with Rotation and Uniform Scale.
B.4 Affinity.
B.5 Poses with Rotation and Nonuniform Scale.
B.6 General Homography: The DLT Algorithm.
Nomenclature.
Bibliography.
Index.