Innovative Processing and Manufacturing of Advanced Ceramics and Composites: Ceramic Transactions, Volume 212
ISBN: 978-0-470-87646-6
250 pages
June 2010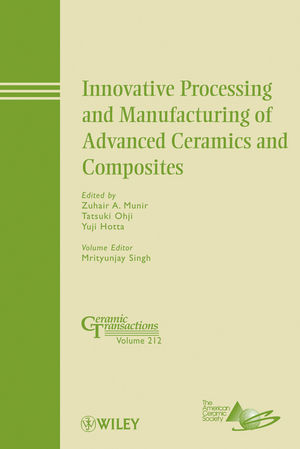 With continued discoveries and innovations, the field of materials synthesis and processing remains as it has been for many decades, a vibrant and fertile area for research and development. It comes, therefore, as no surprise that every Pac Rim conference has had considerable emphasis on this topic with many symposia devoted to various aspects of this field.
This Ceramic Transactions volume represents selected papers based on presentations in four symposia during the 8th Pacific Rim Conference on Ceramic and Glass Technology, held in Vancouver, British Columbia, May 31-June 5, 2009.
See More
Preface.
Introduction.
SYNTHESIS AND PROCESSING BY THE SPARK PLASMA METHOD.
Simulation of Contact Resistances Influence on Temperature Distribution during SPS Experiments (A. Cincotti, A. M. Locci, R. Orrù, and G. Cao).
Spark-Plasma-Sintering (SPS) Processsing of High Strength Transparent MgAl2O4 Spinel Polycrystals (Koji Morita, Byung-Nam Kim, Hidehiro Yoshida, and Keijiro Hiraga).
Consolidation of Carbon with Amorphous-Graphite Transformation by SPS (Naoki Toyofuku, Megumi Nishimoto, Kazuki Arayama, Yasuhiro Kodera, Manshi Ohyanagi, and Zuhair A. Munir).
Spark Plasma Sintering of Nanostructured Ceramic Materials with Potential Magnetoelectricity (C. Correas, R. Jiménez, T. Hungría, H. Amorín, J. Ricote, E. Vila, M. Algueró, A. Castro, and J. Galy).
Sintering and Properties of Nanometric Functional Oxides (Dat V. Quach, Sangtae Kim, Manfred Martin, and Zuhair A. Munir).
Spark Plasma Sintering Mechanisms in Si3N4-Based Materials (M. Belmonte, J. Gonzalez-Julian, P. Miranzo, and M.I. Osendi).
Consolidation of SiC with BN through MA-SPS Method (Yasuhiro Kodera, Naoki Toyofuku, Ryousuke Shirai, Manshi Ohyanagi, and Zuhair A. Munir).
Fabrication of Dense Zr-, Hf- and Ta-Based Ultra High Temperature Ceramics by Combining Self-Propagating High-Temperature Synthesis and Spark Plasma Sintering (Roberta Licheri, Roberto Orrù, Clara Musa, Antonio Mario Locci, and Giacomo Cao).
NOVEL, GREEN, AND STRATEGIC PROCESSING.
Microwave Sintering of Mullite and Mullite-Zirconia Composites (Subhadip Bodhak, Susmita Bose, and Amit Bandyopadhyay).
Idle Time and Gelation Behavior in Gelcasting Process of PSZ in Acrylamide System (Nasim Sahraei Khanghah and Mohammad-Ali Faghihi-Sani).
Characterization of the Mesoporous Amorphous Silica in the Fresh Water Sponge Cauxi (Ralf Keding, Martin Jensen, and Yuanzheng Yue).
Novel Chemistry-Modification Approach for Synthesis of SiAlON from Fly Ash (J. P. Kelly, J. R. Varner, W. M. Carty, and V. R. Amarakoon).
Patterning of Closed Pores Utilizing the Superplastically Foaming Method (A. Kishimoto, Y. Nishino, and H. Hayashi).
The Research of Materials Life Cycle Assessment (ZuoRen Nie, Feng Gao, XianZheng Gong, ZhiHong Wang, and TieYong Zuo).
Modeling Dual and MgO Saturated EAF Slag Chemistry (Kyei-Sing Kwong, James Bennett, Rick Krabbe, Art Petty, and Hugh Thomas).
ADVANCED POWDER PROCESSING.
Aqueous Processing of TiC Preforms for Advanced Cermet Preparation (R. Bradley Collier and Kevin P. Plucknet).
The Effect of Precipitator Types on the Synthesis of La2Zr2O7 Powders by Chemical Coprecipitation Method (Jing Wang, Shuxin Bai, Hong Zhang, amd Changrui Zhang).
The Study of Prepration of Blue V-Zircon Pigment by Using Zircon and Sulphuric Acid (M. Riahi and M.A. Faghihi Sani).
Preparation of Blue-Ceramic Pigments by Reaction Bonding (Enrique Rocha-Rangel, Imelda Villanueva-Baltazar, Lucia Téllez-Jurado, and Elizabeth Refugio-García).
Colloidal Characterization and Aqueous Gel Casting of Barium Titanate Ceramics (Cameron D. Munro and Kevin P. Plucknett).
Dispersion and Fluidity of Aqueous Aluminium Titanate Slurry by Addition of Titanate Aqueous Solution (Seizo Obata, Yoshiyuki Iwata, Hisanori Yokoyama, Osamu Sakurada, Minoru Hashiba, and Yasutaka Takahashi).
Author Index.
See More
More in this series