Wireless Home Networking For Dummies, 4th Edition
ISBN: 978-0-470-87725-8
384 pages
November 2010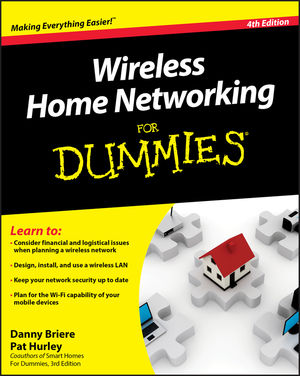 The perennial bestseller shows you how share your files and Internet connection across a wireless network
Fully updated for Windows 7 and Mac OS X Snow Leopard, this new edition of this bestseller returns with all the latest in wireless standards and security. This fun and friendly guide shows you how to integrate your iPhone, iPod touch, smartphone, or gaming system into your home network. Veteran authors escort you through the various financial and logisitical considerations that you need to take into account before building a wireless network at home.
Covers the basics of planning, installing, and using wireless LANs
Reviews essential information on the latest security issues
Delivers valuable tips on how to stay current with fast-moving technology
Discusses how to share resources such as printers, scanners, an Internet connection, files, and more with multiple computers on one network
Wireless Home Networking For Dummies, 4th Edition skips the technical jargon and gets you connected with need-to-know information on building a wireless home network.
See More
Introduction 1
Part I: Wireless Networking Fundamentals 7
Chapter 1: Introducing Wireless Home Networking 9
Chapter 2: From a to n and b-yond 27
Chapter 3: Exploring Bluetooth and Other Wireless Networks 51
Part II: Making Plans 67
Chapter 4: Planning a Wireless Home Network 69
Chapter 5: Choosing Wireless Home Networking Equipment 91
Part III: Installing a Wireless Network 107
Chapter 6: Installing Wireless Access Points in Windows 109
Chapter 7: Setting Up a Wireless Windows Network 125
Chapter 8: Setting Up a Wireless Mac Network 143
Chapter 9: Securing Your Home Network 161
Part IV: Using Your Wireless Network 183
Chapter 10: Putting Your Wireless Network to Work 185
Chapter 11: Gaming Over Your Wireless Network 205
Chapter 12: Networking Your Entertainment Center 225
Chapter 13: Extending Your Mobile Network 245
Chapter 14: Other Cool Things You Can Network 257
Chapter 15: Using a Bluetooth Network 273
Chapter 16: Going Wireless Away from Home 285
Part V: The Part of Tens 297
Chapter 17: Ten FAQs about Wireless Home Networks 299
Chapter 18: Ten Ways to Troubleshoot Wireless LAN Performance 309
Chapter 19: Ten Devices to Connect to Your Wireless Network in the Future 319
Chapter 20: Ten Sources for More Information 339
Index 347
See More
Danny Briere
is CEO and founder of TeleChoice, Inc., which provides strategic consulting services to businesses.
Pat Hurley is a TeleChoice consultant specializing in emerging telecommunications technologies. They are coauthors of Smart Homes For Dummies, Home Theater For Dummies, and HDTV For Dummies.
See More