E-book
Project 2010 Bible
ISBN: 978-0-470-87777-7
960 pages
June 2010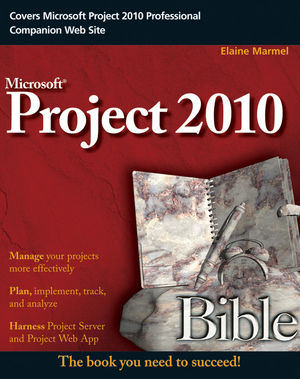 A comprehensive reference on the latest version of the leading enterprise project management software: Microsoft Project 2010
Microsoft Project allows users to manage business activities effectively by sharing project information, performing modeling and scenario analyses, standardizizing reporting processes, and more. This soup-to-nuts reference covers both the professional and standard versions of the latest iteration of Microsoft Project, as well as Project Server, so that you can efficiently manage your business projects. Veteran author Elaine Marmel begins with an overview of project management basics and then gradually moves on to more advanced topics so that you can learn the scope of what successful project management entails.
Popular author Elaine Marmel provides comprehensive coverage of Microsoft Project 2010 and shows you how to successfully manage your business activities
Begins with project management basics, such as creating a new project, tracking a project's progress, and working in groups
Covers more advanced topics, including customizing Project, using macros, and importing and exporting information
Demonstrates how to build tasks, use views, modify the appearance of a project, and resolve scheduling and resource problems
With Project 2010 Bible by your side, you'll learn to confidently and skillfully put Microsoft Project 2010 to work for you.
See More
Part I: Project Management Basics 1
Chapter 1: The Nature of Projects 3
Chapter 2: Exploring the Microsoft Project Environment 21
Part II: Getting Your Project Going 39
Chapter 3: Creating a New Project 41
Chapter 4: Building Tasks 91
Chapter 5: Creating Resources and Assigning Costs 131
Part III: Getting Information about Projects 167
Chapter 6: Understanding the Basics of Views 169
Chapter 7: Using Views to Gain Perspective 211
Chapter 8: Modifying the Appearance of Your Project 257
Chapter 9: Reporting on Progress 293
Part IV: Refining Your Project 339
Chapter 10: Resolving Scheduling Problems 341
Chapter 11: Resolving Resource Problems 369
Part V: Tracking Your Progress 399
Chapter 12: Understanding Tracking 401
Chapter 13: Recording Actuals 415
Chapter 14: Ways to Review Progress 447
Chapter 15: Analyzing Financial Progress 465
Part VI: Advanced Microsoft Project 487
Chapter 16: Customizing Microsoft Project 489
Chapter 17: Using Macros to Speed Your Work 517
Chapter 18: Importing and Exporting Project Information 539
Part VII: Working in Groups 563
Chapter 19: Coordinating Multiple Projects Outside Project Server 565
Chapter 20: Preparing to Use Project Server 601
Chapter 21: Project Server and the Administrator 615
Chapter 22: Project Server and the Project Manager 655
Chapter 23: Project Server and the Day-to-Day User 693
Chapter 24: Project Server and the Executive 723
Part VIII: Appendices 741
Appendix A: What's on the Web Site 743
Appendix B: Project Management Worksheet 749
Appendix C: Available Fields and Functions for Custom Field Formulas 759
Appendix D: Project Management Resources 775
Appendix E: Glossary 783
Index 789
See More
Elaine Marmel is President of Marmel Enterprises, Inc., an organization that specializes in technical writing and software training. Her project management experience includes building financial management systems for New York City and Washington, D.C. Elaine has authored or coauthored over 30 books on topics such as Windows, Microsoft Project, Quicken, Excel, and Word.
See More