E-book
Corporate Governance: A Synthesis of Theory, Research, and Practice
ISBN: 978-0-470-87795-1
676 pages
August 2010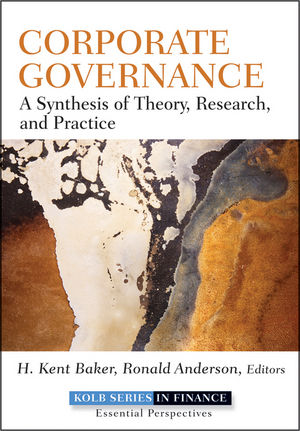 A detailed look at the importance of corporate governance in today's business world
The importance of corporate governance became dramatically clear at the beginning of the twenty-first century as a series of corporate meltdowns from managerial fraud, misconduct, and negligence caused a massive loss of shareholder wealth.
As part of the Robert W. Kolb Series in Finance, this book provides a comprehensive view of the shareholder-manager relationship and examines the current state of governance mechanisms in mitigating the principal-agent conflict. This book also offers informed suggestions and predictions about the future direction of corporate governance.
Relies on recent research findings to provide guidance through the maze of theories and concepts
Uses a structured approach to put corporate governance in perspective
Addresses essential issues related to corporate governance including the idea of principal-agent conflict, role of the board of directors, executive compensation, corporate monitoring, proxy contests and corporate takeovers, and regulatory intervention
Corporate governance is an essential part of mainstream finance. If you need to gain a better understanding of this topic, look no further than this book.
See More
Acknowledgments.
PART ONE Background and Perspectives on Corporate Governance.
History, Systems, Best Practices, and Empirical Evidence.
1 An Overview of Corporate Governance (H. Kent Baker and Ronald Anderson).
2 The Financial Determinants of American Corporate Governance: A Brief History (Lawrence E. Mitchell and Dalia T. Mitchell).
3 Corporate Governance Systems (Christian Andres, Andre Betzer, Marc Goergen, and Daniel Metzger).
4 Corporate Governance Best Practices (Alex Todd).
5 What's Wrong with Corporate Governance Best Practices? (Christopher Søren Shann Turnbull).
6 The Effect of Corporate Governance on Performance (Sanjai Bhagat, Brian Bolton, and Roberta Romano).
7 International Corporate Governance Research (Diane K. Denis).
Separation of Ownership and Control.
8 Agency Theory: Incomplete Contracting and Ownership Structure (Iain Clacher, David Hillier, and Patrick McColgan).
9 Theories and Models of Corporate Governance (Thomas W. Joo).
10 Unfettered Agents? The Role of Ethics in Corporate Governance (Donald Nordberg).
PART TWO Internal Governance.
Boards of Directors.
11 Board Composition and Organization Issues (Matteo Tonello).
12 Board Diversity (Daniel Ferreira).
13 Board Subcommittees for Corporate Governance (Zabihollah Rezaee).
Compensation, Ownership, and Turnover.
14 Executive Compensation: Incentives and Externalities (Philipp Geiler and Luc Renneboog).
15 Compensation Consultants and Executive Pay (Martin J. Conyon).
16 Corporate Governance and Ownership Structure (John J. McConnell, Stephen B. McKeon, and Wei Xu).
17 The Effects of Management Turnover on Firm Performance (Mark R. Huson and Robert Parrino).
PART THREE External Governance.
Nonexecutive Shareholders.
18 CorporateMonitoring by Blockholders (Isabelle Dherment-Ferere and Luc Renneboog).
19 The Governance of Family Firms (Morten Bennedsen, Francisco P´erez-Gonz´alez, and Daniel Wolfenzon).
20 Institutional and Other Shareholders (Chris Mallin).
21 The Politics of Shareholder Activism (Donald Nordberg).
Nonequity Stakeholders.
22 Executive Behavior: A Creditor Perspective on Managerial Ownership (Ronald Anderson, Sattar Mansi, and David Reeb).
23 Governance of Banking Institutions (Renee Birgit Adams).
24 Corporate Governance: Nonequity Stakeholders (Marc Goergen, Chris Brewster, and Geoffrey Wood).
Proxy Contests and Markets.
25 Proxy Contests (Peter G. Szilagyi).
26 Corporate Takeovers and Restructurings (Mike Stegemoller).
27 Corporate Takeovers andWealth Creation (Marina Martynova and Luc Renneboog).
Accounting, Legal, and Regulatory Intervention.
28 Corporate Governance and Accountability (Renee M. Jones).
29 Corporate Governance Rules and Guidelines (Zabihollah Rezaee).
30 Economics Aspects of Corporate Governance and Regulation (Valentina Bruno and Stijn Claessens).
PART FOUR Answers to Chapter Discussion Questions.
Index.
See More
H. KENT BAKER
, PHD, CFA, CMA, is University Professor of Finance and Kogod Research Professor at the Kogod School of Business, American University. He has published extensively in leading academic and professional finance journals including the
Journal of Finance
,
Journal of Financial and Quantitative Analysis
,
Financial Management
,
Financial Analysts Journal
,
Journal of Portfolio Management
, and
Harvard Business Review
. Professor Baker is recognized as one of the most prolific authors in finance during the past fifty years. He has consulting and training experience with more than 100 organizations and has been listed in fifteen biographies.
RONALD ANDERSON, PHD, is a Professor of Finance and the Gary Cohn Endowed Research Professor at the Kogod School of Business, American University. He currently serves as the Chair of the Department of Finance and Real Estate. Before earning his PhD, he worked as an engineer and corporate executive for Schlumberger Limited for more than eleven years, holding both domestic and international posts. Professor Anderson has published extensively on the subject of corporate governance in leading journals in finance, management, accounting, and economics.
See More
More in this series