Banking and Financial Institutions: A Guide for Directors, Investors, and Borrowers
ISBN: 978-0-470-87947-4
357 pages
August 2011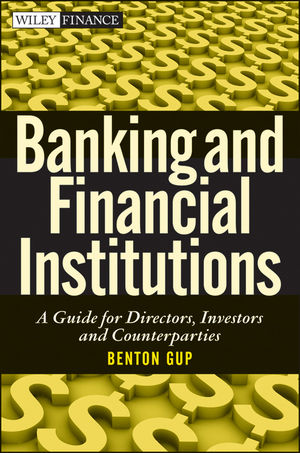 A practical guide to the evolving world of banking and financial institutions
Due to various factors, ranging from the global financial crisis that began in 2007 to new laws such as the Dodd-Frank Wall Street Reform and Consumer Protection Act of 2010, banks and financial institutions have had to alter the way they operate. Understanding how these institutions function in the face of recent challenges is essential for anyone associated with them. That's why Professor Benton Gup has created Banking and Financial Institutions.
Opening with a detailed discussion of the causes of the recent financial crisis, as well as a look at some lessons we can learn from it and other crises, this reliable resource quickly moves on to put modern banking in perspective. Filled with in-depth insights and expert advice, Banking and Financial Institutions examines the essential aspects of this discipline and shows you what it takes to make the most informed decisions possible, whether you're a bank director, investor, or borrower.
Explains the economic role of financial intermediaries, including the financial institutions that bring borrowers and savers together
Addresses how banks can hedge some of their interest rate and credit risks by using various types of derivatives contracts, options, and futures
Analyzes the process of commercial and industrial (C&I) lending, from how banks make loans and the types of C&I loans to the role of collateral
Allows you to evaluate a bank's financial statements and performance
Explores payments systems, including cash, checks, credit cards, wire transfers, and other means of payment
Rounding out this detailed banking guide is an informative chapter on Islamic banking written by Professor Mohamed Ariff of Bond University, as well as a chapter filled with tips for bank directors, borrowers, and investors contributed by John Harrison, the Superintendent of Banks, Alabama State Banking Department.
See More
Preface xi
Acknowledgments xv
About the Author xvii
CHAPTER 1
Lessons Learned from Banking Crises 1
International Financial Crises 1
What Caused the Crisis in the United States? 3
Lessons Learned from Financial Crises 13
CHAPTER 2
The Economic Role of Financial Intermediaries 21
The Economic and Financial System 21
Intermediation 23
Asset Management 32
Individuals 33
Interest Rates 34
Current Trends in Financial Intermediaries 35
The Changing Role of Banks 38
Alternative Financial Services 40
CHAPTER 3
The Evolving Legal Environment 41
What Is a Bank? 41
Why Are Banks Regulated? 42
Selected Banking Laws 47
Services Provided by Banks 50
What Bank Regulators Do 54
Is Prudential Bank Regulation Effective? 57
Appendix 3A: FDIC Definitions of Commercial Banks 64
Appendix 3B: Selected Banking Legislation 68
Recent Laws 74
CHAPTER 4
Asset/Liability Management 75
An Overview of Market Rates of Interest 75
The Effects of Interest Rate Risk on Income and Market Value 84
Managing Interest Rate Spreads 86
Duration Gap and Economic Value of Equity 88
Duration Gap Management Strategies 91
CHAPTER 5
Hedging and Risk Management 95
Derivatives 95
Risks Associated with Derivatives 96
Derivative Contracts by Product and Type 99
Hedging with Interest Rate Swaps 100
Hedging with Currency Swaps 102
Hedging with Options 104
Hedging with Futures 105
Covered Bonds 110
Special Purpose Vehicles 111
Enterprise Risk Management 112
Additional Educational Resources 114
CHAPTER 6
Commercial and Industrial Loans 115
The Role of Asymmetric Information in Lending 115
The Competitive Environment 116
The Board of Directors' Written Loan Policy 120
Seven Ways to Make Loans 122
Collecting Loans 125
Principal Lending Activities 126
Collateral 131
The Lending Process 134
International Lending 145
Summary 147
CHAPTER 7
Real Estate and Consumer Lending 149
Real Estate Lending 149
Characteristics of Mortgage Loans 152
Consumer Lending 165
Finance Charges 174
Annual Percentage Rate 176
Real Estate and Consumer Credit Regulation 180
If Credit Is Denied 182
Privacy Issues 182
Credit Card Accountability, Responsibility and Disclosure Act of 2009 (Credit CARD Act) 183
Conclusion 186
CHAPTER 8
Bank Capital: Capital Adequacy 189
Basel Capital Accords 193
Enterprise Risk Management and Economic Capital 199
Accounting Issues 202
What's Next? 203
CHAPTER 9
Evaluating Bank Performance 207
Evaluating Publicly Traded Banks 207
Evaluating Commercial Banks 213
Appendix 9A: FDIC Bank Data Guide 227
CHAPTER 10
Payments Systems 229
Money 229
Legal Tender 229
Retail Payments 232
Large-Interbank Payments 241
CHAPTER 11
Other Financial Services 245
Cash Management Services 245
Trust Services, Private Wealth, and Asset Management 248
CHAPTER 12
A Guide to Islamic Banking 255
Islamic Banking, an Alternative Intermediation 255
Special Question on Intermediation by Banks 272
Future Direction 276
CHAPTER 13
The View from the Top: Recommendations from a Superintendent of Banks 279
Tips for Bank Directors 279
Tips for Borrowers 280
Tips for Investors 280
What Lies Ahead 281
Notes 283
Glossary 309
References 335
Index 351
See More
Benton E. Gup holds the Robert Hunt Cochrane/Alabama Bankers Association Chair at the University of Alabama. Dr. Gup is the author or editor of twenty-nine books, and his articles on financial subjects have appeared in leading finance journals. His most recent books are The Valuation Handbook (Wiley) and The Financial and Economic Crises: An International Perspective. In 2009, Dr. Gup was awarded the Midwest Finance Association's Lifetime Achievement Award.
See More