Getting Started in Stock Investing and Trading
ISBN: 978-0-470-88077-7
240 pages
January 2011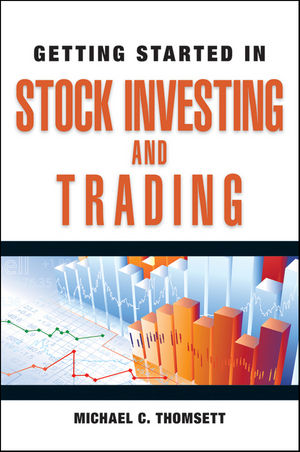 An up-to-date guide to the complex world of equities
Getting Started in Stock Investing and Trading walks investors and traders through the essential information they need to know before they decide what kind of participant they want to be in equities. The book is filled with the key strategies and tools and offers a comprehensive guide for those entering this marketplace. The author does not argue that one method is better or more appropriate than another. Rather, he reveals the various methods and lets investors decide for themselves. The book covers investment risks, value investing, market strategies, trading methods such as day and swing trading, technical indicators, and diversifying your portfolio, and

Offers a thorough overview of strategies and tools that investors need to profit from the volatile equities markets
Provides examples, charts, and timely additions that reflect recent changes in the equities markets
Other titles by Thomsett: Getting Started in Bonds and eight editions of Getting Started in Options. This book is another title in The Getting Started series, which makes complex issues easy to understand.
See More
Introduction The Potential of the Stock Market.
PART I INVESTING.
Chapter 1 Investment Risks.
Chapter 2 Value Investment.
Chapter 3 Market Strategies.
Chapter 4 Fundamental Analysis.
Chapter 5 Alternatives: Stocks or Mutual Funds.
PART II TRADING.
Chapter 6Trading Risks.
Chapter 7 Trading Methods: Day and Swing Trading.
Chapter 8 Charting Tools and Interpretation.
Chapter 9 Essential Technical Indicators.
Chapter 10 Technical Analysis, Dow Theory and Practice.
PART III COMBINING INVESTING AND TRADING.
Chapter 11 The Contrarian Approach to Trading.
Chapter 12 Mixing Speculation and Investing.
Chapter 13 Options to Leverage and Manage Your Portfolio.
Chapter 14 Your Sensible Approach to the Market.
Glossary.
About the Author.
Index.
See More
MICHAEL C. THOMSETT is a bestselling author who has written more than seventy books on investing, real estate, business, and management. He has authored numerous books published by Wiley, including eight editions of the bestselling Getting Started in Options, as well as Getting Started in Real Estate Investing and Getting Started in Swing Trading. Visit his Web site at www.MichaelThomsett.com.
See More
Learn more about