E-book
Graphics for Learning: Proven Guidelines for Planning, Designing, and Evaluating Visuals in Training Materials, 2nd Edition
ISBN: 978-0-470-88092-0
420 pages
October 2010, Pfeiffer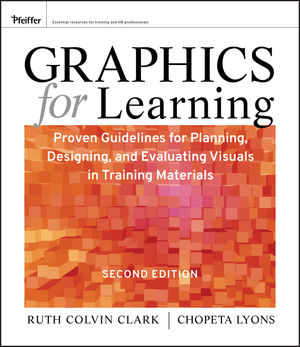 Are you getting the most learning value from visuals? Thoroughly revised and updated,
Graphics for Learning
is the second edition of the bestselling book that summarizes the guidelines for the best use of graphics for instructional materials, including multimedia, texts, working aids, and slides. The guidelines are based on the most current empirical scientific research and are illustrated with a wealth of examples from diverse training materials. The authors show how to plan illustrations for various types of content, including facts, concepts, processes, procedures, and principles. The book also discusses technical and environmental factors that will influence how instructional professionals can apply the guidelines to their training projects.
Praise for the First Edition
"For years I've been looking for a book that links cognitive research on learning to graphics and instructional design. Here it is! Ruth Clark and Chopeta Lyons not only explain how to make graphics work—they've created a very interesting read, full of useful guidelines and examples."
—Lynn Kearny, CPT, instructional designer and graphic communicator, Graphic Tools for Thinking and Learning
"Finally! A book that integrates visual design into the larger context of instructional design and development."
—Linda Lohr, Ed.D., author, Creating Graphics for Learning and assistant professor, University of Northern Colorado
See More
Acknowledgments vii
Foreword to the Second Edition ix
Introduction: Getting the Most from This Resource xiii
SECTION ONE: THE FOUNDATION 1
CHAPTER 1 The Power of Visuals 3
CHAPTER 2 Three Views of Instructional Visuals 15
CHAPTER 3 A Visual Design Model for Planning Graphics Systematically 29
SECTION TWO: HOW TO USE VISUALS TO SUPPORT PSYCHOLOGICAL LEARNING PROCESSES 45
CHAPTER 4 Graphics and Learning 49
CHAPTER 5 Plan Graphics That Direct Attention 65
CHAPTER 6 Plan Graphics That Leverage Prior Knowledge 85
CHAPTER 7 Plan Graphics That Minimize Irrelevant Mental Load 97
CHAPTER 8 Plan Graphics to Help Learners Build Mental Models 115
CHAPTER 9 Plan Graphics That Support Transfer of Learning 135
CHAPTER 10 Plan Graphics for Motivation and Learning 153
CHAPTER 11 Plan Graphics to Leverage Individual Differences 169
SECTION THREE: HOW TO VISUALIZE LESSON CONTENT 181
CHAPTER 12 How to Visualize Procedures 185
CHAPTER 13 How to Visualize Concepts 203
CHAPTER 14 How to Visualize Facts 217
CHAPTER 15 How to Visualize Processes 231
CHAPTER 16 How to Visualize Principles 247
SECTION FOUR: HOW TO PLAN AND COMMUNICATE YOUR VISUALS 265
CHAPTER 17 Determine the Context 269
CHAPTER 18 Design Your Visual Approach 287
CHAPTER 19 Visualize Individual Graphics 305
CHAPTER 20 Communicate and Lay Out Your Graphic Plans 323
CHAPTER 21 Apply the Principles 345
Glossary 368
References 379
About the Authors 388
Index 389
See More
Dr. Ruth Colvin Clark
is an instructional psychologist with a specialty in design and development of effective workforce learning. She is the author of
e-Learning and the Science of Instruction
and her book,
Building Expertise
, was awarded Outstanding Instructional Communication from the International Society of Performance Improvement.
Chopeta Lyons has created award-winning print and online learning products during her twenty-five years of developing training solutions. She has directed teams of designers, writers, programmers, audio talent, graphic designers, and artists to create custom solutions for the training needs of numerous corporations and organizations. She is the author of several articles on e-learning and a college textbook, Discover Writing.
See More