Basic Training For Dummies
ISBN: 978-0-470-88123-1
384 pages
September 2011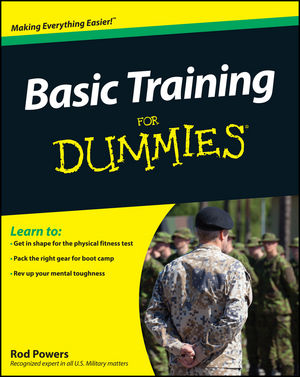 The easy way to prepare for basic training
Each year, thousands of young Americans attempt to enlist in the U.S. Armed Services. A number of factors during a soldier's training could inhibit successful enlistment, including mental toughness and physical fitness levels. Basic Training For Dummies covers the ins and outs of this initial process, preparing you for the challenges you?ll face before you head off for basic training..
You'll get detailed, week-by-week information on what to expect in basic training for each branch of service, such as physical training, discipline, classroom instruction, drill and ceremony, obstacle courses, simulated war games, self-defense, marksmanship, and other milestones.
Tips and information on getting in shape to pass the Physical Fitness Test (PFT)
All-important advice on what to pack for boot camp
Other title by Powers: ASVAB For Dummies Premier, 3rd Edition, Veterans Benefits For Dummies
Whether you join the Army, Air Force, Navy, Marine Corps, or the Coast Guard, Basic Training For Dummies prepares you for the challenge and will help you survive and thrive in boot camp!
See More
Introduction 1
Part I: The Basics about Basic 7
Chapter 1: Forewarned Is Forearmed 9
Chapter 2: A Day in the Life of Basic Training 19
Chapter 3: Training for Military Jobs 27
Chapter 4: On the Firing Line (Weapons Range) 35
Part II: Getting Ready for Basic 49
Chapter 5: Getting a Head Start on Military Ranks 51
Chapter 6: Doing Things the Military Way 67
Chapter 7: Mastering Military Law and Justice 79
Chapter 8: Fit to Fight: Getting in Shape for Basic Training 89
Chapter 9: Hup, Two, Three, Four: Understanding Military Drill 107
Part III: Heading to Basic Training 119
Chapter 10: Packing Right by Packing Light 121
Chapter 11: One Last Trip to the Military Entrance Processing Station (MEPS) 131
Chapter 12: Arriving at the Base 139
Chapter 13: Getting Picked for a Basic Training Job 149
Part IV: Basic Training Life, Branch by Branch 159
Chapter 14: Army Basic Combat Training 161
Chapter 15: Air Force Basic Training 181
Chapter 16: Navy Boot Camp 201
Chapter 17: Marine Corps Basic Training 221
Chapter 18: Coast Guard Basic Training 247
Part V: Wrapping Up Basic Training 261
Chapter 19: Graduation Week 263
Chapter 20: Getting Your Just Rewards 273
Part VI: The Part of Tens 283
Chapter 21: Ten Ways to Prepare for Basic Training 285
Chapter 22: Ten Ways to Make Your Drill Instructor Happy293
Chapter 23: Ten Ways to Get in Shape for Basic Training 299
Appendix A: Punitive Articles of the Uniform Code of Military Justice (UCMJ) 307
Appendix B: Military Enlisted History 313
Index 353
See More
Rod Powers, a recognized expert in all U.S. military matters, is the author of ASVAB For Dummies and serves as a military guide for About.com.
See More