Mint.com For Dummies
ISBN: 978-0-470-88318-1
360 pages
November 2010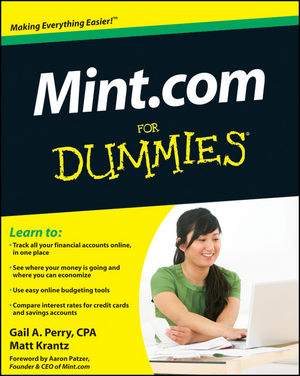 Get empowered and take control of your personal finances with Mint.com!
Mint.com is a free Web-based personal financial management service that helps you set up your day-to-day finances and track bank, credit card, investment, and loan transactions through a single Web site that is accessible anytime, anywhere in the world that you can access through the Internet. This fun and friendly guide arms you with expert advice for managing your bills, following where your money is going, developing a budget, paying off loans, saving for a house or car, maximizing investments, managing retirement savings, and more. The straightforward and easy-to-understand Dummies writing style shows you how to use Mint.com to get your finances organized—and keep them that way.
Introduces you to Mint.com, the free personal online finance management service that helps you set up and track your day-to-day finances
Walks you through the steps for creating a budget based on your current spending habits or creating a budget with goals in mind (saving for a new home or car, paying off college loans early, having a comfortable retirement, etc.)
Tells you everything you need to do to track bank, credit card, investments, loan transactions and manage your bills
Shows you how to import and export tax information from Mint.com, including the tax software packages that make it the easiest
Includes handy checklists, expert tips, invaluable advice, and helpful warnings throughout
Mint.com For Dummies helps you get your daily finances in mint condition!
See More
Introduction.
Part I: Getting Started.
Chapter 1: Welcome to Mint.com.
Chapter 2: Setting Up Shop.
Chapter 3: Saving $1,000.
Chapter 4: Getting Minty with Credit Cards.
Chapter 5: Tracking Your Cash.
Chapter 6: Staying On Track with Alerts.
Chapter 7: Feeling Safe and Secure Using Mint.com.
Part II: Budgeting.
Chapter 8: Budgeting Income and Expenses.
Chapter 9: Working with Your Budget.
Chapter 10: Budgeting Irregular Income and Infrequent Expenses.
Chapter 11: Handling Emergencies.
Part III: Planning and Saving.
Chapter 12: Managing Your Net Worth.
Chapter 13: Avoiding Money Troubles.
Chapter 14: Accounting for Health Care.
Chapter 15: Navigating the School Daze Maze.
Chapter 16: Preparing for Retirement.
Part IV: Borrowing and Investing.
Chapter 17: Managing Car Loans and Mortgages.
Chapter 18: Your Mutual Fund Guide.
Chapter 19: Buying and Selling Stocks.
Chapter 20: Exploring Alternatives for Your Money.
Part V: The Part of Tens.
Chapter 21: Ten Ways to Prepare for the Tax Man.
Chapter 22: Ten Ways to Improve Your Credit Score.
Chapter 23: Ten Tips to Becoming a Mint.com Wiz.
Index.
See More
Gail A. Perry
, CPA, is the managing editor of AccountingWEB, a popular speaker, personal finance instructor, and the author of 30 books on taxes, financial software, and personal finance.
Matt Krantz is a nationally known financial journalist who covers Wall Street and the financial markets for USA TODAY.
See More