E-book
Bartending For Dummies, 4th Edition
ISBN: 978-0-470-88582-6
384 pages
September 2010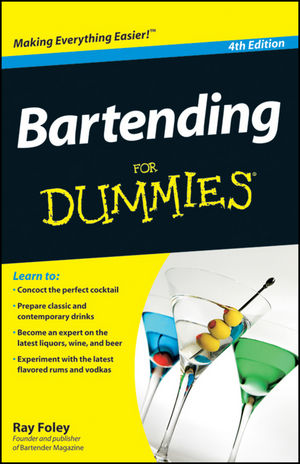 This latest edition of
Bartending For Dummies
features over 1,000 drink recipes in an A-Z format with clear, easy-to-follow instructions. This 4th Edition also provides:
Detailed information on how to properly stock a bar
Expanded coverage on making exotic frozen/blended specialties, specialty coffees, and hot toddies
Tips on creating unique punches and even non-alcoholic drinks
Helpful information about experimenting with the latest flavored rums and vodkas including apple, blackberry, blueberry, cherry, grape, mango, and watermelon
Fun, new ways to garnish, rim, and serve drinks like a master mixologist
The latest tips and advice on curing hangovers and hiccups
Advice on choosing the right and latest glassware and mixers
New recipes covering the hottest shooters such as After Five, Candy Corn, Jelly Bean, and more
A new section on festive holiday cocktails such as the Grinch and Candy Cane Martini
See More
Introduction.
Part I: The Basics.
Chapter 1: Just for Openers: The Right Tools and Glasses.
Chapter 2: Methods to the Madness.
Chapter 3: Setting Up Your Home Bar.
Chapter 4: Charts and Measures.
Part II: Short Shots from American Whiskey to Wine.
Chapter 5: American and Canadian Whisk(e)y.
Chapter 6: Aperitifs, Cordials, and Liqueurs.
Chapter 7: Beer.
Chapter 8: Brandy.
Chapter 9: Cognac and Armagnac.
Chapter 10: Gin.
Chapter 11: Irish Whiskey.
Chapter 12: Rum.
Chapter 13: Scotch Whisky.
Chapter 14: Tequila and Mezcal.
Chapter 15: Vodka.
Chapter 16: Wine.
Part III: The Recipes.
Chapter 17: Recipes from A to Z.
Chapter 18: "Martini" Madness.
Chapter 19: Drinks for Special Occasions.
Chapter 20: Nonalcoholic Drinks.
Part IV: The Part of Tens.
Chapter 21: Ten Drinks to Try and Ten Drinks to Let Someone Else Try.
Chapter 22: At Least Ten Cures and Lores.
Recipes Index.
Topics Index.
See More
Ray Foley is the founder and publisher of Bartender Magazine whose readership exceeds 100,000. His Web site, bartender.com, generates over 1 million hits per month. A professional bartender for more than twenty years, he is the founder of the "Bartender Hall of Fame."
See More