E-book
Cost of Capital: Applications and Examples, 4th Edition
ISBN: 978-0-470-88671-7
832 pages
November 2010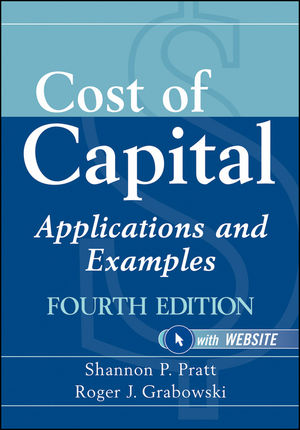 Praise for Cost of Capital, Fourth Edition
"This book is the most incisive and exhaustive treatment of this critical subject to date."
—From the Foreword by Stephen P. Lamb, Esq., Partner, Paul, Weiss, Rifkind, Wharton & Garrison LLP, and former vice chancellor, Delaware Court of Chancery
"Cost of Capital, Fourth Edition treats both the theory and the practical applications from the view of corporate management and investors. It contains in-depth guidance to assist corporate executives and their staffs in estimating cost of capital like no other book does. This book will serve corporate practitioners as a comprehensive reference book on this challenging topic in these most challenging economic times."
—Robert L. Parkinson Jr., Chairman and Chief Executive Office, Baxter International Inc., and former dean, School of Business Administration and Graduate School of Business, Loyola University of Chicago
"Shannon Pratt and Roger Grabowski have consolidated information on both the theoretical framework and the practical applications needed by corporate executives and their staffs in estimating cost of capital in these ever-changing economic times. It provides guidance to assist corporate practitioners from the corporate management point of view. For example, the discussions on measuring debt capacity is especially timely in this changing credit market environment. The book serves corporate practitioners as a solid reference."
—Franco Baseotto, Executive Vice President, Chief Financial Officer, and Treasurer, Foster Wheeler AG
"When computing the cost of capital for a firm, it can be fairly said that for every rule, there are a hundred exceptions. Shannon Pratt and Roger Grabowski should be credited with not only defining the basic rules that govern the computation of the cost of capital, but also a road map to navigate through the hundreds of exceptions. This belongs in every practitioner's collection of must-have valuation books."
—Aswath Damodaran, Professor, Stern School of Business, New York University
"Pratt and Grabowski have done it again. Just when you thought they couldn't possibly do a better job, they did. Cost of Capital, Fourth Edition is a terrific resource. It is without a doubt the most comprehensive book on this subject today. What really distinguishes this book from other such texts is the fact that it is easy to read—no small feat given the exhaustive and detailed research and complicated subject matter. This book makes you think hard about all the alternative views out there and helps move the valuation profession forward."
—James R. Hitchner, CPA/ABV/CFF, ASA, Managing Director, Financial Valuation Advisors; CEO, Valuation Products and Services; Editor in Chief, Financial Valuation and Litigation Expert; and President, Financial Consulting Group
"The Fourth Edition of Cost of Capital continues to be a 'one-stop shop' for background and current thinking on the development and uses of rates of return on capital. While it will have an appeal for a wide variety of constituents, it should serve as required reading and as a reference volume for students of finance and practitioners of business valuation. Readers will continue to find the volume to be a solid foundation for continued debate and research on the topic for many years to come."
—Anthony V. Aaron, Americas Leader, Quality and Risk Management, Ernst & Young Transaction Advisory Services
See More
About the Authors.
Foreword.
Preface.
Acknowledgments.
Notation System and Abbreviations Used in This Book.
Part One Cost of Capital Basics.
Chapter 1 Defining Cost of Capital.
Chapter 2 Introduction to Cost of Capital Applications: Valuation and Project Selection.
Chapter 3 Net Cash Flow: Preferred Measure of Economic Income.
Chapter 4 Discounting versus Capitalizing.
Chapter 5 Relationship between Risk and the Cost of Capital.
Chapter 6 Cost Components of a Business's Capital Structure.
Part Two Estimating the Cost of Equity Capital and the Overall Cost of Capital.
Chapter 7 Build-up Method.
Chapter 8 Capital Asset Pricing Model.
Chapter 9 Equity Risk Premium.
Appendix 9A Realized Risk Premium (ex Post) Approach.
Chapter 10 Beta: Differing Definitions and Estimates.
Chapter 11 Unlevering and Levering Equity Betas.
Chapter 12 Criticism of CAPM and Beta versus Other Risk Measures.
Chapter 13 Size Effect.
Chapter 14 Criticisms of the Size Effect.
Appendix 14A Other Data Issues Regarding the Size Effect.
Chapter 15 Company-Specific Risk.
Chapter 16 Distressed Businesses.
Chapter 17 Other Methods of Estimating the Cost of Equity Capital.
Chapter 18 Weighted Average Cost of Capital.
Chapter 19 Global Cost of Capital Models.
Chapter 20 Using Morningstar Cost of Capital Data
Part Three Corporate Finance Officers: Using Cost of Capital Data.
Chapter 21 Capital Budgeting and Feasibility Studies.
Chapter 22 Cost of Capital for Divisions and Reporting Units.
Chapter 23 Cost of Capital for Fair Value Reporting of Intangible Assets.
Chapter 24 Cost of Capital in Evaluating Mergers and Acquisitions.
Chapter 25 Cost of Capital in Transfer Pricing.
Chapter 26 Central Role of Cost of Capital in Economic Value Added.
Part Four Other Cost of Capital Considerations.
Chapter 27 Handling Discounts for Lack of Marketability and Liquidity for Minority Interests in Operating Businesses.
Chapter 28 The Private Company Discount for Operating Businesses.
Chapter 29 Cost of Capital of Interests in Pass-Through Entities.
Chapter 30 Relationship between Risk and Returns in Venture Capital and Private Equity Investments.
Chapter 31 Minority versus Control Implications of Cost of Capital Data.
Chapter 32 How Cost of Capital Relates to the Excess Earnings Method of Valuation.
Chapter 33 Adjusting the Discount Rate to Alternative Economic Measures.
Chapter 34 Estimating Net Cash Flows.
Part Five Advice to Practitioners.
Chapter 35 Common Errors in Estimation and Use of Cost of Capital.
Chapter 36 Dealing with Cost of Capital Issues.
Appendix I Bibliography.
Appendix II Data Sources.
Appendix III International Glossary of Business Valuation Terms.
Index.
See More
Shannon P. Pratt
, CFA, FASA, ARM, MCBA, CM&AA, referred to as the father of business valuations, is the author of several bestselling Wiley business valuation books and a sought-after speaker at business valuation industry conferences. He is the managing owner of Shannon Pratt Valuations, Inc., and has served as supervisory analyst for over 3,000 business valuation engagements in forty years and as an expert witness in numerous state and federal courts on contested business valuations.
Roger J. Grabowski is managing director of Duff & Phelps LLC. Roger has testified in court as an expert witness on the value of closely held businesses and business interests, matters of solvency, valuation, and amortization of intangible assets, and other valuation issues. He testified in the Northern Trust case, the first U.S. Tax Court decision that adopted the discounted cash flow method to value the stock of a closely held business with the discount rate based on the capital asset pricing model. Grabowski authors the annual Duff & Phelps Risk Premium Report.
See More