Managing Indirect Spend: Enhancing Profitability Through Strategic Sourcing
ISBN: 978-0-470-88688-5
446 pages
November 2011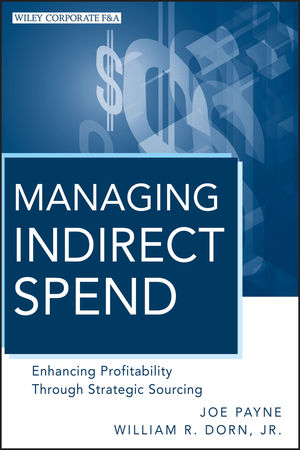 Unique guidance for cutting costs regardless of economic conditions—without reducing headcounts
Successfully reduce costs in the area of indirect spend and watch your bottom line grow. Managing Indirect Spend provides you with the knowledge and tools necessary to get it done with an overview of: the challenges faced when sourcing indirect spend categories; strategic sourcing process; tools that can help drive savings, and examples based on real world experience. This how-to guide clearly covers specific sourcing engagements and provides the details needed to source effectively.
Includes sections covering the process, the tools, real-world examples, guidance through specific sourcing engagements and the information needed to source effectively
Presents guidance for achieving the object of strategic sourcing: cost reduction
Shows how effectively managing indirect costs can provide a huge impact on bottom line growth
Covers all areas of Market Intelligence (MI)
With tools, real world examples, and workable guidance, Managing Indirect Spend provides insider guidance for big bottom-line growth through effective management of indirect costs.
See More
Preface xi
Acknowledgments xvii
Introduction: What Is Indirect Spend, and How Does One Manage It? 1
PART ONE: THE PROCESS
Chapter 1: An Introduction to Strategic Sourcing 9
Joe Payne
Chapter 2: Data Collection and Analysis 15
Joe Payne
Chapter 3: Conducting Research 47
Joe Payne
Chapter 4: The RFx Process 63
Kathleen Daly
Chapter 5: Scorecarding Suppliers 89
Kathleen Daly
Chapter 6: Negotiations 103
Joe Payne
Chapter 7: Get It in Writing 121
Joe Payne
Chapter 8: Implementation and Continuous Improvement 145
Joe Payne
Chapter 9: What Not to Do During a Strategic Sourcing Initiative 167
William Dorn
PART TWO: THE TOOLS
Chapter 10: The Importance of Market Intelligence 191
William Dorn
Chapter 11: Tools to Assist You in Gathering Data and Expediting the Sourcing Process 207
William Dorn
Chapter 12: Increasing Stakeholder Engagement 231
David Pastore
PART THREE: EXAMPLES FROM THE FIELD
Chapter 13: Supplier Collaboration 245
William Dorn
Chapter 14: Leveraging Supplier Feedback 255
William Dorn
Chapter 15: Data Analysis 263
David Pastore
PART FOUR: HOW TO DO IT
Chapter 16: Offi ce Supplies and the Sourcing Process 277
Jennifer Ulrich
Chapter 17: Negotiating Local and Long-Distance Telecommunications Services 299
David Pastore
Chapter 18: How Cell-Phone Management Drives Continuous Cost Savings 315
William Dorn
Chapter 19: Getting the Best Small Package Rates 339
William Dorn
Chapter 20: Making Sense of MRO Spend 355
Kathleen Daly
Chapter 21: Analyzing Shipping Costs 381
Joe Payne
Chapter 22: Sourcing Services 401
Jennifer Ulrich and Scott Decker
About the Authors 423
About the Contributors 425
Index 427
See More
Joe Payne,
Director of Strategic Sourcing, Source One Management Services, is an experienced consultant who has helped many companies reduce costs and manage change. He leads a team of project managers and analysts, developing insights into the challenges organizations face when undertaking initiatives to reduce costs in the area of indirect spend.
William R. Dorn, Jr., Director of Operations, Source One Management Services, is a certified Six Sigma Black Belt with extensive experience in large-scale projects for Fortune 500 companies and the federal government. His expertise includes business analysis; mechanical and manufacturing engineering; business process reengineering; risk analysis; and technology design, acquisition, and implementation.
See More