E-book
Nonprofit Sustainability: Making Strategic Decisions for Financial Viability
ISBN: 978-0-470-88696-0
208 pages
November 2010, Jossey-Bass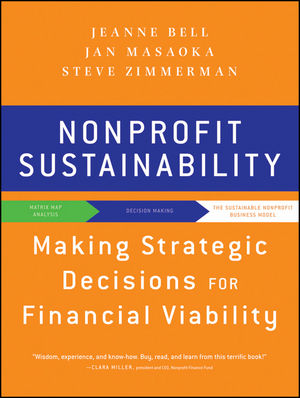 Praise for NONPROFIT SUSTAINABILITY
"This is much more than a financial how-to book. It's a nonprofit's guide to empowerment. It demystifies mission impact and financial viability using The Matrix Map to provide strategic options for any organization. A must-read for every nonprofit CEO, CFO, and board member."
—Julia A. McClendon, chief executive officer, YWCA Elgin, Illinois
"This book should stay within easy reaching distance and end up completely dog-eared because it walks the reader through a practical but sometimes revelatory process of choosing the right mix of programs for mission impact and financial sustainability. Its use is a practice in which every nonprofit should engage its board once a year."
—Ruth McCambridge, editor in chief, The Nonprofit Quarterly
"Up until a few years ago, funding and managing a nonprofit was a bit like undertaking an ocean voyage. Now, it's akin to windsurfing—you must be nimble, prepared to maximize even the slightest breeze, and open to modifying your course at a moment's notice. Innovative executive directors or bold board members who want their organization to be able to ride the big waves of the new American economy must read this book."
—Robert L. E. Egger, president, DC Central Kitchen/Campus Kitchens Project/V3 Campaign
"Most nonprofits struggle to find a long-term sustainable business model that will enable them to deliver impact on their mission. Thanks to Jeanne Bell, Jan Masaoka, and Steve Zimmerman help is now in sight. This book offers practical, concrete steps you can take to develop your own unique path to sustainability without compromising your mission."
—Heather McLeod Grant, consultant, Monitor Institute, and author, Forces for Good: The Six Practices of High-Impact Nonprofits
"At last! An urgently needed framework to prepare leaders to meet head-on the persistent twin challenges of impact and sustainability. This is a practical tool based on good business principles that can bring boards and staff members together to lead their organizations to sustainable futures."
—Nora Silver, adjunct professor and director, Center for Nonprofit and Public Leadership, Haas School of Business, University of California, Berkeley
"Together, Jeanne Bell, Jan Masaoka, and Steve Zimmerman equal wisdom, experience, and know-how on sustainability and lots of other things. Buy, read, and learn from this terrific book!"
—Clara Miller, president and CEO, Nonprofit Finance Fund
"Wisdom, experience, and know-how. Buy, read, and learn from this terrific book!"
—Clara Miller, president and CEO, Nonprofit Finance Fund
See More
Tables, Figures, and Exhibits.
The Authors.
Part One Introduction to Key Concepts.
1 Who Will Find This Book Useful, and How?
2 Two Aspects of Sustainability.
Part Two Mapping Your Business Model: The Matrix Map.
3 Identifying Core Activities: Business Lines.
4 Determining Profi tability.
5 Determining Relative Impact.
6 Mapping the Matrix.
Part Three Making Choices to Adjust the Business Model.
7 The Strategic Imperatives.
8 Toward the New Business Model.
9 The Morphing Map.
Part Four The Business Logic of Nonprofit Income Types.
10 A Look at the Business Logic of Types of Donations.
11 Earned-Income Business Lines.
Part Five Ongoing Decision Making and Leadership.
12 The Matrix Map and Strategic Planning.
13 Decision Making and Leadership.
Concluding Words.
Additional Resources.
Acknowledgments.
Index.
See More
Jan Masaoka
(San Francisco, CA) is a leading nonprofit thinker, writer, and editor of Blue Avocado, a bimonthly online magazine (50,000 subscribers) that features Jan's signature column Board Cafe (from which her book
Best of the Board Café
(Fieldstone, 2003, 2009) was compiled. As the former executive director of CompassPoint Nonprofit Services, she was named Executive Director of the Year in 2002 by Nonprofit Times, and California Community Leader of the Year in 2005 by Leadership California. She served on the Governance & Fiduciary Responsibility Committee of the Panel on the Nonprofit Sector, convened by Independent Sector to advise the U.S. Senate Finance Committee.
Steve Zimmerman, (Milwaukee, WI) M.B.A., C.P.A., is principal at Spectrum Nonprofit Services, a multi-service consulting firm specializing in business planning, strategy and financial analysis for nonprofits and foundations. An MBA and CPA, Zimmerman's previous work includes Projects Director at CompassPoint Nonprofit Services, Associate Director for Earth Island Institute, and CFO and Development Director for other community-based nonprofit organizations.  In addition to his consulting and training, he writes for Blue Avocado as well as The Nonprofit Quarterly and BoardSource.
Jeanne Bell (San Francisco, CA) is CEO of CompassPoint Nonprofit Services, a leading consulting, research and training firm for nonprofits. Based on her own CFO and COO experiences along with extensive consulting work, Jeanne coauthored Finance Leadership for Nonprofits (Fieldstone, 2005), and her published research work includes numerous nonprofit-oriented studies. The former Advisory Board Chair for the Institute for Nonprofit Organization Management at USF, she serves on the Alliance for Nonprofit Management board.
See More