Fundraising for Social Change, 6th Edition
ISBN: 978-0-470-88717-2
540 pages
May 2011, Jossey-Bass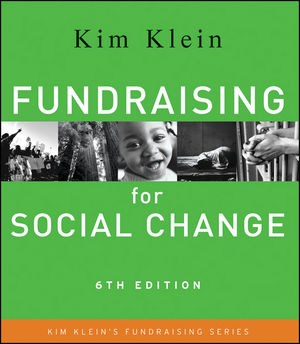 This bestselling book is one of the most widely used in the field by nonprofit organizations across the country. A soup to nuts description of how to build, maintain and expand an individual donor program, this book is often called "the Bible of grassroots fundraising."

Praise for the Sixth Edition of Fundraising for Social Change

"People love Kim's fundraising wisdom and her keen ability to connect fund development with what matters in our communities. I always recommend Fundraising for Social Change to organizations in need of a book with ideas they can use right away as well as information about how to build a successful long-term fundraising program."
—Steve Lew, senior projects director, CompassPoint Nonprofit Services

"I used Fundraising for Social Change as a textbook for my class for many years and often recommend it to grassroots organizations as a primer for developing a fundraising strategy. Kim's years of experience and her own broad knowledge of the field give the book heft and credibility. Her pragmatism and sense of humor make it readable and engaging."
—Maria Mottola, executive director, New York Foundation

"The information and inspiration we have received from Kim Klein's books have been key to our grassroots fundraising efforts. Some people go back to Proust; I go back to her specifics about how to write a fundraising plan that actually works!"
—Bob Fulkerson, state director, Progressive Leadership Alliance of Nevada (PLAN)

"Kim makes me a believer again whenever I am in her presence?be it through her spoken or written word. While she provides the basics of raising money in an accessible form, what I truly value is the deep sense of purpose she reawakens in me as a fundraiser-activist."
—Miguel Gavaldón, fundraising coach and trainer, Grassroots Institute for Fundraising Training

"Whatever role I am in, I turn to Fundraising for Social Change. Working with Kim to present Fundraising for Social Change workshops in communities changes lives?both professional and personal?including mine. She offers hands-on experience and extraordinary human values to the nonprofit sector, as well as skilled expertise in teaching others how to make fundraising fun and meaningful to our whole life."
—Jaune Evans, development chair, Yerba Buena Center for the Arts
See More
Preface to the Sixth Edition.
Acknowledgments.
The Author.
Introduction.
Part One: Fundraising Framework.
1 The Landscape of the Nonprofit Sector.
2 Key Principles of Fundraising.
3 Matching Fundraising Strategies with Financial Needs.
4 Creating a Case Statement.
5 The Board of Directors.
Part Two: Strategies for Acquiring and Keeping Donors.
6 Getting Comfortable with Asking for Money.
7 The Logistics of Personal Solicitation.
8 Using Special Events Correctly.
9 How to Plan a Special Event.
10 Details of Two Prototypical Events.
11 Using Direct Mail.
12 The Logistics of Direct Mail.
13 Fundraising by Telephone.
14 Creating an Online Fundraising Program.
15 Establishing Voluntary Fees for Service.
16 Canvassing.
17 Opportunistic Fundraising.
18 The Thank You Note.
Part Three: Strategies for Upgrading Donors.
19 Segmenting Donors.
20 Setting Up and Maintaining Monthly Donor Pledge Programs.
21 Building Major Gifts Programs.
22 Legacy Giving.
23 Launching Major Gifts Campaigns.
Part Four: Large-Scale Fundraising.
24 Setting Up an Endowment.
25 Endowment Campaigns.
26 Capital Campaigns.
27 Conducting Feasibility Studies.
Part Five: Fundraising Management.
28 The Fundraising Office.
29 Managing Your Information.
30 Managing Your Time.
31 Managing Donor Data.
32 Working with Volunteers.
Part Six: You the Fundraiser.
33 Hiring a Development Director.
34 Using a Consultant, Coach, Mentor, or Trainer.
35 Dealing with Anxiety.
36 Working with Your Executive Director.
37 Ethical Dilemmas Common to Fundraising.
Part Seven: Budgeting and Planning.
38 Developing a Budget.
39 Creating a Fundraising Plan.
40 What to Do in Case of Financial Trouble.
Part Eight: Special Circumstances.
41 Raising Money in Rural Communities.
42 Fundraising for a Coalition.
43 When Everyone Is a Volunteer.
44 Starting Out Right.
45 The Perennial Question of Clean and Dirty Money.
Index.
See More
Kim Klein has defined the field of grassroots fundraising and worked tirelessly to help organizations with small budgets working for social justice develop a broad base of individual donors. Kim is the author of five books and the founder of the Grassroots Fundraising Journal. Her most recent book, Reliable Fundraising in Unreliable Times, won the McAdam Book Award in 2010. Fundraising for Social Change has been in wide use for 30 years. Kim has worked in all aspects of fundraising, as staff, volunteer, and board member. She has provided training and consultation in all 50 United States and 22 other countries.
See More
More in this series