E-book
Digital Photography Exposure For Dummies
ISBN: 978-0-470-88745-5
384 pages
October 2010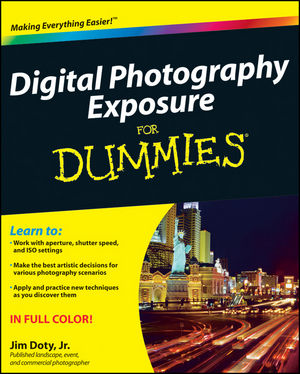 Proper exposure techniques and tips in a single practical guide
Most of today's cameras do all the work for the user, yet more and more photographers are looking to add some agility and aptitude to their do-it-all cameras. Digital Photography Exposure For Dummies builds upon skills introduced in Photography For Dummies to guide you through creating the perfect shot. Using aperture and shutter speed techniques, as well as knowledge of ISO sensitivity, lens choice, lighting, and color, you will learn a variety of methods and scenarios to produce astonishing and gripping images.
Learn how to control the amount of light let into the lens for each photo
Features full-color examples and comparisons in techniques
Breaks down the settings and adjustments that should be made to achieve different effects
Includes suggested exercises to apply as you become more comfortable with new techniques
The step-by-step instructions in Digital Photography Exposure For Dummies allow you to get the picture you want every time!
See More
Introduction.
Part I: The Science of Exposure.
Chapter 1: Discovering the Art of Exposure.
Chapter 2: Exposure 101: The Basics.
Chapter 3: Metering Essentials: Reflected Light Metering.
Chapter 4: Complex Metering Simplified: Incident Light Metering, Bracketing, and more.
Chapter 5: More Than Just Metering: Working with Light.
Part II: The Art of Exposure.
Chapter 6: Changing the Look of Your Images: Apertures and Depth of Field.
Chapter 7: Taking a Deeper Look at Depth of Field.
Chapter 8: The Passage of Time: Shutter Speeds.
Chapter 9: Sensitivity to Light: ISO193.
Chapter 10: A Pocketful of Sun: Electronic Flash.
Part III: Taking Exposure a Step Further: Creating Great Images.
Chapter 11: Candids, Portraits, and More: People Photography.
Chapter 12: Taking a Walk on the Wild Side: Photographing Wildlife.
Chapter 13: From Sea to Shining Sea: Landscape Photography.
Chapter 14: Petals in the Wind: Capturing Flowers with Your Camera.
Chapter 15: On Your Mark, Get Set, Go!
Photographing Sports and Action.
Part IV: Exposure in Special Situations.
Chapter 16: Itty-Bitty Things: Close-Up Photography.
Chapter 17: But I Can Hardly See! Night and Low-Light Photography.
Part V: The Part of Tens.
Chapter 18: Ten Accessories to Make Your Life Easier.
Chapter 19: Ten Decisions That Can Cost You.
Index.
See More
Jim Doty, Jr. is a landscape, event, and commercial photographer whose work has been featured in newspapers, magazines, books, tourism brochures, and online. He has taught photography at the Kalamazoo Institute of Arts.
See More