Interior Graphic Standards: Student Edition, 2nd Edition
ISBN: 978-0-470-88901-5
496 pages
November 2011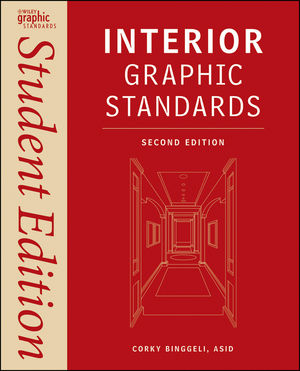 The new student edition of the definitive reference on architectural interiors
Interior Graphic Standards, Student Edition is a carefully edited treatment of the authoritative Interior Graphic Standards Professional Edition. Designed and organized to give students the specific information they require, this is an essential reference for anyone studying architectural interiors.
New topics include accessible design basics, computing technologies, fire-resistive construction, fire protection systems, security and communications systems, interior equipment, evidence-based design, and climate considerations. In addition, this second Student Edition offers more material on residential design, is packed with more than 1,300 informative illustrations, and includes the latest coverage for students to find real help understanding the critical material they need for the core classes required by all curriculums.
Additional revisions to this edition include:
Updated coverage of sustainable design and materials and ADA Standards for Accessible Design

Companion website featuring online resources for students

Expert advice and details for designing interior project types including commercial, residential, healthcare, retail, hospitality, educational, performance, and museum spaces, as well as existing building interiors
Like Interior Graphic Standards Professional Edition, this student edition's Second Edition provides essential specification and detailing information for working inside the structural shell, covering interior partitions and floor systems, updated lighting practices, furnishings, equipment, and wall, floor, and ceiling finishes.
See More
PREFACE xi
SECTION 1 DESIGN PRINCIPLES AND PROCESS 1
CHAPTER 1 ENVIRONMENTAL AND BEHAVIORAL ISSUES
Human Factors 3
Anthropometrics and Ergonomics 3
Human Behavior 10
Wayfinding 11
Mapping 11
Wayfinding and Age 11
Signage and Wayfinding Clues 12
CHAPTER 2 ACOUSTICAL PRINCIPLES
Basics of Acoustical Design 13
Sound 13
Frequency 13
Sound Absorption Properties of Materials 13
Room Acoustics 14
Properties of Sound 14
Use of Sound-Absorptive Materials 14
Sound Transmission 15
Transmission Loss 15
Noise Reduction 15
Sound Isolation 15
Impact Noise Reduction 15
Sound Control 17
CHAPTER 3 ACCESSIBLE DESIGN BASICS
Accessibility 18
Definitions 18
Accessibility Standards Terms 18
ADA and FHAA Design Requirements 18
Knee and Toe Clearances 19
Reach Limits 20
Protruding Objects 21
Accessible Routes 22
Components of Accessible Routes 22
Location of Accessible Routes 22
Floor and Ground Surfaces 22
CHAPTER 4 SUSTAINABLE DESIGN BASICS
Sustainable Design Principles 24
Depletion of Natural Resources 24
Climate Change 24
Principles 25
Design Considerations 25
Sustainability Strategies 25
Energy 25
Lighting and Daylight 25
Water 25
Sustainable Materials 25
Indoor Air Quality 26
Environmental Quality Terms 26
Sick Building Syndrome 26
Personal Control 26
Interior Rating Systems and Certifications 27
U.S. Green Building Council 27
LEED Rating System 27
CHAPTER 5 DESIGN BASICS
Evidence-Based Design 29
Computational Research 29
Social Science Research 29
Physical and Natural Science Research 29
Building Codes 29
Codes and Regulations Affecting Interiors 29
International Building Code Provisions 30
Programming 33
Programming Process 33
Contract Documents 34
Contract Documents for Commercial Interiors 34
Furniture, Furnishings, and Equipment Contracts 34
Detailing Concepts 35
Construction Specifications 37
Computing Technologies 38
Computer-Aided Design and Building Information Modeling 38
Integrated Project Delivery 38
Virtual Collaboration 38
Future Developments 39
Digital Fabrication 39
SECTION 2 BUILDING ELEMENTS 41
CHAPTER 6 BUILDING STRUCTURE AND SHELL
Substructure 43
Wall Foundations 43
Subgrade Enclosures 43
Slabs on Grade 44
Superstructure 45
Seismic Considerations 45
Superstructure Framing 46
Floor Construction Assemblies 57
Wood Floor Framing 57
Steel Joist Floor Framing 59
Floor Decks and Slabs 60
Roof Construction 62
Roof Types and Framing 62
Shop-Fabricated Wood Trusses 63
Glue-Laminated Construction 64
Roof Decks, and Slabs 65
Attic Ventilation 66
Stairs and Ramps 66
Stairs 66
Handrails, Balustrades, and Guards 69
Ramps 78
Exterior Vertical Enclosures 79
Exterior Wall Weather Barriers 79
Exterior Enclosure Walls 80
Roof Windows and Skylights 87
CHAPTER 7 INTERIOR CONSTRUCTION
Fire Resistive Construction 89
Fire-Retardant Wood Treatment 89
Fire-Resistance-Rated Assemblies 89
Fire-Resistance-Rated Openings 91
Board Fire Protection 93
Penetration Firestop Systems 93
Seismic Considerations 93
Basic Seismic Design 93
Seismic Detailing for Designers 94
Interior Construction Components 95
Gypsum Board Assemblies 95
Concrete Masonry Units 114
Architectural Concrete 116
Stone Walls 117
Glass Unit Masonry 118
Prefabricated Partitions 120
Windows and Glazing 125
Interior Doors 131
Entrances and Vestibules 148
Raised Floor Construction 148
Thermal and Moisture Protection 149
Interior Finishes 150
Interior Specialties 150
Wall Finish Requirements 162
Integral Wall Finishes 163
Wood Wall Finishes 166
Tile Wall Finishes 175
Metal Wall Finishes 181
Wall Surface Coverings 183
Paints and Coatings 188
Floor Design Considerations 190
Hard Flooring 191
Wood Flooring 198
Resilient Flooring 201
Resilient Flooring Installation 204
Carpet, Carpet Tile, and Mats 205
Ceilings 213
Building Services 223
Conveying Systems 223
Plumbing Systems 231
Mechanical Systems 247
Fire Protection Systems 254
Electrical Systems 259
Lighting 265
Communications Systems 272
Security Systems 280
CHAPTER 8 EQUIPMENT AND FURNISHINGS
Equipment 283
Toilet and Bath Equipment 283
Vending Equipment 285
Personal Care Equipment 286
Laundry Facilities 288
Teller and Service Equipment 290
Cleaning and Recycling Equipment 292
Furnishings 292
Furnishing Contracts and Tests 292
Textiles for Interior Furnishings 294
Cabinetry and Casework 299
Countertops 306
Art and Accessories 313
Furniture 315
Plantings 318
Window Treatments 321
CHAPTER 9 INTERIOR PROJECT TYPES
Commercial Spaces 326
Offices 326
Conference Rooms 343
Residential Spaces 349
Kitchens 349
Furnishings and Equipment 354
Residential Lighting 357
Visitability 358
Aging in Place 359
Continuing Care Retirement Communities 365
Healthcare Facilities 369
Inpatient Hospitals 369
Ancillary Departments 372
Healthcare Casework 379
Healthcare Furniture 381
Retail Spaces 382
Types of Retail Spaces 382
Fixture Placement 382
Retail Equipment 383
Retail Lighting 383
Hospitality Spaces 384
Hotels 384
Restaurants 390
Educational Facilities 402
Early Childhood and Kindergarten 402
Elementary, Middle, and Junior High Schools 404
High Schools 405
Lecture Halls and Auditoriums 410
Libraries 413
Performance Spaces 419
Planning Criteria 419
Performance Equipment 421
Museums 421
Museum Design Considerations 421
Museum Exhibit Casework 421
Museum Lighting 423
Museum Security 425
Athletic and Fitness Spaces 425
Courts, Alleys, and Rinks 425
Gymnastics 426
Table Sports and Darts 427
Fitness Spaces 428
Saunas and Steam Rooms 430
Animal Care Facilities 431
General Design Concept 431
Animal Housing 431
Adoption Facility 434
Existing Building Interiors 435
Historic Preservation, Restoration, and Adaptive
Reuse 435
Existing Hazardous Materials 436
Recycling Construction and Demolition Waste 438
APPENDIX Classical Interior Architectural Elements 439
GLOSSARY 449
INDEX 455
See More
CORKY BINGGELI, ASID, is principal of Corky Binggeli Interior Design in Arlington, Massachusetts. She received her Master of Interior Design degree from the Boston Architectural College. A past president of ASID New England, Corky is the author of Building Systems for Interior Designers, Second Edition; Materials for Interior Environments; Interior Design: A Survey; Field Guide to Commercial Interiors; and with Francis D.K. Ching, Interior Design Illustrated, Second Edition, all published by Wiley.
See More
Instructors Resources
Digital evaluation copy available for this title
Request Copy

See More
See Less
Buy Both and Save 25%!
Interior Graphic Standards: Student Edition, 2nd Edition (US $115.00)
-and- Interior Design Illustrated, 3rd Edition (US $55.00)
Total List Price: US $170.00
Discounted Price: US $127.50 (Save: US $42.50)
Cannot be combined with any other offers. Learn more.
Learn more about