Working With Families: Guidelines and Techniques, 2nd Edition
ISBN: 978-0-470-89047-9
208 pages
October 2011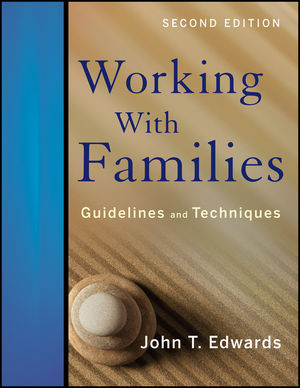 A complete guide for helping professionals, with tried-and-true techniques for practicing family counseling therapy
Now in its second edition, Working With Families: Guidelines and Techniques is filled with up-to-date, systems-oriented techniques focused on field-tested results. Outlining the dos and don'ts of working with different types of families and the various complications, nuances, and complexities that can occur, this practical guide provides a broad and proven selection of interventions, processes, and guidelines for working interactively, systematically, and compassionately with families.
Working With Families, Second Edition covers a range of topics including:
Family work in different settings

Session-by-session guidelines

Therapeutic themes by family type

Managing adolescents in family sessions

Dealing with fear of family work

Family mapping

Strategic child assessment

Chemical dependence and its impact on families
Informed by the author's many years of experience in the field, both as a clinician and as a trainer, Working With Families, Second Edition offers an invaluable systems-oriented, goal-directed, problem-solving approach to family counseling therapy for all mental health professionals.
See More
PREFACE xi
ACKNOWLEDGMENTS xiii
CHAPTER 1: FOUNDATION IDEAS 1
Introduction 2
Part 1: Concepts 3
Learning Family Counseling 3
Why FamilyWork? 4
Assumptions of a Family SystemsModel 5
The Systems Orientation in Theory 6
The Systems Orientation in Practice 7
The Systems Orientation in Concepts 8
Levels of Systems Interventions 9
Cause and Effect in Systems 11
The Systems-Oriented ProgramAssessment 12
Code of Ethics 13
Cultural Sensitivity 14
Uses of Family Counseling 16
Forms of FamilyWork 17
FamilyWork in Different Settings 18
Suggestions for Family Work in Different Settings 20
Rationales for This Approach 22
Bedrock Beliefs About Families 23
A Theory of Change 24
Children Raise Adults 25
Neglected Relationships in Family Counseling 26
Getting a Grip on the Obvious 27
Experience Is Primary 28
Too Many Variables 29
Too-Brief Family Counseling 30
Traveling Pairs of Concepts31
Research onMarital and Family Therapy 32
Part 2: Procedures and Processes 37
Recruiting Families for Counseling 37
Conducting the Initial Family Interview 40
Initial Interview Summary 42
Tips for the First Family Interview 43
Four Basic Tools for Family Counseling 44
General Guidelines 46
If the Presenting Problem Is a Child or Young Person 49
If the Presenting Problem Is a Marital or Couples Issue 51
General Clinical Suggestions 53
Session-by-SessionGuidelines 56
Session Checklist for Family Counseling 57
CHAPTER 2: SPECIAL SITUATIONS 58
Introduction 59
Therapeutic Themes by Family Type (Child Identified Patient) 60
Blended and Single-Parent Families 62
Blended Families: Tips for Two Common Scenarios 64
The Powerless Parent 65
The ParentalMind-Set 66
Parent-Child Enmeshment 67
"Split" Parenting 68
Parental Denial 69
Difficult Parents 70
Child Diagnosis in Plain English 71
The ThreeWorlds of the Adolescent 73
Managing Adolescents in Family Sessions74
Couples Work 75
Couples Counseling: Additional Tips 77
Closed Families 78
Friends as Family 79
Family Resistance 80
CHAPTER 3: COUNSELOR IDEAS 83
Introduction 84
Fear of FamilyWork 85
Inexperienced vs. Experienced Family Counselors 86
A Novice's First Family Interview 87
Counseling Style 89
Counselor Mistakes 92
Counselor Successes 93
Counselor Self-Disclosure 94
Induction Worksheet 95
Whose Family Stuff Is It? 96
Use of Self 97
Counselor Centrality 98
Colleague Consultation 99
Supervising FamilyWork 100
Review Lists for Family Counselors 101
Questions and Answers 105
CHAPTER 4: TECHNIQUES 106
Introduction 107
Alter Ego 108
Brief Network Intervention (BNI) 109
ChairWork 111
Circular Questions 112
Colleague Teamwork 113
Drawings 115
FamilyMapping 117
Family Questions in Individual Counseling 119
Guardrail 120
TheMIGS Sheet 121
New Talk 126
Paradox 127
Parent's Childhood 128
Reflecting Team 129
Reframing 130
Relabeling 133
Safe Rebellion 134
Sculpting and Movement 135
Sibling Talk 137
Strategic ChildAssessment 138
Strategic Predictions 139
Toybox 140
Worried Child 141
Summary of Systemic Techniques 142
CHAPTER 5: MULTIPLE FAMILY GROUPS 143
Introduction 144
Suggested Procedures for Multiple Family Groups 145
Family Recruitment for Multiple Family Groups 145
Clinical Tips 146
Therapeutic Activities 147
CHAPTER 6: WORKING WITH CHEMICAL DEPENDENCY IN FAMILIES 149
Introduction 150
A Working Definition of Chemical Dependency 151
Drugs of Abuse 152
Chemical Dependency 153
The Disease Concept 154
Indirect Signs of Chemical Dependency 155
Identification of Chemical Dependency in a Family 156
Questions for FamilyAssessment of Chemical Dependency 156
Treatment of Chemical Dependency 157
Recovery 158
Stages of Recovery 159
Recovery Plan 160
Families in Early Recovery 161
Relapse 162
Common Patterns in Chemically Dependent Families 163
Two Parent—CD Parent 164
Two-Parent—CD Adolescent 165
"Good" Kid "Bad" Kid 166
CD Single Parent 167
Single-Parent—CD Adolescent 168
The GoldenYears Trap 169
Adolescent Substance Abuse 171
Adolescent Substance Use Checklist 172
Co-Dependency 173
Couples Work for Chemical Dependency 174
WorkingWith Chemical Dependency in Families: 21 Guidelines 176
Family Counseling for Chemical Dependency: Summary 178
APPENDIX A: RESEARCH REFERENCES 179
APPENDIX B: PROBLEMS AND PAGE NUMBERS 182
GLOSSARY FOR FAMILY COUNSELING 183
RECOMMENDED READINGS 185
ABOUT THE AUTHOR 187
INDEX 189
See More
John T. Edwards, PhD, is an Approved Supervisor in the American Association for Marriage and Family Therapy (AAMFT), an adjunct faculty member at Duke University Medical Center in Durham, North Carolina, a private trainer, and a consultant. He has conducted and supervised family therapy for more than twenty-five years and has served as director of counseling in a family health center and clinical director of an inpatient family care program. He has written two books on working with families and conducted hundreds of training events in the United States and Canada.
See More