Do More Than Give: The Six Practices of Donors Who Change the World
ISBN: 978-0-470-89144-5
Hardcover
272 pages
March 2011, Jossey-Bass
US $29.95

Add to Cart
This price is valid for United States. Change location to view local pricing and availability.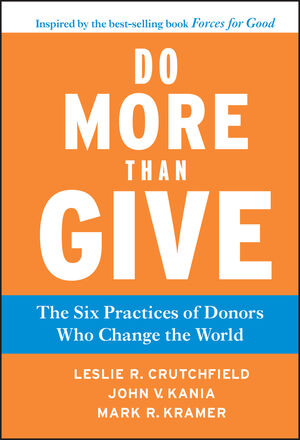 Other Available Formats:
E-book
March 11, 2011
Do More Than Give: The Six Practices of Donors Who Change the World
Connect with Wiley Publicity
As the Carnegie Corporation celebrates its centennial this year, philanthropic giving is on the rise, but is it any more effective? Of the more than 75,000 foundations that exist in the U.S., nearly half were created in the last two decades; private foundations now account for approximately $30 billion of the $300 billion annual giving in America; and as baby boomers age, it is predicted that they will pass down more than $40 trillion, of which $6 trillion could go to nonprofits. But are these increased dollars leading to increased impact?
What's missing in this rosy picture is that philanthropy is still underperforming relative to its potential, argue internationally-acclaimed experts, Leslie Crutchfield, John Kania and Mark Kramer in DO MORE THAN GIVE: The Six Practices of Donors Who Change the World (March 28, 2011; Jossey-Bass), a roadmap for more innovative approaches to high-impact philanthropy.
Based on rigorous research including a survey of over 1500 philanthropic leaders, Do More Than Give distills the practices of a small yet growing breed of ambitious catalytic donors, who are breaking the mold. The authors identify the bold new strategies that have set apart these proactive catalysts for change from passive check-writers or ordinary grant makers.
In addition to their financial resources, these catalytic donors bring to the table their valuable skills, technological expertise and sweat equity to practice a new kind of philanthropy that is providing tangible solutions to the world's complex, interdependent problems. What unites these donors is that they are adaptive leaders—depending on the problem at hand, they engage in advocacy, forge coalitions with other nonprofit and for-profit networks, empower the grassroots, and devise innovative, entrepreneurial solutions.
Do More Than Give profiles the inspiring stories of more than two dozen catalytic donors, who are at the helm of this new wave of philanthropy, from the world's largest private foundations to family foundations, and from corporate foundations and CSR initiatives at companies:
The Tow Foundation, a family foundation that had awarded professorships and research grants, whose next generation of leaders dramatically transformed it by getting behind the issue of high rates of youth incarceration in Connecticut. The foundation forged a powerful network of groups involved in juvenile justice reform, funded research, engaged in advocacy and won key legislative victories that led to dramatic decreases in Connecticut's rates of youth detention and adult imprisonment. In less than a decade, the state has been transformed from having one of the worst rates of youth incarceration to a model juvenile justice program—one that is being studied by New York and other states.
When the Knight Foundation was looking for a solution for the "local news crisis," they decided to crowdsource solutions from the people who were directly impacted by it. They launched a Community Information Challenge (contributing $24 million), which was largely given as matching grants to community foundations that discovered new ways to keep community residents informed and engaged. Knight went beyond conventional philanthropy in unprecedented ways—by relinquishing control of how their funds were being spent and partnering with a large network of community foundations and local nonprofits. The initiative has spawned alternative new media based start-ups and collaborations with other local grantmaking initiatives.
The UK's Shell Foundation, which took the rare step of applying its business know-how to solving global problems like poverty. One of the foundation's most notable initiatives has been the launch and spin-off of GroFin, a for-profit growth capital fund for small and medium-sized businesses in some of the most under-developed regions of the world. Since 2005, Shell has funded more than 200 businesses to date with a default rate of less than 1 percent and is expanding all across Africa and to South Asia. Its success translates into significant socio-economic benefits: nearly 5,000 jobs created and maintained, and approximately 30,000 improved livelihoods.
And more than two dozen high-impact foundations, corporations and individuals ranging from the world's largest private foundations (The Bill & Melinda Gates Foundation) and corporations (General Electric), to family philanthropists (Jacobs Family Foundation), to community and place-based foundations (from Boston to San Diego to Rio de Janeiro and beyond).
These examples and many more show that when donors play a catalytic role, they leverage their philanthropic resources to the highest extent possible, enabling even small donors to have more impact than some billionaires, who rank above them in sheer giving.
As the authors write, "Our passionate hope is that catalytic philanthropy will grow to become a more common mode— rather than the exception—in this 21st century of giving. The need for catalytic philanthropy has never been higher. And the opportunity for donors to become more active catalysts for change has also never been greater. Now more than ever, donors can do more than give."