E-book
Making Online Teaching Accessible: Inclusive Course Design for Students with Disabilities
ISBN: 978-0-470-89244-2
192 pages
August 2010, Jossey-Bass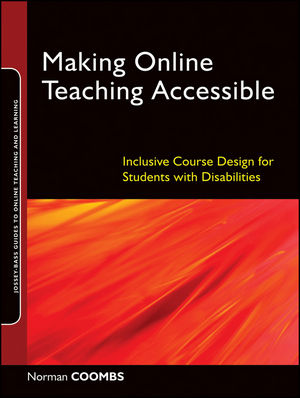 As educational institutions rapidly expand into online and hybrid formats, designing with accessibility in mind becomes essential. This book helps online teachers, instructional designers, and content developers avoid inadvertently creating barriers for students with disabilities and comply with government-mandated ADA standards. Grounded in the theories of learner-centered teaching and successful course design, the book explains how to design course content and delivery to be both attractive and accessible to all students, creating better conditions for student learning, success, and satisfaction, and better preparing students to compete in the competitive workplace.
See More
List of Figures, Tables, and Exhibits.
Preface.
ONE Creating a Level Learning Space.
How People with Disabilities Use Computers.
Universal Design and Online Learning.
Legislation, Decisions, and Guidelines Governing Online Learning.
Decisions tThe Department of Education's Office for Civil Rights.
Review of OCR Decisions and Online Learning.
Take-Aways from This Chapter.
TWO Online Learning and Students with Disabilities.
Accessibility of the Online Learning Infrastructure.
Creating Accessible Online Course Content.
The Students' Part of the Equation.
Take-Aways from This Chapter.
THREE Creating Accessible Content in Word and Excel.
An Introduction to Structuring Documents in Word.
Creating Well-Structured Documents.
Selecting Style Attributes to Enhance Accessibility.
Creating a Table of Contents.
Making Images in Word Accessible.
Take-Aways from This Chapter.
FOUR Creating Accessible Presentations with PowerPoint.
Powerpoint and Universal Design.
Designing Accessible Powerpoint Presentations.
Creating Narrated Slide Shows.
Take-Aways from This Chapter.
FIVE Delivering Accessible Content.
A Word about File Types.
Distributing Accessible Word Documents.
PDF Documents.
Distributing Excel Spreadsheets.
Distributing Accessible Powerpoint Content.
Online Accessibility Checkers.
Take-Aways from This Chapter.
SIX Science, Technology, Engineering, and Math.
Historical Issues with Math Accessibility.
Authoring Accessible Electronic Math Documents.
Issues with Technical Graphics.
Providing Accessible Graphics.
Take-Aways from This Chapter.
SEVEN Making Multimedia Accessible.
The Role of Multimedia in Online Learning.
Creating a Transcript.
Adding Synchronized Captions to a Video.
Accessibility for Real-Time Audio or Video.
Take-Aways from This Chapter.
EIGHT Supporting Accessible Online Learning.
Appendix A: Section 508 Web Standards.
Appendix B: WebAIM Summary of W3C WAI WCAG2.
Appendix C: American Foundation for the Blind's Distance Learning. Survey.
References.
Resources.
See More
Norman Coombs is CEO of EASI (Equal Access to Software and Information) and professor emeritus at the Rochester Institute of Technology where he pioneered RIT's distance learning program in the early 1980s. Coombs is coauthor of Information Access and Adaptive Technology.
See More
Learn more about