E-book
CIO Best Practices: Enabling Strategic Value with Information Technology
ISBN: 978-0-470-89325-8
384 pages
May 2010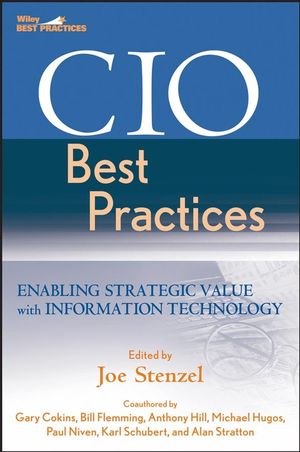 Are you a seasoned information technology (IT) executive looking for options available on leadership structures within your IT organization?   Look no further.  Now in a Second Edition, CIO Best Practices is an invaluable resource that provides a comprehensive, practical guide for CIOs and their executive team peers giving real-world examples of CIOs who have succeeded in mastering the blend of business and technology responsibilities and giving their companies a sound return on investment of technology dollars
See More
Preface.
About the Contributing Authors.
Chapter 1: Harnessing IT to Drive Enterprise Strategy (Michael Hugos).
Chapter 2: Architecture, Portfolio Management, Organizational Development—Integrated Foundations for Strategy Realization (Anthony Hill).
Chapter 3: A Strategically Focused, Tactically Agile IT Organization (Michael Hugos).
Chapter 4: The Sum of IT Can be Greater than its Parts (William Flemming, SAS, and Alan Stratton).
Chapter 5: IT Performance Management Using the Balanced Scorecard (Paul Niven).
Chapter 6: How to Measure and Manage Customer Value and Customer Profitability (Gary Cokins, SAS).
Chapter 7: Consider the Outsource: Right from the Start (Karl Schubert).
Chapter 8: Managing for Returns on IT Investments (Michael Hugos and Joe Stenzel).
Index.
See More
JOE STENZEL is a full-time ontogenist who has worked as editor in chief of the Journal of Strategic Performance Management and Cost Management, two Warren, Gorham, and Lamont periodicals, since 1997. During that same interval, he has written three books for John Wiley & Sons: Essentials of Cost Management, From Cost to Performance Management, and CFO Survival Guide.
See More
More in this series