E-book
The Bogleheads' Guide to Investing
ISBN: 978-0-470-89365-4
336 pages
June 2010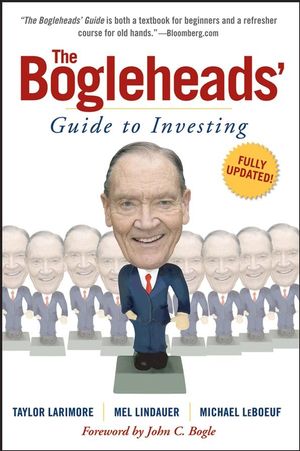 The Bogleheads' Guide to Investing is a slightly irreverent, straightforward guide to investing for everyone. The book offers sound, practical advice, no matter what your age or net worth. Bottomline, become a Boglehead and prosper! Originally just the chat-line ruminations of Boglehead founder Taylor Larimore, and Morningstar forum leading cohorts Mel Lindauer and Michael LeBoeuf, their trusted advice has been brewed and distilled into an easy-to-use, need-to-know, no frills guide to building up your own financial well-being – so you can worry less and profit more from the investments you make. Invest like a Boglehead, and let their grassroots investment wisdom guide you down the path of long-term wealth creation and happiness, without all the worries and fuss of stock pickers and day traders. If you face a financial crisis or problem, or simply want to know what is prudent to do with the money you save, the Bogleheads will have the answers you need to help you gain your financial footing and keep it.
See More
Acknowledgments.
Foreword (John C. Bogle)
Introduction.
Part I: Essentials of Successful Investing.
Chapter 1. Choose a Sound Financial Lifestyle.
Chapter 2. Start Early and Invest Regularly.
Chapter 3. Know What You're Buying: Part One.
Chapter 4. Know What You're Buying: Part Two.
Chapter 5. Preserve Your Buying Power with Inflation-Protected Bonds.
Chapter 6. How Much Do You Need To Save?
Chapter 7. Keep It Simple.
Chapter 8. Asset Allocation.
Chapter 9. Costs Matter.
Chapter 10. Taxes: Part One.
Chapter 11. Taxes: Part Two.
Chapter 12. Diversification.
Chapter 13. Performance Chasing and Market Timing Are Hazardous to Your Wealth.
Chapter 14. Savvy Ways to Invest For College.
Chapter 15. How to Manage a Windfall Successfully.
Chapter 16. Do You Need an Advisor?
Part II: Follow-Through Strategies to Keep You On Target.
Chapter 17. Track Your Progress and Rebalance When Necessary.
Chapter 18. Tune Out the "Noise."
Chapter 19. Mastering Your Investments Means Mastering Your Emotions.
Chapter 20. Making Your Money Last Longer Than You Do.
Chapter 21. Protect Your Assets By Being Well-Insured.
Chapter 22. Passing It On When You Pass On.
Chapter 23. You Can Do It.
Appendices.
Appendix I. Glossary of Financial Terms.
Appendix II: Books We Recommend.
Appendix III: Financial Web Sites We Recommend.
Appendix IV: Vanguard Asset Allocation Questionnaire and Pie Charts.
About the Authors.
Index.
See More
Taylor Larimore, Mel Lindauer, and Michael LeBoeuf are three millionaires who met online and combined their investing experience and efforts to help others. The authors have contributed over 40,000 posts on the Diehards and Bogleheads forums. You can read more about each of them in "About the Authors" on page 293.
See More