E-book
Self-Coaching: The Powerful Program to Beat Anxiety and Depression, 2nd Edition, Completely Revised and Updated
ISBN: 978-0-470-89370-8
272 pages
June 2010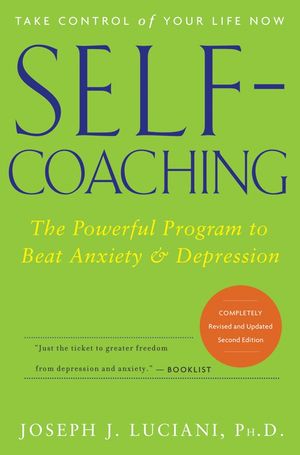 The simple, untold truth about anxiety and depression is that they are habits of insecurity—and, like all habits, they can be broken. In this new edition of the highly successful Self-Coaching, Dr. Joseph Luciani shows you how to change your way of thinking and develop a healthy, adaptive way of living through his proven Self-Talk strategy for coaching yourself back to health.
See More
Preface ix
Acknowledgments xi
Introduction 1
Part I What Is Self-Coaching?
1. A New Self-Therapy 9
2. The Seven Principles of Self-Coached Healing 22
Part II The Problems Self-Coaching Can Heal
3. Getting to the Root of Your Problem 31
4. Depression 42
5. Anxiety 55
6. The Control-Sensitive Personality 65
7. Insecurity versus Self-Trust 80
Part III Self-Coaching: The Program and How to Do It
8. Self-Talk 95
9. The Three Easy Steps of Self-Talk 106
10. Self-Talk: Follow-Through 130
11. Motivation 148
Part IV Self-Coaching: Working with Specific Personality Types
12. Self-Coaching for Worrywarts 161
13. Self-Coaching for Hedgehogs 172
14. Self-Coaching for Turtles 185
15. Self-Coaching for Chameleons 199
16. Self-Coaching for Perfectionists 212
Part V Self-Coaching for Life
17. Saying Good-Bye to Anxiety and Depression 233
Appendix: Training Log Format 243
Index 249
See More
JOSEPH J. LUCIANI, Ph.D., is the author of the internationally bestselling Self-Coaching series. As a frequent lecturer, TV and radio guest, and author, he has brought his message of hope to millions over the years. Dr. Luciani, a clinical psychologist, has been in general private practice since 1977.
See More