Textbook
Baldrige User's Guide: Organization Diagnosis, Design, and Transformation, 3rd Edition, Updated for 2007 and 2008
ISBN: 978-0-470-89841-3
Paperback
472 pages
September 2007, ©2008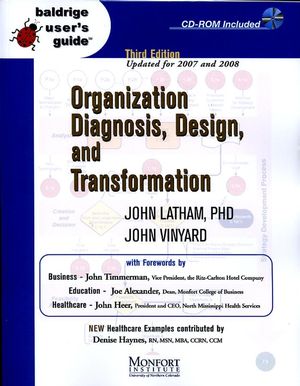 This title is out-of-print and not currently available for purchase from this site.
Foreword.
Acknowledgements.
About the Authors.
Monfort Institute.
Introduction to Performance Excellence.
Part I: Four Dimensions of Performance Excellence.
The Organization Context.
Design Principles.
The Organization System.
Maturity Models.
Part II: Profile, Processes, and Results.
Profile
Organizational Environment (P.1a)
Organizational Relationships (P.1b)
Competitive Relationships (P.1b)
Strategic Context (P.2b)
Performance Improvement System (P.2c)
Leadership.
Vision and Values (1.1a)
Communication and Organization Performance (1.1b)
Organizational Governance (1.2a)
Legal and Ethical Behavior (1.2b)
Support of Key Communities (1.2c)
Strategic Planning.
Strategy Development Process (2.1a)
Strategic Objectives (2.1b)
Action Plan Development and Deployment (2.2a)
Performance Projections (2.2b)
Customer and Market Focus.
Customer and Market Knowledge (3.1a)
Customer Relationship Building (3.2a)
Customer Satisfaction Determination (3.2b)
Measurement, Analysis, and Knowledge Management.
Performance Measurement (4.1a)
Performance Analysis, Review, and Improvement (4.1b)
Management of Information Resources (4.2a)
Data, Information, and Knowledge Management (4.2b)
Workforce Focus.
Workforce Enrichment (5.1a)
Workforce and Leader Development (5.1b)
Assessment of Workforce Engagement (5.1c)
Workforce Capability and Capacity (5.2a)
Workforce Climate (5.2b)
Process Management.
Core Competencies (6.1a)
Work Process- Design (6.1b)
Emergency Readiness (6.1c)
Work Process Management (6.2a)
Work Process Improvement (6.2b)
Results.
Product and Service Results (7.1a)
Customer-Focused Results (7.2a)
Financial and Market Results (7.3a)
Workforce Results (7.4a)
Process Effectiveness Results (7.5a)
Leadership and Social Responsibility Results (7.6a)
Part III: The Journey.
Glossary.
References.