Textbook
Introduction to Design Applications
ISBN: 978-0-470-89870-3
176 pages
October 2007, ©2008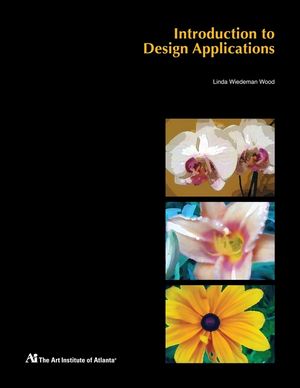 This book was written in conjunction with an introductory course she teaches also titled Introduction to Design Applications.  It is intended to be primarily an introduction to three fundamental design software applications:  Adobe Illustrator; Adobe Photoshop; and Adobe InDesign.
The tools available to a creative artist are many and varied.  Some, such as brushes for painting, chisels for sculpture, and fire for welding and shaping, date back to antiquity and beyond.  Others, such as cameras and recording devices, are of much more recent vintage.   However, in the past 30 years, the device that has not only revolutionized production in the applied arts but also vastly expanded the artistic possibilities is the computer. 
The multiplicity of design software on the market today may seem daunting, but all of the software is based on one of two basic approaches – vector and rester – terms that will be explained early in this textbook.  The most widely used vector-based software today is Adobe Illustrator, and the most widely used rester-based software is Adobe Photoshop.  A thorough understanding of these two programs is critical for success today in any kind of design field.  For this reason, six of the eight tutorials in the book introduce students to the fundamentals of these two design applications. 
See More
INTRODUCTION
CHAPTER 1: ILLUSTRATOR TUTORIALS
Workshop 1: Illustrator Basics
Workshop 2: Layers, Transformations, and Type
Workshop 3: Drawing
CHAPTER 2: PHOTOSHOP TUTORIALS
Workshop 1: Photoshop Basics
Workshop 2: Image Editing / Composite Editing
Workshop 3: Retouching and Adjustments
CHAPTER 3: INDESIGN TUTORIALS
Workshop 1: InDesign Basics
Workshop 2: Multi-page Documents
APPENDIX
Appendix A: Saving to a CD
Appendix B: Toolbars
Appendix C: Common Keyboard Shortcuts
See More
Contains eight activity based software tutorials

Three Illustrator tutorials

Three Photoshop tutorials

Two InDesign Tutorials

Three Appendices

CD-ROM for Students: contains images that students can use to complete each tutorial, along with additional images  
See More