CCNA Cisco Certified Network Associate Deluxe Study Guide, (Includes 2 CD-ROMs), 6th Edition
ISBN: 978-0-470-90108-3
864 pages
May 2011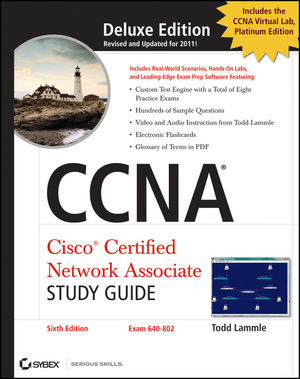 Deluxe Edition of Best-Selling CCNA Study Guide
This comprehensive, enhanced version of the Sybex CCNA Study Guide provides certification candidates with the additional tools they need to prepare for this popular exam. With additional bonus exams and flashcards, as well as the exclusive CCNA Virtual Lab, Platinum Edition, this comprehensive guide has been completely updated to reflect the latest CCNA 640-802 exam. Written by Cisco Authority Todd Lammle, whose straightforward style provides lively examples, hands-on and written labs, easy-to-understand analogies, and real-world scenarios that will not only help you prepare for the exam, but also give you a solid foundation as a Cisco networking professional.
This Study Guide teaches you how to
Describe how a network works

Configure, verify and troubleshoot a switch with VLANs and interswitch communications

Implement an IP addressing scheme and IP Services to meet network requirements in a medium-size Enterprise branch office network.

Configure, verify, and troubleshoot basic router operation and routing on Cisco devices

Explain and select the appropriate administrative tasks required for a WLAN

Identify security threats to a network and describe general methods to mitigate those threats

Implement, verify, and troubleshoot NAT and ACLs in a medium-size Enterprise branch office network.

Implement and verify WAN links
On the CD-ROM:
Chapter Review Questions
Full-Length Practice Exams
Electronic Flashcards
Exclusive CD-only bonus material, including the CCNA Simulation Exam Practice Guide
All new Audio and Video Instruction from Todd Lammle
On the Bonus 2nd CD-ROM
The CCNA Virtual Lab, Platinum Edition. Users can work in a Cisco environment without having to spend the thousands of dollars on the pricy equipment.
Note: CD-ROM/DVD and other supplementary materials are not included as part of eBook file.
For Instructors: Teaching supplements are available for this title.
See More
Introduction.
Assessment Test.
Chapter 1 Internetworking.
Chapter 2 Review of Ethernet Networking and Data Encapsulation.
Chapter 3 Introduction to TCP/IP.
Chapter 4 Easy Subnetting.
Chapter 5 Variable Length Subnet Masks (VLSMs), Summarization, and Troubleshooting TCP/IP.
Chapter 6 Cisco's Internetworking Operating System (IOS).
Chapter 7 Managing a Cisco Internetwork.
Chapter 8 IP Routing.
Chapter 9 Enhanced IGRP (EIGRP) and Open Shortest Path First (OSPF).
Chapter 10 Layer 2 Switching and Spanning Tree Protocol (STP).
Chapter 11 Virtual LANs (VLANs).
Chapter 12 Security.
Chapter 13 Network Address Translation (NAT).
Chapter 14 Cisco's Wireless Technologies.
Chapter 15 Internet Protocol Version 6 (IPv6).
Chapter 16 Wide Area Networks.
Appendix A About the Companion CD.
Index.
See More
Todd Lammle, CCSI, CCNA/CCNA Wireless/CCNP/CCSP/CCVP, MCSE, CEH/CHFI, FCC RF Licensed, is the authority on Cisco certification and networking. He is a world-renowned author, speaker, trainer, and consultant. Todd has over 29 years of experience working with LANs, WANs, and large licensed and unlicensed wireless networks. He has also published over 50 books, including the very popular Sybex CCNA Study Guides and CCNA Wireless Study Guide. He runs a training and consulting company based in Colorado and Texas. You can reach Todd through his forum and blog at www.lammle.com.
See More
Do you think you've discovered an error in this book? Please check the list of errata below to see if we've already addressed the error. If not, please submit the error via our Errata Form. We will attempt to verify your error; if you're right, we will post a correction below.
Chapter
Page
Details
Date
Print Run
Defective CD-ROM
Printing 1 of the CCNA: Cisco Certified Network Associate Deluxe Study Guide (978-0470901083) mistakenly shipped with a defective CD. We are aware of the issues, and are working to resolve it as quickly as possible.
For immediate assistance, please go to customer support and search by ISBN to access download copies of the CD content. The ISBN of the book is 9780470901083.
If you would like a replacement CD shipped out, please contact Sybex Customer Support at (877) 762-2974 or via Live Chat at sybex.custhelp.com
5/5/11
1st
1
36
Text correction: Incorrect answer for Review Question 9
The correct answers are B and C. The explanation should read:
"Every port on a switch creates a collision domain, which provides more bandwidth for users."
6/3/11
1st
2
45
Text correction: Use of full-duplex Ethernet
There are six situations given in the bulleted list, not five as the preceding sentence states.
The fourth bullet point, "With a connection from a switch to a router using a crossover cable" is incorrect. Delete "using a crossover cable".
6/3/11
1st
3
124
Text correction: Incorrect multicast address
Under Multicast Address, the second paragraph, fourth sentence, contains an error. The address given, 224.0.0.9, is incorrect.
It should read: 224.0.0.10
6/16/11
1st
5
181
Correction: Error in Figure 5.4
The upper right router in the figure, labeled "Lab E" (with an address ending in 64/27) should be labeled "Lab C".
8/17/11
1st and 2nd
5
182
Text correction: Errors in Figure 5.5
The addresses given in the chart starting with 192.16.10 are incorrect.
All addresses in the chart should begin with 192.168.10

The Class C Network table at the bottom left duplicates the above error and should have an address listed of 192.168.10.0.
In addition, incorrect hosts are given in the Class C Network table for networks A,B,C and D. Change hosts 12, 20, 25 and 4 to 14, 30, 20, 6, as follows:

| Network | Hosts |
| --- | --- |
| A | 14 |
| B | 30 |
| C | 20 |
| D | 6 |

6/16/11
1st
5
198
Text correction: Errors In Written Lab 5
Question 2. should read 172.144.0.0 through 172.159.0.0. The answer should read 172.144.0.0 255.240.0.0.

Question 4. should read 192.168.96.0 through 192.168.111.0.

The answer to 5. should read 66.66.0.0 255.255.240.0.

The answer to 6. should read 192.168.0.0/17
6/16/11
1st
6
271
Text correction: Errors in options for Review Question 12.
Option B should read:

SFRouter(config)#line console 0
SFRouter(config-line)#enable secret password
SFRouter(config-line)#login

Option D should read:

SFRouter(config)#line vty 0 4
SFRouter(config-line)#password password
SFRouter(config-line)#login
10/8/12
1st & 2nd
6
275
Text correction: Error in answer to Written Lab 6, Question 1.
The answer to 1. should read:
router(config-if)#clock rate 64000
9/22/11
1st and 2nd
6
275
Text correction: Errors in Answers to Written Lab 6, Question 5
The answer to Question 5 in the Written Lab contains several errors. It should read:

router#config t
router(config)# line console 0
router(config-line)# password todd
router(config-line)# login
10/10/12
1st & 2nd
6
275
Text correction: Error in answer to Written Lab 6, Question 7.
The answer to question 7. should read:
"router#show controllers serial 0/2"
8/25/11
1st and 2nd
8
366
Text correction: Error in R1 Configuration routing command
After the routing table, a command is given that reads R1#10.1.2.1
That command should read R1#ping 10.1.2.1
6/16/11
1st
8
371
Text correction: Error in DHCP configuration
The third line, "R3(dhcp-config)#ip name-server 172.16.10.4"
misidentifies the server and gives the wrong address. It should read:

"R3(dhcp-config)#dns-server" 172.16.10.2
11/4/11
1st and 2nd
8
385
Text correction: Error in routing table output
The first line of the table, "R 10.1.3.0 [120/1] via 101.2.2, 00:00:00, Serial 0/0" should read:

"R 10.1.3.0 [120/1] via 10.1.2.2, 00:00:00, Serial 0/0"
7/9/12
1st & 2nd
8
425
Text correction: Error in answer to Written Lab 8, Question 1.
The answer to question 1. should read:
"router(config)#ip route 172.16.10.0 255.255.255.0 172.16.20.1 150"
8/25/11
1st and 2nd
9
454
Text correction: Error in Table 9.3
Under "RIPv2" the entry for "Manual summarization" should be "Yes".
12/1/11
1st and 2nd
9
465
Text correction: Incorrect network statement
Under "R2", the first network statement (line 5), "10.0.0.0 0.0.0.255 area 0 is incorrect.
It should read: ""10.0.0.0 0.255.255.255 area 0
6/16/11
1st
9
476
Text correction: Error in configuration of loopback interface
The last line on the page,
"R3(config-if)#ip address 172.31.100.4 255.255.255.255"
gives the wrong IP address. It should read:

"R3(config-if)#ip address 172.31.1.4 255.255.255.255"
11/4/11
1st and 2nd
9
472
Text correction: Error in Table 9.4
The first entry under "Description/Function", "Shows Hello packets being sent and received on your router" should read:
"Shows Hello packets being received on your router"
6/16/11
1st
10
503
Text correction: Incorrect CCNA Exam Topic given in chapter opener
The second main topic given, "Configure, verify, and troubleshoot basic router operation and routing with Cisco devices" is not discussed in Chapter 10. The bullet points listed below it should be under the first topic, regarding switches.
12/1/11
1st and 2nd
10
526
Text correction: Typographical error
The second paragraph under "EtherChannel" contains an error. The first sentence, "...there's the Cisco version of EtherChannel and the IEEE version of port channel negation protocols to choose from..." should read:
"...port channel negotiation protocols..."
12/1/11
1st and 2nd
10
531
Text correction: Incorrectly identified port in Core switch configuration
The seventh line in the configuration, "Core(config)#int fa0/5"
should read:
"Core(config)#int f0/6"
9/9/11
1st and 2nd
13
675
Text correction: Errors in router output
In step 6. The location IP addresses in the output, given as 171.16.10.50 and 171.16.10.51, are incorrect.
Both location IP addresses should be 171.16.10.100
6/16/11
1st
13
680
Text correction: Errors in explanation for Answer to Question 14
D is the correct answer. Change the end of the second sentence in the explanation to read: "...our block size is 8 in the third octet, or 21."
6/16/11
1st
15
726
Text correction
The last sentence on the page contains an error. It should read:
"...with the biggest difference being that it uses the router interface itself instead of using the network command..."
6/16/11
1st
CD 1
CD 1
Combined CD corrections: CD 1
Assessment Test
Question 31.
The options are incomplete. The Assessment Test in the printed book has the correct options. They are as follows:



RouterA(config)#bandwidth 64
RouterA(config-if)#bandwidth 64000
RouterA(config)#clockrate 64000
RouterA(config-if)#clock rate 64
RouterA(config-if)#clock rate 64000

The answer and explanation are correct.


Practice Exam 1
Question 5.
The options are incomplete. They should read as follows:



Router#copy tftp dram
Router#copy tftp flash
Router#copy tftp running-config
Router#copy tftp startup-config

The answer and explanation are correct.

Question 37.
Options B and D are the same answer. Change Option D to read "Router(config-if)#bandwidth 560,000"
6/16/11
1st
13
661
Text correction: Error under Dynamic NAT Configuration
The last sentence,
"The ip nat pool todd 170.168.2.3 192.168.2.254..."
should read:
"The ip nat pool todd 170.168.2.3. 170.168.2.254..."
9/27/12
1st & 2nd
See More
Learn more about