Building Codes Illustrated: A Guide to Understanding the 2012 International Building Code, 4th Edition
ISBN: 978-0-470-90357-5
448 pages
July 2012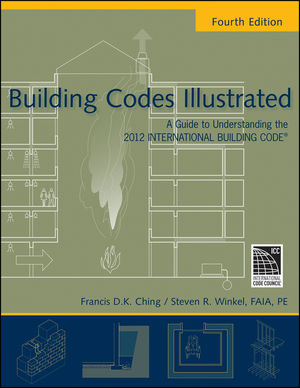 An easy-to-use, updated illustrated guide to the 2012 edition of the International Building Code
This unique reference to the 2012 International Building Code marries the graphic skills of bestselling author Frank Ching with the code expertise of Steven Winkel, FAIA. It pulls out the portions of the building code that are most relevant for the architect and provides an easy-to-understand interpretation in both words and illustrations. Rather than a text-heavy book, this is much more conducive to quick comprehension of the code, presenting information in an exciting user-friendly visual format.
See More
Preface…ix
1 Building Codes…1
2 Navigating the Code…9
3 Use and Occupancy…19
4 Special Uses and Occupancies…31
5 Building Heights and Areas…47
6 Types of Construction…67
7 Fire-Resistive Construction…81
8 Interior Finishes…123
9 Fire-Protection Systems…129
10 Means of Egress…155
11 Accessibility…207
12 Interior Environment…237
13 Energy Efficiency…249
14 Exterior Walls…269
15 Roof Assemblies…287
16 Structural Provisions…309
17 Special Inspections and Tests…331
18 Soils and Foundations…339
19 Building Materials and Systems…351
20 Existing Structures…403
Bibliography…415
Index…417
See More
FRANCIS D.K. CHING is Professor Emeritus at the University of Washington. He is world-renowned for his numerous architecture and design books, including A Global History of Architecture; Architectural Graphics; Building Construction Illustrated; Architecture: Form, Space, and Order; A Visual Dictionary of Architecture; and Design Drawing.
STEVEN R. WINKEL, FAIA, PE, a nationally recognized building codes expert, is an architect and civil engineer with the San Francisco office of The Preview Group, Inc. He is the coauthor of Building Codes Illustrated for Elementary and Secondary Schools, Building Codes Illustrated for Healthcare Facilities, and Residential Building Codes Illustrated.
See More
Learn more about