The Accountability Experience Participant Workbook and Self Assessemnt
ISBN: 978-0-470-90365-0
January 2011, Pfeiffer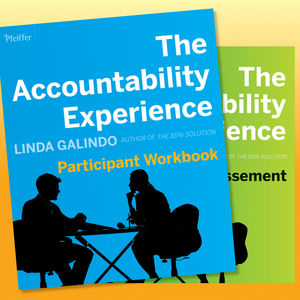 ABOUT THIS SET: This set includes
The Accountability Experience Participant Workbook
along with the paper Self Assessment.
ABOUT THE WORKSHOP: Accountability is a hot issue in business as organizations face the toughest recession in years. Yet the notion of accountability is confused with punishment, fault, blame and guilt. Accountability expert Linda Galindo has created a program for building a mindset for personal accountability and responsibility for organizational results. The Accountability Experience training program outlines a 3-step process that leads from accepting responsibility to self-empowerment to take personal action and finally to answering for the outcome through accountability. The Participant Workbook takes the participant through the exercises to understand and master the personal accountability process.
See More
Linda Galindo consults with organizations, teams, and individuals who aim to improve their work and personal lives through greater personal accountability. She is a keynote speaker and conducts executive level seminars and retreats. She has been a regular contributor to Connect magazine and Lab Medicine. Galindo is experienced in change management, accountability, leadership development, and cultural assessment.
See More