Antimicrobial Resistance in the Environment
ISBN: 978-0-470-90542-5
632 pages
January 2012, Wiley-Blackwell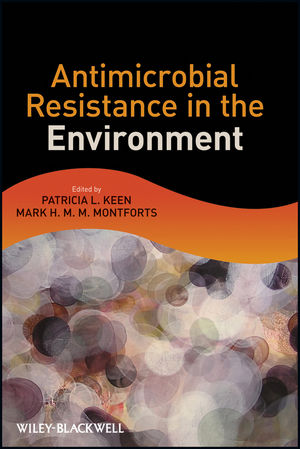 Examines effects of the environmental distribution of antimicrobial resistance genes on human health and the ecosystem
Resistance genes are everywhere in nature—in pathogens, commensals, and environmental microorganisms. This contributed work shows how the environment plays a pivotal role in the development of antimicrobial resistance traits in bacteria and the distribution of resistant microbial species, resistant genetic material, and antibiotic compounds. Readers will discover the impact of the distribution in the environment of antimicrobial resistance genes and antibiotics on both the ecosystem and human and animal health.
Antimicrobial Resistance in the Environment is divided into four parts:
Part I, Sources, including ecological and clinical consequences of antibiotic resistance by environmental microbes

Part II, Fate, including strategies to assess and minimize the biological risk of antibiotic resistance in the environment

Part III, Antimicrobial Substances and Resistance, including antibiotics in the aquatic environment

Part IV, Effects and Risks, including the effect of antimicrobials used for non-human purposes on human health
Recognizing the intricate links among overlapping complex systems, this book examines antimicrobial resistance using a comprehensive ecosystem approach. Moreover, the book's multidisciplinary framework applies principles of microbiology, environmental toxicology, and chemistry to assess the human and ecological risks associated with exposure to antibiotics or antibiotic resistance genes that are environmental contaminants.
Each chapter has been written by one or more leading researchers in such fields as microbiology, environmental science, ecology, and toxicology. Comprehensive reference lists at the end of all chapters serve as a gateway to the primary research in the field.
Presenting and analyzing the latest findings in a field of growing importance to human and environmental health, this text offers readers new insights into the role of the environment in antimicrobial resistance development, the dissemination of antimicrobial resistant genetic elements, and the transport of antibiotic resistance genes and antibiotics.
See More
PREFACE xi
CONTRIBUTORS xv
PART I SOURCES 1
Chapter 1 Introduction 3
Stuart B. Levy
Chapter 2 Path to Resistance 7
Vivian Miao, Dorothy Davies, and Julian Davies
Chapter 3 Antibiotic Resistome: A Framework Linking the Clinic and the Environment 15
Gerard D. Wright
Chapter 4 Ecological and Clinical Consequences of Antibiotic Subsistence by Environmental Microbes 29
Gautam Dantas and Morten O. A. Sommer
Chapter 5 Importance of Adaptive and Stepwise Changes in the Rise and Spread of Antimicrobial Resistance 43
Lucia Fernandez, Elena B. M. Breidenstein, and Robert E. W. Hancock
Chapter 6 Environmental Reservoirs of Resistance Genes in Antibiotic-Producing Bacteria and Their Possible Impact on the Evolution of Antibiotic Resistance 73
Paris Laskaris, William H. Gaze and Elizabeth M. H. Wellington
Chapter 7 Mechanisms of Bacterial Antibiotic Resistance and Lessons Learned from Environmental Tetracycline-Resistant Bacteria 93
Marilyn C. Roberts
Chapter 8 Environmental Antibiotic Resistome: New Insights from Culture-Independent Approaches 123
Isabel S. Henriques, Artur Alves, Maria Jose´ Saavedra, Mark H. M. M. Montforts, and Anto´nio Correia
PART II FATE 149
Chapter 9 Environmental Pollution by Antibiotic Resistance Genes 151
Jose Luis Martinez and Jorge Olivares
Chapter 10 Quantifying Anthropogenic Impacts on Environmental Reservoirs of Antibiotic Resistance 173
Amy Pruden and Mazdak Arabi
Chapter 11 Antibiotic Resistance in Swine-Manure-Impacted Environments 203
Joanne Chee-Sanford, Scott Maxwell, Kristy Tsau, Kelly Merrick, and Rustam Aminov
Chapter 12 Antimicrobial-Resistant Indicator Bacteria in Manure and the Tracking of Indicator Resistance Genes 225
Christina S. Ho¨lzel and Karin Schwaiger
Chapter 13 Municipal Wastewater as a Reservoir of Antibiotic Resistance 241
Timothy Lapara and Tucker Burch
Chapter 14 Strategies to Assess and Minimize the Biological Risk of Antibiotic Resistance in the Environment 251
Thomas Schwartz
Chapter 15 Antibiotic Resistance in Animals—The Australian Perspective 265
Olasumbo Ndi and Mary Barton
PART III ANTIMICROBIAL SUBSTANCES AND RESISTANCE 291
Chapter 16 Detection and Occurrence of Antibiotics and Their Metabolites in Pig Manure in Bavaria (Germany) 293
Katrin Harms and Johann Bauer
Chapter 17 Fate and Transport of Antibiotics in Soil Systems 309
Alistair B. A. Boxall
Chapter 18 Antibiotics in the Aquatic Environment 325
Klaus Ku¨mmerer
Chapter 19 Residues of Veterinary Drugs in Wild Fish 337
Thomas Heberer
Chapter 20 Role of Quaternary Ammonium Compounds on Antimicrobial Resistance in the Environment 349
Ulas Tezel and Spyros G. Pavlostathis
PART IV EFFECTS AND RISKS 389
Chapter 21 Human Health Importance of use of Antimicrobials in Animals and Its Selection of Antimicrobial Resistance 391
Scott A. McEwen
Chapter 22 Antimicrobial Resistance Associated with Salmonid Farming 423
Claudio D. Miranda
Chapter 23 Effect of Veterinary Medicines Introduced via Manure into Soil on the Abundance and Diversity of Antibiotic Resistance Genes on Their Transferability 453
Holger Heuer, Christoph Kopmann, Ute Zimmerling, Ellen Kro¨gerrecklenfort, Kristina Kleineidamm, Michael Schloter, Eva M. Top and Kornelia Smalla
Chapter 24 Tracking Antibiotics and Antibiotic Resistance Genes through the Composting Process and Field Distribution of Poultry Waste: Lessons Learned 465
Patricia L. Keen and Nancy De With
Chapter 25 Environmental Microbial Communities Living Under Very High Antibiotic Selection Pressure 483
Anders Janzon, Erik Kristiansson, and D. G. Joakim Larsson
Chapter 26 Antibiotic Use During an Influenza Pandemic: Downstream Ecological Effects and Antibiotic Resistance 503
Andrew C. Singer and Heike Schmitt
Chapter 27 Use of Veterinary Antibacterial Agents in Europe and the United States 539
Ingeborg M. van Geijlswijk, Nico Bondt, Linda F. Puister-Jansen, and Dik J. Mevius
Chapter 28 Regulatory Research on Antimicrobial Resistance in the Environment 549
Emily A. McVey and Mark H. M. M. Montforts
INDEX 569
See More
"This is an excellent publication, including primary data and detailed explanations of specific studies and techniques as well as review chapters. As both an introduction to a research area and a call for greater study and thought into how we regulate antimicrobial use in all spheres of society to limit further resistance, I highly recommend Antimicrobial resistance in the environment."  (Phenotype, 1 February 2013) 
"This book will be an ideal read for anyone seeking a comprehensive introduction to the many reservoirs and routes a resistance gene may pass through before or after its appearance in a clinical setting. Even experts in the field stand to gain knowledge regarding the complex web that is the issue of antibiotic resistance in the environment."  (The Quarterly Review of Biology, 1 December 2012)
See More
Buy Both and Save 25%!
Antimicrobial Resistance in the Environment (US $154.95)
-and- Microbial Ecology (US $116.95)
Total List Price: US $271.90
Discounted Price: US $203.92 (Save: US $67.98)
Cannot be combined with any other offers. Learn more.