Advances in Bioceramics and Biotechnologies: Ceramic Transactions, Volume 218
ISBN: 978-0-470-90548-7
244 pages
August 2010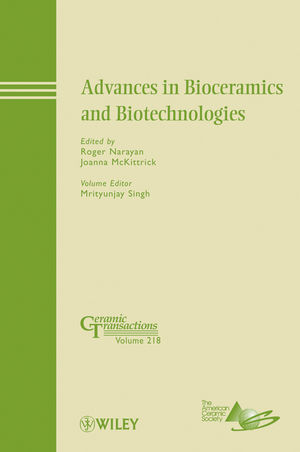 This volume is a collection of twenty-two cutting edge research papers from teh symposia on Nano-Biotechnology and Ceramics in Biomedical Applications and Advances in Biomineralized Ceramics, Bioceramics, and Bioinspired Designs, which were presented at the 8th Pacific Rim Conference on Ceramics and Glass Technology (PACRIM-8). The symposia was focused on several key areas, including novel synthesis techniques, bioglasses and glass-ceramics, calcium phosphates for bone tissue applications, and oxide ceramic implant applications. These papers cut across disciplines - ceramic science and technology, bioengineering and nanoscience - showing that a new, exciting field has emerged in the ceramics community.
See More
Preface.
Introduction.
SYNTHESIS TECHNIQUES.
A Role for Electrochemical Synthesis in Bioceramic Composite Materials (M. Ramesh Kumar, Erika F. Merschrod, and Kristin M. Poduska).
Electro Thermally Polarized Sintered Bulk-HAP and HAP-Coated Ti for Biomedical Applications (Subhadip Bodhak, Susmita Bose, and Amit Bandyopadhyay).
Freeze Casting of Porous Biomaterial Scaffolds for Bone Tissue Engineering (Kajal K. Mallick).
Hard Template Synthesis of Mesoporous Hydroxyapatite Materials for Controlled Protein Release (Janina Möller, Philippe Dibandjo, Roger Gadiou, Joseph Dentzer, Karine Anselme, and Cathie Vix-Guterl).
Immobilization of Heparin on Gelatin Modified Three-Dimensional Osteoconductive Ca-P/PHBV Nanocomposite Scaffolds (Bin Duan and Min Wang).
Layered Double Hydroxide: A New Ceramic-Based Hemostatic Agent? (Z. Tahmasebi-Birgani, M. Solati-Hashjin, H. Peirovi, S. Shafiei, A. Farzadi, and A. Aminian).
Microwave-Assisted Synthesis and Characterization of Biphasic Calcium Phosphate Nanopowders (A. Farzadi, M. Solati-Hashjin, Z. Tahmasebi-Birgani, and A. Aminian).
Silicon-Substituted Hydroxyapatite Synthesized by a Hydrothermal Method (A. Aminian, M. Solati-Hashjin, F. Bakhshi, A. Farzadi).
BIOGLASSES AND GLASS-CERAMICS.
Antibacterial Ag-Doped Glass-Ceramic Scaffolds (Enrica Vernè, Marta Miola, Cristina Balagna, Giacomo Fucale, Giovanni Maina, Rosa Angela Canuto, Silvia Saracino, Giuliana Muzio, and Chiara Vitale-Brovarone).
Bioactive Glass for Bone and Joint Repair (Mohamed N. Rahaman, Qiang Fu, B. Sonny Bal, Delbert E. Day, and Hailuo Fu).
Comparison of Reactions of Bioactive Glasses in Different Aqueous Solutions (Susanne Fagerlund, Leena Hupa, and Mikko Hupa).
Comparison of Self-Bonded Three Dimensional Bioactive Glass Fiber Scaffolds after In-Vivo Implantation in Rats (Steven B. Jung, Delbert E. Day, and Roger F. Brown).
Enzyme Grafting to Bioactive Glasses (Enrica Vernè, Sara Ferraris, Chiara Vitale Brovarone, Silvia Spriano, Oana Bretcanu, Claudia Letizia Bianchi, Marco Morra, and Clara Cassinelli).
Ferrimagnetic Glass-Ceramics for Magnetic Induction Hyperthermia (O. Bretcanu, S. Ferraris, M. Miola, and E. Vernè).
Recent Research on Composition Dependence of the Properties of Bioactive Glasses (Leena Hupa and Mikko Hupa).
CALCIUM PHOSPHATES.
Adsorption on Apatitic Calcium Phosphates: Applications to Drug Delivery (F. Errassif, A. Menbaoui, H. Autefage, L. Benaziz, S. Ouizat, V. Santran, S. Sarda, A. Lebugle, C. Combes, A. Barroug, H. Sfihi, and C. Rey).
Bioactive Calcium Phosphates and Nanocomposite Scaffolds for Bone Tissue Engineering (Min Wang).
Preparation of Hydroxyapatite Nanoparticles Applying the Micro Chemical Process (Eiji Fujii, Koji Kawabata, Yoshiaki Nakazaki, Yuji Tanizawa, Akihiro Matsumoto,Yuki Shirosaki, Satoshi Hayakawa, and Akiyoshi Osaka).
Synthesis, Mechanical and Bone Cell Materials Interaction Studies on SrO and MgO Doped Resorbable Tricalcium Phosphate for Bone Tissue Engineering (Shashwat Banerjee, Amit Bandyopadhyay, and Susmita Bose).
Al2O3 AND TiO2.
Cell Proliferation on Nano-Structured Titanium Oxide Layer Prepared on Titanium Substrates (Satoshi Hayakawa, Koji Kawanishi, Yuki Shirosaki, and Akiyoshi Osaka).
Freeform Fabrication and Structural Controls of Alumina Dental-Crown Models by Using Stereolithography (Mitsuyori Suwa, Soshu Kirihara, and Taiji Sohmura).
Moisture Effect on Tubular Alumina Toughened Zirconia Ceramic for Implant Casing (Wai Man Grace So and Guangqiang Jiang).
Author Index.
See More
More in this series