Encyclopedia of Membrane Science and Technology, 3 Volume Set
ISBN: 978-0-470-90687-3
2390 pages
October 2013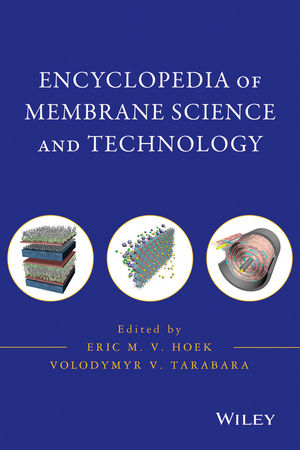 Foreword by Professor Menachem Elimelech, Yale University, USA
This 3-volume thematic work provides critical assessment of the status and advancements in materials and fabrication of membranes, membrane based processes, and applications critical to industrial applications and research from fundamental and practical levels.
The Encyclopedia of Membrane Science and Technology binds together the history of synthetic membranes, as well as state-of-the-art findings of younger and experienced membrane researchers from over 25 countries.
This comprehensive publication considers the fast growing interest in synthetic membranes and their many applications, including drinking water purification, gas separations, food technology, biotechnology, drug delivery devices, rechargeable batteries and fuel cells.
The Encyclopedia of Membrane Science and Technology provides valuable insight on the latest developments, such as:
Membrane separation and transport
Materials, characterization, and module design
Fundamentals of membrane separation processes
Applications of membrane technology in various industries
A collection of reference information on all aspects of membrane science and technology
Online Version:
Visit wileyonlinelibrary.com/ref/emst to see the topics currently available, browse article abstracts and read sample articles.
To set up a FREE trial, please contact your local agent, your Wiley Account Manager, or email libraryinfo@wiley.com
The Encyclopedia of Membrane Science and Technology covers the following topics:
Solution-Diffusion Processes
Ultra-, Micro-, and Nanofiltration
Processes
Gas Transport Membranes
Fouling in Membrane Bioreactors
Micro-Engineered Membranes
Porosity
Surface Modifications of Membranes
Inorganic Membranes
Carbon Membranes
Membrane Characterization
Dynamic Crossflow Filtration
Multiple Osmosis Processes
Membrane Electrolysis
Natural Gas Purification
Catalytic Membrane Reactors
Seawater Desalination
Applications of Membranes in Biotechnology
Applications to Wastewater Treatment and Reuse
Polymer Membranes for Fuel Cells
Food Industry Applications
Polymeric Membranes for Energy Applications
Applications in Nuclear Waste Processing
Enantioselective Membranes
See More
Foreword
Menachem Elimelech

Part I. Membrane Separation and Transport

Introduction
Eric M.V. Hoek, Volodymyr V. Tarabara, and MaryTheresa M. Pendergast

Solution-diffusion processes
Arne R.D. Verliefde, Paul Van der Meeren, and Bart Van der Bruggen

Inorganic Membrane Filtration, Modeling Microfiltration and Ultrafiltration
Weihong Xing, Weixing Li, Yiqun Fan, Wanqin Jin, and Nanping Xu

Mechanistic Modeling of Transport in Nanofiltration
Anthony Szymczyk

Mass transport in ion-exchange membranes
Yoshinobu Tanaka

Gas separation membranes
Ho Bum Park

Gas Transport in Dense Polymeric Membranes, Molecular Dynamics Simulations
Sylvie Neyertz

Scaling
Jack Gilron

Pore blocking models
Chia-Chi Ho

Cake/Biofilm enhanced concentration polarization
Jenia Gutman and Moshe Herzberg

Fouling in membrane bioreactors
Anusha Kola, Yun Ye, and Vicki Chen

Part II. Membrane Materials, Characterization, and Module Design

Membrane Materials and Module Development, Historical Perspective
Jane Kucera

Track-etching
Pavel Apel

Micro-engineered membranes
Cees. J.M. van Rijn

Mixed-matrix membranes
Ryan Adams, J.R. Johnson, Chen Zhang, Ryan Lively, Ying Dai, O. Esekhile, Junqiang Liu, and W.J. Koros

Thin Films and Membranes with Hierarchical Porosity
Dan Li, Jianfeng Yao, and Huanting Wang

Surface modification of membranes
Yan Fang, Jian Wu, and Zhi-Kang Xu

Ion exchange membranes
Yaoming Wang and Tongwen Xu

Solvent Resistant Nanofiltration Membranes
Katrien Hendrix and Ivo Vankelecom

Liquid membranes, supported and emulsion
Gloria Villora

Inorganic membranes
Shaomin Liu, Xiaoyao Tan, and Kang Li

Thin inorganic porous hollow fiber membranes
Mieke W.J. Luiten-Olieman, Michiel J.T. Raaijmakers, Arian Nijmeijer, and Nieck E. Benes

Interfacial polymerization
Benjamin J. Feinberg and Eric M.V. Hoek

Thin-Film Ceramic Membranes
C. Yacou, D. Wang, J. Motuzas, X. Zhang, S. Smart, and J. C Diniz da Costa

Sol-gel-derived silica membranes
Masakoto Kanezashi

Ionic Liquids in Gas Separation Membranes
Jason E. Bara

Carbon membranes
Ahmad Fauzi Ismail

Polymers of Intrinsic Microporosity
Neil B. McKeown and Peter M. Budd

Silica Colloidal Nanoporous Membranes
Amir Khabibullin and Ilya Zharov

Gold Nanotube Membranes
Leonora Velleman, Joe G. Shapter, and Dosan Losic

Biological and Biomimetic Membranes
Manish Kumar, Yue-xiao Shen, and Patrick O. Saboe

Stimuli-responsive membranes
Kin-Ho Wee and Renbi Bai

Constitutional dynameric networks for membranes
Mihail Barboiu

Photocatalytic ceramic membranes
Abolfazl Zakersalehi, Joel Andersen, Hyeok Choi, and Dionysios D. Dionysiou

Superhydrophobic Biomimetic Fibrous Membranes
Aikifa Raza and Bin Ding

Membrane characterization
Roy Bernstein, Yair Kaufman, and Viatcheslav Freger

Porosity
José Ignacio Calvo Díez, Aldo Bottino, Pedro Prádanos, Laura Palacio, and Antonio Hernández

Membrane integrity monitoring
Vitaly Gitis and Gadi Rothenberg

Membrane Characterization by Atomic Force Microscopy
Daniel J. Johnson and Nidal Hilal

Microanalysis of reverse osmosis and nanofiltration membranes
Orlando Coronell, Marc ter Horst, and Carrie Donley

Design and Construction of Commercial Spiral Wound Modules
Jon E. Johnson

Dynamic crossflow filtration
Michel Y. Jaffrin

Part III. Membrane Processes

Microfiltration
Shankar Chellam

Ultrafiltration
James E. Kilduff

Nanofiltration
Bart Van der Bruggen

Diafiltration
Zoltan Kovacs and Peter Czermak

Hybrid processes combining sorption and membrane filtration
Nalan Kabay and Marek Bryjak

Reverse osmosis
Lianfa Song, Cui Liu, and Shuang Liang

Forward Osmosis
Jeffrey McCutcheon

Pressure-retarded osmosis
Amy Childress

Electro-Membrane Processes
Ajay K. Singh and Vinod K. Shahi

Reverse electrodialysis
Odne S. Burheim, Jon G. Pharoah, David Vermaas, B. B. Sales, K. Nijmeijer, and H. V. M. Hamelers

Membrane electrolysis
Pierre Millet

Pervaporation
Anne Jonquières

CO2 capture
Xuezhong He, Qiang Yu, May-Britt Hägg

Metallic Membranes for High Temperature Hydrogen Separation
Yi Hua Ma, Jacopo Catalano, and Federico Guazzone

Natural gas purification
Haiqing Lin, Lloyd S. White, Kaaeid Lokhandwala, and Richard W. Baker

Oxygen-nitrogen separation
Dipak Rana and Takeshi Matsuura

Membrane contactors
Alessandra Criscuoli

Catalytic membrane reactors
Sahar Soltani, Muhammad Sahimi, and Theodore Tsotsis

Membrane Aerated Biofilm Reactors
Eoin Syron and Eoin Casey

Membrane reactors, Applications
Angelo Basile, Simona Liguori, and Adolfo Iulianelli

Part IV. Membrane Applications

Seawater Desalination - Cost and Technology Trends
Nikolay Voutchkov

Membrane Bioreactors, Applications to Wastewater Treatment and Reuse
Stefan Krause and Christoph Thiemig

Membranes for Osmotic Power
S.T.V. Sim, Rong Wang, M. Tian,  and A.G. Fane

Organic Solvent Nanofiltration
György Székely, Patrizia Marchetti, Maria F. Jimenez-Solomon, and Andrew G. Livingston

Gas separation, Applications
A. Brunetti, G. Barbieri, and Enrico Drioli

Analytical applications of membranes
Merlin L. Bruening

Conducting Polymer Membranes
Krzysztof Maksymiuk and Agata Michalska

Application of membranes in biotechnology
Raja Ghosh

Applications of supported liquid membranes and emulsion liquid membranes
Raffaele Molinari and Pietro Argurio

Applications of pertraction in biotechnology
D.Cascaval, Anca-Irina Galaction, and D. Boldureanu

Polymer Membranes for fuel cells
R. Wycisk, J. Ballengee and Peter N. Pintauro

Polymeric Membranes for Energy Applications
Tai-Shung Chung

Food Industry Applications
Frank Lipnizki

Membrane-based treatment of textile industry wastewaters
Ismail Koyuncu

Membrane-based techniques for nuclear waste processing
Anil Kumar Pabby, J.V. Sonawane, and Ana M. Sastre

Membrane-based treatment of pulp and paper industry wastewaters
Mari Kallioinen, Mika Mänttäri, and Marianne Nystrom

Enantioselective Membranes
Masakazu Yoshikawa and Akon Higuchi

Membranes for Microfluidic Applications
Goran T. Vladisavljeviæ, Isao Kobayashi, and Mitsutoshi Nakajima

Part V. Membrane Terminology, Societies, Conferences, and Periodicals

Membrane Terminology
Michael D. Guiver, Eric M.V. Hoek, Victor Nikonenko, Volodymyr V. Tarabara , and Andrew L. Zydney

International Membrane Societies
Christopher A. Crock and Pejman Ahmadiannamini

Membrane Related Conferences, Seminars, Symposia and Workshops
Emily N. Tummons and Miguel Herrera-Robledo

Membrane Related Research Periodicals
Emily N. Tummons and Miguel Herrera-Robledo
See More