E-book
Twitter Tips, Tricks, and Tweets, 2nd Edition
ISBN: 978-0-470-90843-3
265 pages
May 2010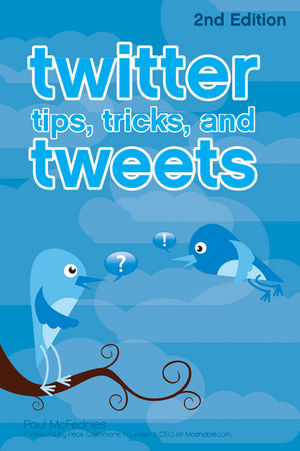 Maximize your fun and boost your productivity with this updated, full-color guide to tantalizing Twitter tips!
The popularity of Twitter continues to soar, and is fast becoming the most popular social networking site online. Whether you're looking to learn how to set up an account for the first time or are on the prowl for some cool third-party Twitter apps, this full-color guide will boost your entire Twitter experience.
Allowing you to communicate with fellow Twitters within a 140-character limit, this fun and fascinating social networking tool is easier than maintaining a blog and quicker than sending an e-mail or text. With these tips, tricks, and tweets, you'll stay in the know and up to date on anything and everything you find interesting.
Explores the newest Twitter features, including the new re-tweet feature, which adds a re-tweet button to each tweet on a person's timeline, much like the sites current "reply" button
Discusses Twitter's new search widget, which is more sophisticated and precise
Shows how to use the just-announced Geolocation API, which adds location-based information to tweets
Explains how to tweet from mobile devices
Shows how to add Twitter to a blog or to other social networking sites such as Facebook
Offers ideas for using Twitter in business as well as for personal contacts
Covers Twitter terminology and provides helpful tips and tricks for expanding Twitter's usefulness through third-party applications
Explore the possibilities of Twitter and discover what the buzz is all about with this tremendously terrific guide to Twitter!
See More
Acknowledgments xi
Foreword xii
Introduction xxii
Chapter 1: How Do I Get Started with Twitter? 2
Setting Up Your Very Own Twitter Account 4
Signing In to Your Twitter Account 6
Viewing Twitter's Current Status 7
Changing Your Twitter Password 10
Resetting Your Twitter Password 11
Deleting Your Twitter Account 12
Chapter 2: What Can I Do to Customize My Twitter Profile? 14
Filling In Your Profile Details 16
Setting Your Twitter Picture 18
Applying a Theme to Your Profile 19
Selecting a Background Image 20
Using a solid-color background 21
Selecting a custom background image 22
Background photo challenges 23
Using a background image to tell people more about yourself 27
Overcoming background problems with tiling images 29
Choosing Your Profile's Colors 29
Stopping Twitter from Sending New Follower Messages 31
Chapter 3: How Do I Send Tweets? 32
Sending a Tweet 34
Sending a tweet using the Twitter site 35
Tips for managing the 140-character limit 36
Typing nonstandard characters in Twitter 37
Notes on tweet etiquette 38
Adding hashtags to create a tweet topic 39
Working with Your Tweets 40
Deleting a tweet 40
Adding a tweet to your favorites 42
Making your tweets private 43
Downloading All Your Tweets 44
Working with Mentions and Direct Messages Sent to You 47
Viewing tweets that mention you 47
Viewing direct messages sent to you 48
Getting an e-mail when you receive a direct message 49
Chapter 4: How Do I Follow Other Twitter Users? 50
Finding People 52
Finding people with Twitter accounts 52
Finding someone on another network 52
Inviting someone to join Twitter 54
Tracking FollowFriday recommendations 55
Following People 56
Following someone on Twitter 56
Following Twitter's suggested users 57
Understanding verified accounts 58
Following a person's updates via RSS 59
Following people who follow you 60
Following someone who is following you 60
Automatically following someone who follows you 61
Downloading your friends' tweets 62
Stop following someone on Twitter 63
Replying, Retweeting, and Direct Messaging 63
Replying to a tweet 64
Sending a reply to all your followers 65
Retweeting an update 66
Viewing your retweets 69
Sending a direct message to someone 70
Configuring direct message e-mails 71
Working with the People You Follow 72
Checking out a person's updates 72
Preventing a person's retweets from appearing in your timeline 72
Viewing your friends' retweets 73
Viewing your tweets that have been retweeted 75
Blocking a tweeter 75
Taking Advantage of Twitter Lists 76
Following a list 77
Creating a list 78
Working with Twitter Bots 80
Receiving a reminder message 80
Querying the Internet Movie Database 81
Getting a map 82
Translating text into another language 82
Getting a weather forecast 83
Returning Amazon data 83
Keeping up with the bots 84
Chapter 5: Can I Use Twitter on My Mobile Phone? 86
Understanding Twitter's Mobile Phone Feature 88
Considering text message fees 88
Non-SMS Twitter alternatives 89
Twitter's phone numbers 90
Activating Your Mobile Phone 91
Sending an Update from Your Mobile Phone 92
Sending an update from your mobile phone as text 93
Sending an update using Twitter's mobile Web site 94
Sending an update from your mobile phone as e-mail 95
Sending a reply from your mobile phone 98
Sending a direct message from your mobile phone 99
Protecting your updates with a PIN number 100
Following Twitterers on Your Mobile Phone 101
Following a person from your mobile phone 101
Receiving a person's tweets on your mobile phone 102
Marking an update as a favorite from your mobile phone 103
Retrieving a profile on your mobile phone 104
Stopping a person's updates on your mobile phone 105
Receiving only direct messages on your mobile phone 105
Stopping all updates on your mobile phone 106
Sending a Twitter invitation from your mobile phone 107
Getting your Twitter stats on your mobile phone 108
A Summary of Twitter's Text Commands 108
Tools for Managing Twitter from Your Mobile Phone 109
Mobile phone applications for Twitter 110
Twitter for iPhone 110
TweetDeck 110
Twitter for Blackberry 112
TinyTwitter 113
More mobile 115
Mobile phone Web sites for Twitter 116
Dabr 116
Hahlo 117
More mobile phone sites for Twitter 118
Chapter 6: How Do I Find Stuff in Twitter? 120
Running a Basic Search 122
Real-time search results 123
Performing Advanced Searches 124
Performing an advanced word search 125
Searching for tweets that include a phrase 126
Searching for tweets that include multiple words 127
Searching for tweets that include one word or another 127
Searching for tweets that exclude a word 128
Running an advanced people search 129
Searching for tweets from a person 129
Searching for replies to a person 130
Searching for tweets that mention a person 131
Filtering tweets by hashtag 132
Searching for tweets by location 133
Finding tweets by date 134
Locating tweets that contain links 136
Adding Twitter Search to Your Web Browser 137
Adding Twitter Search to Internet Explorer 137
Adding Twitter Search to Firefox 139
Working with Search Results 140
Using a feed to monitor search results 141
Sending your search results as a tweet 142
Twitter Search Engines and Tools 142
Bing 143
Google 144
Tweet Scan 147
Twitterfall 148
TweetGrid 148
Monitter 150
TweetBeep 150
Twemes 151
AskTwitR 152
BackTweets 154
TweetVolume 154
Chapter 7: Where Can I Display My Twitter Feed? 156
Adding Twitter Bling to Your Web Site 158
Adding a Twitter link to your Web site 158
Creating a text link 158
Creating a Twitter badge link 158
Displaying a badge that shows your total followers 160
Adding a "Tweet This" link to your Web site 162
Adding the Twitter Application to Your Facebook Profile 165
Inserting the Twitter Flash Widget on Your MySpace Page 168
Displaying Your Twitter Updates on Your Blogger Site 172
Including Your Tweets on Your TypePad Blog 175
Adding the Twitter widget automatically 175
Adding the Twitter widget by hand 177
Adding a Twitter Widget to Your Site 178
Adding Twitter's Flash widget to your site 179
Adding Twitter's HTML widget to your site 180
Adding Twitter's Profile, Search, Faves, or List widget to your site 182
Chapter 8: How Can I Take Twitter to the Next Level? 184
Twittering on the Desktop: Twitter Clients 186
Raising your Twitter game with TweetDeck 186
Getting started with TweetDeck 187
Configuring the TweetDeck window 190
Filtering tweets 192
Monitoring a search 193
Controlling Twitter with Seesmic Desktop 194
Giving Seesmic Desktop a whirl 195
Setting up your Twitter accounts 195
Working with tweets 196
Posting a tweet 197
Navigating Seesmic Desktop 198
Twittering on the Web: Twitter Web Sites 199
Seesmic Web 199
Brizzly 200
iTweet 201
Tweetree 203
Tweetvisor 205
Working with Twitter Gadgets and Widgets 206
Adding a Twitter gadget to your Windows Sidebar or Desktop 206
Adding a Twitter widget to your Mac Dashboard 208
Adding a Twitter gadget to your iGoogle page 209
Displaying tweets in Firefox 210
Chapter 9: What Tools Can I Use to Extend Twitter? 214
Shortening URLs 216
Sharing Photos, Videos, and Music 219
Sharing photos 220
Using TwitPic 220
Other photo-sharing services 222
Sharing videos 223
Sharing music 224
Posting to Multiple Social Networks 226
Getting started with Ping.fm 227
Getting your Ping.fm application key 228
Configuring twhirl to use Ping.fm 229
Posting with Ping.fm 229
You Are There: Geotagging Your Tweets 230
Enabling geotagging in your Twitter profile 231
Playing with some geotagging tools 232
Deleting your location data 235
Connecting to Third-Party Twitter Applications 235
Connecting using OAuth 236
Revoking access 237
More Twitter Tools to Play With 238
Scheduling tweets 238
Following Twitter trends 240
Tracking tweets by location 241
Getting your Twitter account ranking 242
Displaying your latest tweet on a photo 243
Tweeting events to your Google calendar 244
Integrating your Twitter account with LinkedIn 245
Using LinkedIn to track tweets about your company 245
Adding a link to your Twitter account on your LinkedIn profile 245
Send your blog feed to Twitter 246
Glossary 248
Index 253
See More
paul_mcfedries (@paulmcf) is a technical writer and programmer. He has written more than 70 books that have sold more than 3 million copies worldwide.
See More