Looseleaf
Go Positive! Lead to Engage Facilitator s Guide Set
ISBN: 978-0-470-90844-0
144 pages
October 2012, Pfeiffer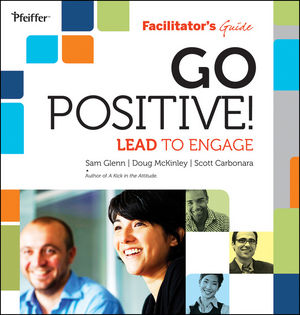 Unleash the Power of a Fully-Engaged Workforce
Recent Gallup research reveals that a shocking 71% of U.S. employees are either "not on board" or "actively hostile" when it comes to delivering on the needs of the organization and its customers. Given the clear advantages of engagement and the costs of disengagement, how can managers maximize the attitudes—and ultimately, the performance —of their employees, even amidst very chaotic and uncertain times?
Based on the most recent behavioral, and psychological research and the authors' collective, combined 60-plus years of experience fostering positive attitudes, Go Positive! Lead to Engage offers a concise, clear, easy-to-implement formula for engaging employees from the inside out that will create a difference in any workplace. The program utilizes a positive—rather than punitive—approach to helping employees be internally motivated for success and ensures a deeper, more long-lasting level of engagement and loyalty in the workplace. Workshop participants will gain
A heightened awareness about what it takes to increase employee engagement;
An amplified focus on the key priorities that must become aligned to achieve corporate goals;
An increased activity level on the high-return behaviors that generate improved engagement and productivity.
This Facilitator's Guide includes everything you need to conduct one-day or half-day workshops: a customizable outline of the Go Positive model; a one-day workshop script, including exercises; a flash drive with presentation slides to accompany the workshop; a sample Participant Workbook, a poster and reminder card of the Go Positive model.
See More
Sam Glenn is the best-selling author of A Kick in the Attitude (Wiley), and a humorous, award-winning keynoter on the power of attitude in the workplace and beyond. Sam presents frequently to Fortune 500 companies and other organizations wanting an attitude recharge (www.SamGlenn.com).
Dr. Doug McKinley
, PsyD, MCC (Master Certified Coach) is a founding partner of Xcellero Leadership, (
www.Xcellero.com
) a premier firm that develops Leaders, Teams and Organizations into achieving sustainable growth, change, and results. Doug's background as a psychologist and years of working with Executive Leaders from diverse industries gives him essential insight and a deeper understanding of what prevents leaders and organizations from reaching their peak performance. This experience allows him to give clear and compelling methodology that allows for instant application and leader development.
Scott Carbonara, known as "The Leadership Therapist," is an international speaker, trainer, author of A Manager's Guide to Employee Engagement, and management consultant on the topics of communications, employee engagement, customer service, and change management. (www.LeadershipTherapist.com) Scott pulls from his diverse background—from working as an award-winning crisis counselor, to serving as director of communication and change management and eventually executive chief-of-staff of Blue Cross/Blue Shield.
See More
September 28, 2012
Low Employee Engagement? Go Positive!
Connect with Wiley Publicity
Gallup recently conducted a study showing that only 29% of employees were engaged in their work. Their research uncovered evidence that about 54% are disengaged and the remaining 17% were actively disengaged. Without engagement at a personal level, teamwork is eroded, goal setting is lackluster and leadership is challenged. At the corporate level, disengagement hurts employee retention, profits die and projects lose focus midstream.
How can managers and leaders solve this pervasive issue?
Go Positive! Lead to Engage (Pfeiffer; 978-0-470-90844-0; October 2012; $225)by Sam Glenn, Doug McKinley, Scott Carbonara is a ½ day workshop or a full day workshop aimed at shaping managers thinking from the inside out, rather than the outside in. This shift assumes that managers and their employers are open to taking full responsibility for their roles and want to know how to enjoy their work more, become consistently valuable to their teams and find more meaning in their work to become fully engaged.
The Go Positive! workshop is for organizations that want to build a high-engagement culture. The best way to build that kind of environment was to "institutionalize" it, that is, embed the same thoughts, attitudes, and actions within every level of the organization.
The Go Positive! program includes:
Facilitators Guide

Participant Workbook

PowerPoint slide deck

Poster

Takeaway Card

Flash drive with scripts in Word from the Facilitators Guide, PowerPoint slides and a PDF of the Facilitator's Guide
The Go Positive! workshop will equip managers to create a culture of positive attitude and will provide a roadmap for getting leaders and their employees on the right track, and keep them in the future.
See More