E-book
About You: Fully Human, Fully Alive
ISBN: 978-0-470-90890-7
224 pages
June 2010, Jossey-Bass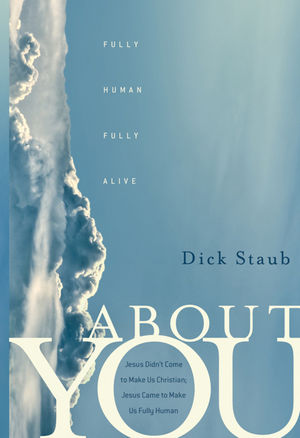 In
About You
, Dick Staub addresses irreligious, religious, spiritual seekers and all kinds of Christians and shows us that Jesus came to satisfy our universal longing for a fully human life, not to establish a narrow us versus them religion. In short, Jesus didn't come to make us Christian; Jesus came to make us fully human. In a fresh exploration of the ancient Biblical stories of creation, fall and redemption, Staub explains that salvation is not about going to heaven when we die; it is about a full and abundant life now. In practical, down-to-earth, language,
About You
deals with this concept on three levels: anthropologically (our common story and universal human needs), theologically (God's awareness and response to our needs), and practically (how we can attain and maintain a more complete and satisfying life).
Staub's previous book (The Culturally Savvy Christian) was selected by Kirkus Reviews for their 2007 Religion and Spirituality edition. This new book is designed to help those who are seeking a way to integrate both a fully alive spirituality and a fully alive humanity—a way that is embodied in the often-misunderstood life and teaching of Jesus Christ. This groundbreaking book illuminates the path towards becoming the best version of yourself.
See More
Preface: Our Shared Story ix
Acknowledgments xiii
I Human Potential and Our Universal Dilemma 1
1 You Are a Masterpiece 3
II Primal Humans: The Collective Memory of the Way We Were 13
2 Created 15
3 In God's Image 29
4 Together 39
5 Our Ancestral Homeland 51
III The Human Problem: Our Devastating Diminishment and Dehumanization 63
6 Fallen, Broken, and Sick unto Death 65
7 Alone in a Hostile Land 81
IV Your Path to Fully Human: The Way to Fully Alive and Fully Human 97
8 Coming to Your Senses 99
9 Returning 107
10 Awaking from the Dead 121
V Progressing to Fully Human: Making All Things New 131
11 The Humanizing Jesus 133
12 Restoring 149
13 Your Design, Your Destiny 165
14 And in the End, a Beginning 177
Afterword: A Creed for the Fully Human 193
Notes 195
The Author 207
See More
A noted interpreter of faith and culture, Dick Staub is an award-winning broadcaster, writer, and speaker who is fascinated with today's spiritual quest, so often disconnected from organized religion. He is the host of The Kindlings Muse podcast, an intelligent, imaginative, hospitable exploration of ideas, sparked by our shared experiences in art, movies, books, and music (www.TheKindlings.com). He is the author of Christian Wisdom of the Jedi Masters, The Culturally Savvy Christian (both from Jossey-Bass) and Too Christian, Too Pagan.
See More