E-book
Agility: Competing and Winning in a Tech-Savvy Marketplace
ISBN: 978-0-470-91252-2
240 pages
June 2010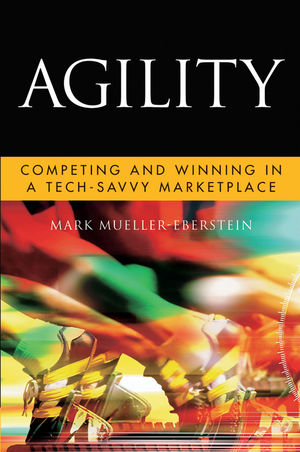 Insider secrets to competing-and winning-in the tech-savvy marketplace
The new generation of technology savvy workers is changing the way we look at productivity. Agility uniquely describes how technology agility impacts your business's performance and can become a critical success factor. A must-read for leaders defining business strategy and technology implementation, the methodology it describes will show how to measure and drive technology adoption and the derived impact on business results.
Includes international cases of various industries, from industry leaders
Incorporates the ideas of flexibility, balance, adaptability, and coordination under one umbrella
Uniquely describes how technology agility impacts business performance
What differentiates Audi, BMW and Mercedes or GM? Understanding it can make or break the future of an organization. Agility makes it clear: the digital divide will be seen in those who take full advantage of the technology versus those merely have it.
See More
Preface xiii
Acknowledgments xix
CHAPTER 1: Leading into the Future 1
Current Landscape 2
Key Forecast of IT Trends and Spends 4
Leading by Example 5
CHAPTER 2: Maximum Ride: Owning Technology versus Just Using IT 11
How the World Is Changing 13
Current Research in Enterprise Architecture 17
Making Quantum Leaps and Not Just Incremental Changes 22
Microsoft's Structured Approach 24
Infrastructure Maturity and the Impact on Core Business Performance 27
Trends 29
Note about Case Studies and the Infrastructure Optimization Model 31
CHAPTER 3: Optimizing for Agility: A Different Way to View Your Business 33
Individual, Organization, or Information Technology: Where Do You Start? 36
Role of Place, People, and Technology 44
Infrastructure Optimization 53
Capabilities: The Areas of Optimization 59
CHAPTER 4: Technology as the Competitive Edge 63
Why Benchmarking? 64
Auto, Finance, Healthcare, Public Sector View Comparison 69
CHAPTER 5: Business Impact: Technology Solutions from the Shop Floor to the Top Floor 109
IT as Business Enabler instead of Cost Center 110
Creating Business Intelligence from Data Overload 113
Improving Customer Contact through Web Site Design and Database Magic 118
Streamlining the Product Development Cycle 124
Retaining Confidentiality while Operating "in the Cloud" 128
Managing Suppliers and Inventory 132
Security, Security, and More Security 137
Working Anywhere, Anytime 140
Making Sustainability Part of the Bottom Line 143
CHAPTER 6: Assessing Your Situation 147
Where Is Your Starting Position? 150
Analyzing Where You Want to Go 156
Define Where You Want to Be 157
Where to Begin? 166
CHAPTER 7: Making It Happen 171
Big-Picture Goals during Change 173
Optimizing for Simplicity and Agility 181
Off-the-Shelf Solutions versus Customization 187
Building Your A Team 190
Ongoing Upgrades: Moving from "Old" to "Always Fresh" 195
Adoption Made Easier: Moving Data, Training People 196
CHAPTER 8: Optimizing Your Workforce: Leveraging the New with the Old 203
Technology Immigrants and Digital Natives 206
Getting Everyone across the Chasm 209
Social Networking: A Tool from Home Goes to Work 211
Sector Influence on Change 213
Old Dogs, New Kids, and the Naysayers 219
CHAPTER 9: Starting Over To Stay Ahead 225
Index 231
See More
MARK MUELLER-EBERSTEIN is founder and CEO of Adgetec, whose mission is to help organizations and their leaders realize value globally. He is a recognized thought leader, speaker, mentor, and coach. He also advises start-ups, sometimes hands-on as their COO on business strategy and IP management. Agility was written based on his over fifteen years of global experience in the IT industry working with companies and governments to choose, adopt, roll out, and measure the impact of new technologies. In his responsibility as the director of deployment and adoption at Microsoft, he was responsible for the customers' value realization and deployment experience of Microsoft's Office and collaboration products; the customer and partner engagement during Microsoft's software development process; and joint research with leading academic institutions on technology adoption and its impact on business results. During his career with Microsoft and as the company's advisor, he coached Microsoft employees, customers, and partners across the globe on this and other topics. Prior to joining Microsoft, Mueller-Eberstein was at Hewlett-Packard in leadership positions in business development, marketing, and product management. He received a Master of Business Administration from the University of Technology Berlin and studied at the University of Marburg, both in his native country of Germany.
See More
More in this series