Collaborative Innovation in Drug Discovery: Strategies for Public and Private Partnerships
ISBN: 978-0-470-91737-4
752 pages
April 2014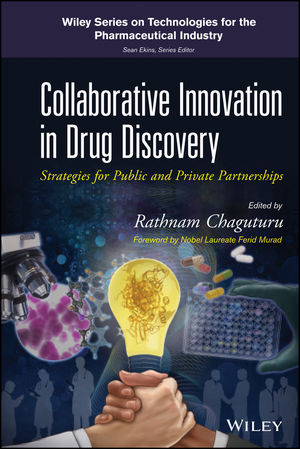 Can academia save the pharmaceutical industry?
The pharmaceutical industry is at a crossroads. The urgent need for novel therapies cannot stem the skyrocketing costs and plummeting productivity plaguing R&D, and many key products are facing patent expiration. Dr. Rathnam Chaguturu presents a case for collaboration between the pharmaceutical industry and academia that could reverse the industry's decline. Collaborative Innovation in Drug Discovery: Strategies for Public and Private Partnerships provides insight into the potential synergy of basing R&D in academia while leaving drug companies to turn hits into marketable products. As Founder and CEO of iDDPartners, focused on pharmaceutical innovation, Founding president of the International Chemical Biology Society, and Senior Director-Discovery Sciences, SRI International, Dr. Chaguturu has assembled a panel of experts from around the world to weigh in on issues that affect the two driving forces in medical advancement.
Gain global perspectives on the benefits and potential issues surrounding collaborative innovation
Discover how industries can come together to prevent another "Pharma Cliff"
Learn how nonprofits are becoming the driving force behind innovation
Read case studies of specific academia-pharma partnerships for real-life examples of successful collaboration
Explore government initiatives that help foster cooperation between industry and academia
Dr. Chaguturu's thirty-five years of experience in academia and industry, managing new lead discovery projects and forging collaborative partnerships with academia, disease foundations, nonprofits, and government agencies lend him an informative perspective into the issues facing pharmaceutical progress. In Collaborative Innovation in Drug Discovery: Strategies for Public and Private Partnerships, he and his expert team provide insight into the various nuances of the debate.
See More
Foreword xv
by Ferid Murad
Preface xix
About the Book xxv
About the Editor xxvii
Contributors xxix
PART I: PERSPECTIVES ON COLLABORATIVE INNOVATION 1
If I have seen further it is by standing on the shoulders of giants.
—Isaac Newton
1 PRODUCTIVE RELATIONSHIPS IN RESEARCH AND DEVELOPMENT BETWEEN GOVERNMENT, INDUSTRY, AND UNIVERSITIES 3
Wyatt R. Hume
2 DIVIDED WE FALL 11
William B. Mattes
3 INNOVATION: OPEN SOURCE AND NONPROFIT MODELS IN DRUG DISCOVERY 21
James M. Shaeffer and Sarah MacDonald
4 THE CHANGING FACE OF INNOVATION IN DRUG DISCOVERY 31
Litao Zhang and Carl Decicco
5 CURRENT TRENDS IN COLLABORATIVE DRUG DISCOVERY AND STRATEGIES TO DE-RISK
PRECOMPETITIVE INITIATIVES 57
Anuradha Roy and Rathnam Chaguturu
6 A PERSPECTIVE ON THE EVOLUTION OF COLLABORATIVE DRUG DISCOVERY AND FUTURE CHALLENGES 75
Christopher A. Lipinski
PART II: GOVERNMENTAL INITIATIVES ACCELERATE PRECOMPETITIVE COLLABORATION 85
Governments will always play a huge part in solving big problems. . . .
They also fund basic research, which is a crucial component of the innovation that improves life for everyone. —Bill Gates
7 THE VALUE OF UNIVERSITY–INDUSTRY PARTNERSHIPS 87
Anthony M. Boccanfuso
8 TRENDS IN THE PUBLIC SECTOR ADOPTION OF TRANSLATIONAL RESEARCH APPROACHES 99
Mark A. Scheideler
9 PARTNERSHIPS FOR DRUG REPOSITIONING: LESSONS FROM THE CTSA PHARMACEUTICAL ASSETS PORTAL 115
Kate Marusina, Dean J. Welsch, Lynn Rose, Doug Brock, Nathan Bahr, Aaron M. Cohen, Rafael A. Gacel-Sinclair, Pakou Vang, Peter G. Ruminski, Bruce E. Bloom, Pamela Nagasawa, and Betty P. Guo
10 DEVELOPMENT PROGRAMS AT THE U.S. NATIONAL CANCER INSTITUTE: USE OF PUBLIC–PRIVATE PARTNERSHIPS AS A CATALYST TO ADVANCE CANCER THERAPY 135
Jason V. Cristofaro
11 NONINDUSTRIAL PHARMACEUTICAL RESEARCH IN THE BRIC COUNTRIES: LESSONS FOR DRUG DISCOVERY PARTNERSHIPS WITH ACADEMIC AND GOVERNMENTAL INSTITUTIONS 159
John Watson
12 DEATH OF DRUGS AND REBIRTH OF HEALTH CARE: INDIAN RESPONSE TO DISCOVERY IMPASSE 173
Bhushan Patwardhan
PART III: A GAME CHANGER FOR AVERTING FUTURE PHARMA CLIFF 195
Coming together is a beginning, staying together is progress, and working together is success. —Henry Ford
13 ACCELERATING INNOVATION IN THE BIOSCIENCE REVOLUTION 197
Bernard H. Munos
14 VALUE-DRIVEN DRUG DEVELOPMENT: UNLOCKING THE VALUE OF YOUR PIPELINE 213
Valentina Sartori, Michael Steinmann, Petra Jantzer, and Matthias Evers
15 UNLOCKING THE MARKET POTENTIAL OF ACADEMIC RESEARCH 221
Assem S. el Baghdady and Yasser M.S. el Baghdady
16 COLLABORATIVE INNOVATION IN PHARMACEUTICAL INDUSTRY: APPROACHES AND REQUIREMENTS 255
Monika Lessl and Khusru Asadullah
17 CLOSE CONTACT: A COLOCATION MODEL FOR ACADEMIC–INDUSTRIAL PARTNERSHIPS IN DRUG DISCOVERY 267
Peter A. Covitz and Terrence D. Ruddy
18 SUCCESS FACTORS AND OBSTACLES IN ACADEMIA–INDUSTRY PARTNERSHIPS: A CASE STUDY OF A GRADUATE PROGRAM WITHIN THE BAYER–UNIVERSITY OF COLOGNE "PRIVILEGED PARTNERSHIP" 279
Stefan Herzig, Marion Rozowski, and Ingo Flamme
19 ACADEMIC, COMMERCIAL, AND BIODEFENSE CASE STUDIES FOR COLLABORATIVE DRUG DISCOVERY: POTENTIAL FOR DISRUPTING DRUG DISCOVERY 303
Barry A. Bunin and Sean Ekins
20 ACCESS PLATFORM: A STREAMLINED INTEGRATIVE PARTNERING PROCESS AT SANOFI TO COMMERCIALIZE UNIVERSITY-BASED INTELLECTUAL PROPERTY 319
Paul R. Eynott and Carole Fages
21 ENTREPRENEURSHIP: DRUG DISCOVERY INNOVATION AT START-UP AND MEDIUM-SIZED BIOTECHNOLOGY COMPANIES 341
Allen B. Reitz and Kathleen M. Czupich
22 CHEMICAL CONSULTING 355
Lester A. Mitscher
PART IV: NONPROFITS DRIVE BENCH-TO-BEDSIDE INNOVATION 367
Can't afford to innovate? Open up! —Henry Chesbrough
23 OPEN SOURCE DRUG DISCOVERY FOR NEGLECTED DISEASES 369
Tonny Johnson and Sanchayita Kar
24 THE MYELIN REPAIR FOUNDATION ACCELERATED RESEARCH COLLABORATIONTM MODEL: INNOVATIVE DISRUPTION IN BIOMEDICAL RESEARCH 385
Gali Hagel
25 FROM CATALYSIS TO MASS ACTION: THE EVOLUTION OF CHDI FOUNDATION, A DRUG-DEVELOPMENT ORGANIZATION DEVOTED TO HUNTINGTON'S DISEASE 411
Allan J. Tobin
26 LESSONS FROM THE PAST AS A MEANS TO THE FUTURE: INSTITUT PASTEUR AS A MODEL STRATEGY 437
Spencer L. Shorte
27 SEEDING OPEN INNOVATION DRUG DISCOVERY AND TRANSLATIONAL COLLABORATIONS TO LEVERAGE GOVERNMENT FUNDING: A CASE STUDY OF STRATEGIC PARTNERSHIP BETWEEN SANFORD-BURNHAM AND MAYO CLINIC 451
Thomas D.Y. Chung, Sundeep Khosla, Andrew D. Badley, and Michael R. Jackson
PART V: ACADEMIC SCREENING CENTERS COME OF AGE 487
Open access high-throughput drug discovery in the public domain is a Mount Everest in the making. —Rathnam Chaguturu
28 FINDING THE MIDDLE GROUND: DRUG DISCOVERY TECHNOLOGY IN THE ERA OF ACADEMIC SCREENING CENTERS 489
Nathan S. Blow
29 OPEN INNOVATION-BASED DRUG DISCOVERY IN EUROPE: SOME EXAMPLES OF NATIONAL AND TRANSNATIONAL EUROPEAN INITIATIVES INTEGRATING CHEMISTRY, BIOLOGY, AND TECHNOLOGY PLATFORMS 499
Philip Gribbon
30 IN SICKNESS AND IN HEALTH: A SHOTGUN MARRIAGE THAT IS FLOURISHING 517
Horst Flotow and Alex Matter
31 A FLEXIBLE MODEL FOR COMPOUND MANAGEMENT FACILITIES TO STIMULATE COLLABORATIONS IN THE LIFE SCIENCES 533
David Camp
PART VI: INTELLECTUAL PROPERTY AND TECHNOLOGY TRANSFER 563
Everything that can be invented has been invented. —Charles Duell
32 SUCCESSFUL TECHNOLOGY TRANSFER: LESSONS FROM THE TRANSLATIONAL MEDICINE RESEARCH COLLABORATION 565
Assem S. el Baghdady
33 CHALLENGES AND OPPORTUNITIES IN COMMERCIALIZING ACADEMIC DRUG DISCOVERIES 577
Christopher Paschall
34 THE PIVOTAL ROLE OF THE ACADEMIC ENTREPRENEUR AND THE ENTREPRENEURIAL UNIVERSITY IN GLOBAL LIFE SCIENCES 609
Donna Marie De Carolis
PART VII: THE FINAL FRONTIER 621
No one can whistle a symphony; it takes a whole orchestra to play it.
—Halford E. Luccock
35 THE CORE MODEL: DRUG DISCOVERY AND DEVELOPMENT VIA EFFECTIVE TRANSLATIONAL SCIENCE AND PUBLIC–PRIVATE COLLABORATION 623
Ibis Sánchez-Serrano
36 USING MARKET-DRIVEN COLLABORATION TO ACCELERATE INNOVATION IN BIOMEDICINE 653
Elizabeth Iorns
37 THE COST OF TAKING EYES OFF THE TRUE END USER: FOCUS ON PATIENT NEEDS AND OUTCOMES 663
Deborah E. Collyar
38 TO LEASH OR UNLEASH THE POWER OF PUBLIC–PRIVATE COLLABORATION: IN HEALTH AND DISEASE 679
Hakim Djaballah
Index 687
See More
RATHNAM CHAGUTURU, PHD, is the Founder & CEO of iDDPartners, a nonprofit think-tank focused on pharmaceutical innovation. He has more than thirty years of experience in executing new lead discovery projects and forging discovery partnerships. He is the Founding President of the International Chemical Biology Society and Editor-in-Chief of Combinatorial Chemistry and High Throughput Screening. He serves on several other editorial and scientific advisory boards along with NIH Study Sections, is the recipient of several awards, and is a much sought-after speaker at major national and international conferences, passionately advocating the virtues of collaborative partnerships in addressing the pharmaceutical innovation crisis.
See More
More in this series