E-book
The Five Temptations of a CEO: A Leadership Fable, 10th Anniversary Edition
ISBN: 978-0-470-91823-4
160 pages
June 2010, Jossey-Bass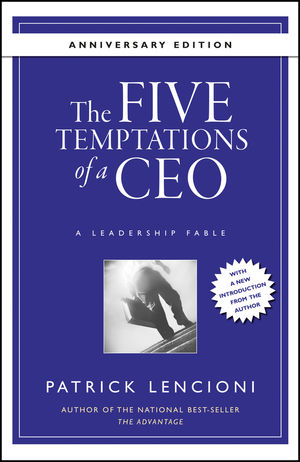 A commemorative edition of the landmark book from Patrick Lencioni When it was published ten years ago, The Five Temptations of a CEO was like no other business book that came before. Highly sought-after management consultant Patrick Lencioni deftly told the tale of a young CEO who, facing his first annual board review, knows he is failing, but doesn't know why. Refreshingly original and utterly compelling, this razor-sharp novelette plus self-assessment (written to be read in one sitting) serves as a timeless and potent reminder that success as a leader can come down to practicing a few simple behaviors?behaviors that are painfully difficult for each of us to master. Any executive can learn how to recognize the mistakes that leaders can make and how to avoid them. The lessons of The Five Temptations of a CEO, are as relevant today as ever, and this special anniversary edition celebrates ten years of inspiration and enlightenment with a brand new introduction and reflections from Lencioni on the new challenges in business and leadership that have occurred in the past ten years.
See More
Tribute.
Foreword.
Introduction.
The Fable.
The Model: A Summary of Why Executives Fail.
Self-Assessment.
Acknowledgments.
About the Author.
See More
Patrick M. Lencioni is founder and president of The Table Group, a management consulting firm specializing in executive team development and organizational health. As a consultant and keynote speaker, he has worked with thousands of senior executives in organizations ranging from Fortune 500s and high-tech start-ups to universities and nonprofits. He is the author of seven nationally recognized books, including the New York Times best-seller The Five Dysfunctions of a Team.
See More