E-book
The Vertical Transportation Handbook, 4th Edition
ISBN: 978-0-470-91973-6
624 pages
September 2010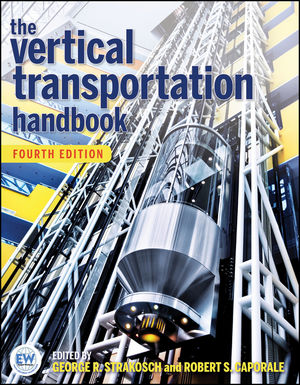 This new edition of a one-of-a-kind handbook provides an essential updating to keep the book current with technology and practice.  New coverage of topics such as machine-room-less systems and current operation and control procedures, ensures that this revision maintains its standing as the premier general reference on vertical transportation.  A team of new contributors has been assembled to shepherd the book into this new edition and provide the expertise to keep it up to date in future editions.  A new copublishing partnership with Elevator World Magazine ensures that the quality of the revision is kept at the highest level, enabled by Elevator World's Editor, Bob Caporale, joining George Strakosch as co-editor.
See More
Preface.
List of Contributors.
1 The Essentials of Elevatoring.
2 The Basis of Elevatoring a Building.
3 Passenger Traffic Requirements.
4 Incoming Traffic.
5 Two-Way Traffic.
6 Outgoing Traffic.
7 Elevator Operation and Control.
8 Space and Physical Requirements.
9 Escalators and Moving Walks.
10 Elevatoring Commercial Buildings.
11 Elevatoring Residential Buildings.
12 Elevatoring Institutional Buildings.
13 Service and Freight Elevators.
14 Nonconventional Elevators, Special Applications, and Environmental Considerations.
15 Automated Material Handling Systems.
16 Codes and Standards.
17 Elevator Specifying and Contracting.
18 Economics, Maintenance, and Modernization.
19 Traffic Studies and Performance Evaluation.
20 The Changing Modes of Horizontal and Vertical
Transportation.
Appendix: Literature on Elevators and Escalators.
Index of Tables and Charts.
Index of Examples.
Subject Index.
See More
George R. Strakosch was president and founder of George R. Strakosch & Associates, an elevator consulting firm from which he has since retired. He has been associated with Elevator World magazine from 1987 to the present, where he was a technical director and worked with their Editorial and Educational Departments. He has been involved in the elevator industry for more than fifty years, thirty of which were spent with the Otis Elevator Company, ten of which were spent as an associate with the engineering firm of Jaros, Baum & Bolles, and twenty-three of which have been with Elevator World.
Robert S.Caporale is Senior Vice President and Editor of Elevator World. Before joining the magazine in 1992, he worked for twenty-seven years as an elevator system designer, project manager, and associate with the engineering firm of Jaros, Baum & Bolles and later as vice president and director of the Transport Systems Group of Syska Hennessey Group. He was involved in various design phases of major elevator systems throughout the world, including the World Trade Center, the Bank of China in Hong Kong, the Sears Tower, and Broadgate Development in London.
See More