Unleashing the Power of IT: Bringing People, Business, and Technology Together
ISBN: 978-0-470-92042-8
288 pages
April 2011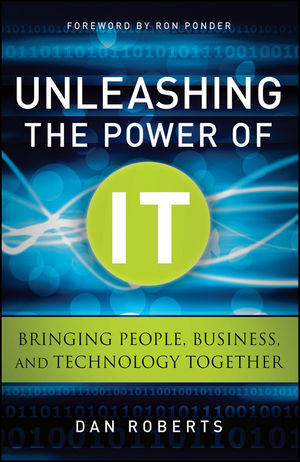 Timely guidance for transforming IT into a strategic business partner
Today's leaders are expected to reduce costs, increase productivity, drive innovation and help the business identify and pursue new business opportunities. Successful IT leaders will be the ones that become strategic business partners and decision influencers in their organizations. Unleashing the Power of IT describes in actionable detail, the new mindset, core skill set, and interpersonal tool set that are necessary for IT leaders to thrive in today's increasingly complex challenging business environment.
Provides tangible, hard-hitting, real-world strategies, techniques and approaches that will immediately transform your IT workforce and culture
Includes Top Ten lists of tips and techniques, proven frameworks and practical guidance to help you launch and sustain your IT culture change and professional development initiatives
Addresses how to build a client-focused IT culture; move your organization from order takers to trusted business partners, market IT's value, lead change with confidence, manage projects and vendor relationships
A special feature of this book includes a chapter profiling several world-class organizations that have implemented the principles in this book. Learn about the culture change challenges they overcame and benefit from their best practices and successes.
See More
Foreword ix
Preface xiii
Acknowledgments xvii
CHAPTER 1 Creating Your Twenty-First Century Workforce and Culture 1
Core Skills for Success 3
A Consistent Terminology 4
Who Will Benefit Most 5
Leveraging This Book 6
CHAPTER 2 Transforming Your IT Team 9
How to Make This Transition: Learn to Think Differently 13
Five Critical Success Factors that Enable IT Organizational Excellence 19
Conclusion: High-Performance Reality 28
CHAPTER 3 Building a Client-Focused IT Culture 31
What Good Service Looks Like 33
Service Skills and Mindsets 38
Strategies for Developing a Service Mentality 46
Conclusion 51
CHAPTER 4 Evolving into the Role of Consultant 55
What Exactly Is a Consultant's Role, Anyway? 58
Why Do I Need to Become More Consultative? 60
Learning to Change Hats: The Four Roles of IT 62
So, How Do I Become a Consultant? 64
How Difficult Can This Be? 72
Conclusion 74
CHAPTER 5 Negotiating: Getting What You Want without Damaging the Relationship 77
Position versus Interest Negotiations 79
Three Key Factors; Three-Step Process 82
Applying the Key Factors to the Second Step: Information Exchange 89
The Final Step: Now Comes the Bargaining 91
Conclusion: Effective Negotiators Are Made, Not Born 92
Notes 94
CHAPTER 6 Managing Projects: The Science and the Art 97
The Building Blocks of Project Management 100
Structuring Projects for Success 104
Developing Plans that Work 105
Managing to Successful Completion 108
The Four Tenets of the Project Manager's Mindset 112
Conclusion: Thinking like a Project Manager 118
CHAPTER 7 Changing Your Requirements-Gathering Mindset 121
The What, Not the How 124
The Importance of the Interview 127
Communicating through Pictures 131
Writing a Solid Requirements Document 134
Conclusion 136
CHAPTER 8 Sharpening Your Political Savvy 139
Picturing Yourself as a Political Player 141
IT and Politics: Historically Strange Bedfellows 142
A Five-Step Process for Developing Political Awareness 145
Developing Political Skills 150
Conclusion 156
CHAPTER 9 Marketing IT's Value 159
Marketing to the IT Department 162
Build Partnerships 165
Differentiate Yourself 166
Establish Credibility 168
Create Product and Service Awareness 169
Develop a Formal Plan 172
Determining Success 172
Conclusion 174
CHAPTER 10 Managing the Vendor Relationship 177
Both Sides of the Coin 178
Preparing for a New Role 180
Getting a Fresh Start 182
Seven Phases of Managing Vendor Partnerships 185
Conclusion 200
CHAPTER 11 Driving Change with Intent 203
Defining Terms 205
The Components of Change 205
Achieving Commitment Is Essential for Sustaining Change 206
Change Takes a Community 211
Clarity Precedes Activity 214
Messaging the Change 217
Conclusion 220
CHAPTER 12 Putting the Book into Action: Stories from the Trenches 223
A Newly Consultative IT Function Helps Drive St. Luke's Health System Transformation 224
At Marriott, a Transformed IT-Business Relationship Is the Underpinning for Hospitality Giant's Success 231
At Bowdoin College, Trust in IT Created a Culture of Change within a Haven of Liberal Arts 236
Conclusion 242
A Call to Action: Create Your Road Map for IT Transformation 243
Bibliography 245
About the Contributors 253
About O&A 257
Index 259
See More
Dan Roberts
is President and CEO of Ouellette & Associates Consulting, Inc., the IT leadership and professional development company known globally for developing the "human side" of the IT equation. Drawing on more than twenty-five years of industry experience, and based on their work helping more than 3,000 IT organizations transform their workforces and cultures, Roberts and his team share a road map for succeeding in today's increasingly complex, ever-changing business environment. Roberts has contributed to several books and published numerous articles in leading industry journals on topics relating to IT transformation and preparing IT for the future. To learn more, visit www.ouellette-online.com.
OUELLETTE & ASSOCIATES CONSULTING, INC., has worked with more than 3,000 IT and shared service organizations since its founding in 1984 and is the leading provider of IT professional development and project management training, focusing on the "human side of technology." Unleashing the Power of IT: Bringing People, Business, and Technology Together has been years in the making and is based on this extensive real-world experience.
See More