E-book
The Brand Who Cried Wolf: Deliver on Your Company's Promise and Create Customers for Life
ISBN: 978-0-470-92346-7
224 pages
July 2010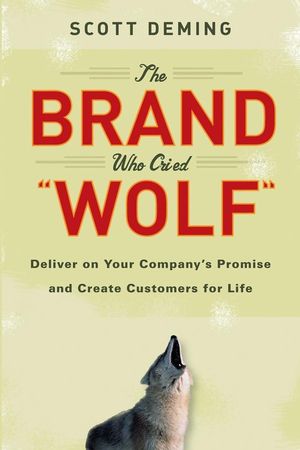 Branding has become the narrow responsibility of the marketing department, and customers have stopped believing the ads. This book shows you how to build a powerful, lasting brand. You will learn how to involve the entire organization, from sales, customer service, shipping, product design, and marketing, in the branding process. The author discusses how to create powerful, emotional, and unique experiences for others, turn every customer into an evangelist, and greatly expand your reach of influence. Use this book to define your personal and professional brand.
See More
Preface.
What's Up with the Children's Stories?
Creating Beliefs That Shape Your Brand!
Acknowledgments.
Introduction.
"The Boy Who Cried 'Wolf'"
Chapter 1: You're Not a Marketing Animal? This Book's Still for You!
Branding versus Advertising and Marketing—Completely Different Animals.
The Story of the Eagle, the Crow, and the Shepherd.
You Build and Sustain the Brand!
Advertising as Awareness.
Marketing as a System of Uniting Businesses and Customers.
Branding Is a Process of Creating Authentically Unique, Emotional Experiences That Yield Evangelicals.
Widening the Scope of What Constitutes a Brand.
I'm a Brand,You're a Brand—We're All Brands!
Chapter 2: This Is Not Your Father's Branding Formula.
Defining a Brand.
"The Tortoise and the Hare"
Successful Brands Defy Expectations.
Defying Expectations Means Overdelivering on Your Brand Promise.
Chapter 3: You Got What You Came For—I Did My Job . . . Didn't I?
A Typical Service versus a Unique Experience.
"The Crow and the Pitcher"
Building a Brand Doesn't Happen Overnight (Don't Kill Your Golden Goose!)
Building a Brand: A Mere Transaction, a Typical Service, or a Unique Experience?
Transactional versus Unique Experiences.
Typical Service versus Unique Experience.
The Unique, Emotional, Memorable Experience.
Chapter 4: Forget About Me and My Stuff; Let's Talk About You!
Creating the Ultimate Customer Experience.
"The Lion and the Mouse"
Developing Relationships:The Heart and Soul of Branding.
Transcending the Typical: Michelene,Nayan, and Ray.
Branding: If You Build It,They Will Come—But You've Got to Sustain It!
Chapter 5: Can I Borrow Your Shoes?
Walking a Mile in Your Customers'—and Your Employees'—Shoes.
"The Frog Prince"
I Am My Customer.
Your Customers Are Not Clones! Avoid Thinking Exclusively in Terms of a Core Customer.
Be Your Customers and Employees:You Can Fit into Any Size Shoe!
Chapter 6: Get Over Yourself!
We're Not as Great as We Think We Are.
"The Fox and the Crow"
The Lake Wobegon Effect.
Yeah,You're Good, But Not That Good!
Avoiding the Lake Wobegon Effect.
Chapter 7: You Talkin' to Me?
You Never Know Who You're Dealing With!
"Puss-in-Boots"
Your Actions Generate Far-Reaching Ripples.
Some Words Are Actions.
Avoiding Negative Ripples.
Chapter 8: Just Call Me Slick!
People Really Hate to Be "Sold"
"The Wolf in Sheep's Clothing"
What We've Accomplished So Far.
Creating an Authentic Brand Identity: Sincerity Can't Be Faked!
Inauthentic Brand Identities.
Your Brand Identity Is Deeply Personal.
How Big Organizations Must Generate Personal Brands.
Chapter 9: Branding? LOL!
Branding for the Technology-Driven Business.
"The Three Little Pigs"
What Technology Does for Us.
The Downside of Mass Communication.
How to Use Technology to Extend Your Reach of Influence.
Chapter 10: Bringing It All Together.
Understanding the Roles and Fusion of Advertising and Branding to Create the Ultimate Branding Machine.
"The Circus Barker:An Original Deming Tail"
Your Brand Is Your Foundation.
Avoid Driving Customers to a Flawed Service!
Conclusion.
Bibliography.
Index.
See More
Scott Deming is an international speaker, trainer, and business consultant who delivers high-energy sales and customer service presentations and seminars to associations and corporations across the globe, over 100 times a year. He formerly ran his own national marketing and advertising firm, RCI, which he grew into a multimillion-dollar business.
See More