Wiley CPA Exam Review 2012, Auditing and Attestation
ISBN: 978-0-470-92390-0
696 pages
December 2011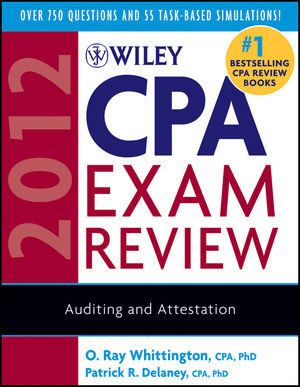 Everything today's CPA candidates need to pass the CPA Exam
Published annually, this comprehensive four-volume paperback reviews all four parts of the CPA exam. Many of the questions are taken directly from previous CPA exams. With 3,800 multiple-choice questions, these study guides provide all the information candidates need to master in order to pass the computerized Uniform CPA Examination. Its unique modular format helps you zero in on those areas that need more attention and organize your study program.
Complete sample exam
The most effective system available to prepare for the CPA exam—proven for over thirty years
Timely—up-to-the-minute coverage for the computerized exam
Contains all current AICPA content requirements in auditing and attestation; business environment and concepts; financial accounting and reporting; and regulation
Unique modular format—helps candidates zero in on areas that need work, organize their study program, and concentrate their efforts
Comprehensive questions—over 3,800 multiple-choice questions and their solutions in the four volumes
Guidelines, pointers, and tips—show how to build knowledge in a logical and reinforcing way
Other titles by Whittington: Audit Sampling: An Introduction, Fifth Edition
Wiley CPA Exam Review 2012 arms test-takers with detailed outlines, study guidelines, and skill-building problems to help candidates identify, focus on, and master the specific topics that need the most work.
See More
Preface vii
About the Authors ix
About the Contributor ix
INTRODUCTION
Chapter 1: Beginning Your CPA Review Program 3
Chapter 2: Examination Grading 15
Chapter 3: The Solutions Approach 16
Chapter 4: Taking the Examination 23
Chapter 5: Exam Content Overview 27
AUDITING AND ATTESTATION
Module 1: Professional Responsibilities 49
Module 2: Engagement Planning, Obtaining an Understanding of the Client and Assessing Risks 93
Module 3: Understanding Internal Control and Assessing Control Risk 152
Module 4: Responding to Risk Assessment: Evidence Accumulation and Evaluation 235
Module 5: Reporting 316
Module 6: Accounting and Review Services 386
Module 7: Audit Sampling 421
Module 8: Auditing with Technology 455
Outlines of Professional Standards 471
Information Technology Supplement 587
APPENDICES
Appendix A: Auditing and Attestation Sample Examination 617
Appendix B: Sample Auditing and Attestation Testlet Released by the AICPA 643
Appendix C: 2011 Released AICPA Questions for Auditing and Attestation 650
INDEX 671
See More
O. Ray Whittington
, CPA, PhD, CMA, CIA, is Dean of the College of Commerce and Kellstadt Graduate School of Business at DePaul University. He is also the coauthor of
Audit Sampling: An Introduction
, Fifth Edition, available from Wiley.
Patrick R. Delaney, CPA, PhD, was the Arthur Andersen LLP Alumni Professor of Accountancy at Northern Illinois University and the author of bestselling books, audios, and software in the Wiley CPA Exam Review System.
See More