Production of Plasma Proteins for Therapeutic Use
ISBN: 978-0-470-92431-0
512 pages
December 2012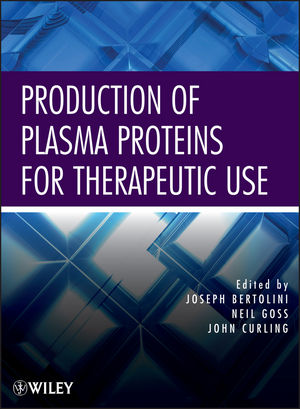 Sets forth the state of the science and technology in plasma protein production
With contributions from an international team of eighty leading experts and pioneers in the field, Production of Plasma Proteins for Therapeutic Use presents a comprehensive overview of the current state of knowledge about the function, use, and production of blood plasma proteins. In addition to details of the operational requirements for the production of plasma derivatives, the book describes the biology, development, research, manufacture, and clinical indications of essentially all plasma proteins with established clinical use or therapeutic potential.
Production of Plasma Proteins for Therapeutic Use covers the key aspects of the plasma fractionation industry in five sections:
Section 1: Introduction to Plasma Fractionation initially describes the history of transfusion and then covers the emergence of plasma collection and fractionation from its earliest days to the present time, with the commercial and not-for-profit sectors developing into a multi-billion dollar industry.
Section 2: Plasma Proteins for Therapeutic Use contains 24 chapters dedicated to specific plasma proteins, including coagulation factors, albumin, immunoglobulin, and a comprehensive range of other plasma-derived proteins with therapeutic indications. Each chapter discusses the physiology, biochemistry, mechanism of action, and manufacture of each plasma protein including viral safety issues and clinical uses.
Section 3: Pathogen Safety of Plasma Products examines issues and procedures for enhancing viral safety and reducing the risk of transmissible spongiform encephalopathy transmission.
Section 4: The Pharmaceutical Environment Applied to Plasma Fractionation details the requirements and activities associated with plasma collection, quality assurance, compliance with regulatory requirements, provision of medical affairs support, and the manufacture of plasma products.
Section 5: The Market for Plasma Products and the Economics of Fractionation reviews the commercial environment and economics of the plasma fractionation industry including future trends, highlighting regions such as Asia, which have the potential to exert a major influence on the plasma fractionation industry in the twenty-first century.
See More
PREFACE ix
CONTRIBUTORS xi
SECTION 1 INTRODUCTION TO PLASMA FRACTIONATION
1 The History and Development of the Plasma Protein Fractionation Industry 3
John Curling, Neil Goss, and Joseph Bertolini
SECTION 2 PLASMA PROTEINS FOR THERAPEUTIC USE
2 Production and Clinical Profile of Human Plasma Coagulation Factor VIII 31
Sami Chtourou
3 Production and Clinical Profile of Human Plasma-Derived Von Willebrand Factor 41
Sami Chtourou and Michel Poulle
4 Factor Eight Inhibitor Bypassing Activity 49
Peter Turecek and Hans Peter Schwarz
5 Prothrombin Complex 65
Jürgen Römisch and Katharina Pock
6 Factor IX 81
Salvador Grancha, Steven Herring, Antonio Pa´ez, Pere Ristol, and Juan Ignacio Jorquera
7 Factor XI 93
Sami Chtourou and Michel Poulle
8 Factor XIII and Factor X 101
Peter Feldman
9 Fibrinogen: Science and Biotechnology 117
Gerard Marx
10 Fibrin Glues and Bandages 137
Hans Christian Hedrich and Heinz Gulle
11 Production and Clinical Use of Plasma Antithrombin III 147
Andrea Morelli
12 Human Serum Albumin: A Multifunctional Plasma Protein 159
John More and Mark Bulmer
13 IntravenousImmunoglobulinGfromHumanPlasma–Purification Concepts and Important QualityCriteria 185
Andrea Buchacher and Waltraud Kaar
14 Hyperimmune Immunoglobulin G 207
Hugh Price, Maurice Genereux, and Christopher Sinclair
15 Rh (D) Immunoglobulin 217
Maurice Genereux, Jodi Smith, William Bees, and Christopher Sinclair
16 Alpha1-Proteinase Inhibitor: The Disease, the Protein, and Commercial Production 227
Wytold Lebing
17 C1-Inhibitor 241
Jan Over, Christine Kramer, Anky Koenderman, Diana Wouters, and Sacha Zeerleder
18 Acid-Stabilized Plasmin as a Novel Direct-Acting Thrombolytic 259
Valery Novokhatny, James Rebbeor, Philip Scuderi, and Stephen Petteway Jr.
19 Reconstituted, Plasma-Derived High-Density Lipoprotein 273
Peter Lerch
20 Plant-Derived Manufacturing of Apolipoprotein AIMilano: Purification and Functional Characterization 283
Cory Nykiforuk, Yin Shen, Elizabeth Murray, Joseph Boothe, and Maurice Moloney
21 Transferrin 301
Leni von Bonsdorff, Hennie ter Hart, Ingrid Prins-de Nijs, Anky Koenderman, Jan Over, and Jaakko Parkkinen
22 Plasminogen: Its Role in the Therapy of Ligneous Conjunctivitis 311
Claudia Nardini
23 Haptoglobin 321
Joan Dalton and Azubuike Okemefuna
24 Ceruloplasmin: Biology, Manufacture, and Clinical Use 337
Aron Berkovsky and Vladimir Vaschenko
25 Solvent/Detergent Plasma 345
Tor-Einar Svae, Andrea Heger, Lothar Biesert, Andrea Neisser-Svae, and Wolfgang Frenzel
SECTION 3 PATHOGEN SAFETY OF PLASMA PRODUCTS
26 Ensuring Virus Safety of Plasma Products 361
Herbert Dichtelmu¨ller
27 Transmissible Spongiform Encephalopathies and Plasma Products 369
Luisa Gregori, David Asher, and Dorothy Scott
SECTION 4 THE PHARMACEUTICAL ENVIRONMENT APPLIED TO PLASMA FRACTIONATION
28 Quality Assurance Requirements in Plasma Product Manufacture 383
Jens Jesse
29 Regulatory Activities Associated with Production and Commercialization of Plasma Protein Therapeutics 403
Nancy Kirschbaum and Timothy Lee
30 The Emerging Role of Global Medical Affairs in the Twenty-First Century 413
Hartmut Ehrlich, David Perry, David Gelmont, and Ramin Farhood
31 Plasma for Fractionation 423
Joseph Bertolini and Timothy Hayes
32 The Pharmaceutical Manufacturing Environment 437
Ernst Hetzl
SECTION 5 THE MARKET FOR PLASMA PRODUCTS AND THE ECONOMICS OF FRACTIONATION
33 The Economics of Plasma Fractionation 451
Neil Goss and John Curling
34 Future Trends in the Plasma Products Market 461
Paolo Marcucci
INDEX 471
See More
JOSEPH BERTOLINI, BSc (HONS.), MSC, PHD, is R&D Manager at CSL Bioplasma where he has been closely involved in the technical development and improvement of immunoglobulin and albumin products. He is active in national and international conferences and industry organizations and is a strong advocate for the advancement of bioprocessing.
NEIL GOSS, BSc (HONS.), PHD, is Executive Director at Further Options Pty Ltd., a consulting company specializing in biotechnology and the plasma fractionation industry. He was previously Director of R&D, CSL Bioplasma and is the founding organizer for both the Plasma Product Biotechnology Meeting series and the BioProcessing Network.
JOHN CURLING, BSc, is a consultant in bioseparations and protein purification whose clients have included numerous biopharmaceutical, biotechnology, and vendor companies. He pioneered the development of chromatographic methods of plasma fractionation and was the President of the Process Separation Division of Pharmacia. He has acted as an advisor to the World Health Organization.
See More